Review: Lucifer #15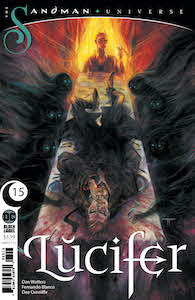 [Editor's Note: This review may contain spoilers]
Writer: Dan Watters
Artists: Fernando Blanco
Colors: Dee Cunniffe
Letters: Steve Wands
Colors: Tiffany Turrill
Reviewed by: Seth Singleton
Summary
In Lucifer #15, the devil is in a hosting mood. With his new countryside  complete, the prince of darkness is throwing a nice little housewarming dinner party to break the place in. Invited are a collection of miserable individuals whose souls are the devil's to command. But when an uninvited guest by the name of John Constantine crashes the party, all hell breaks loose.
Meanwhile: a horn is blown, a dead man is murdered, and a closet proves to be quite a bit more spacious than first expected.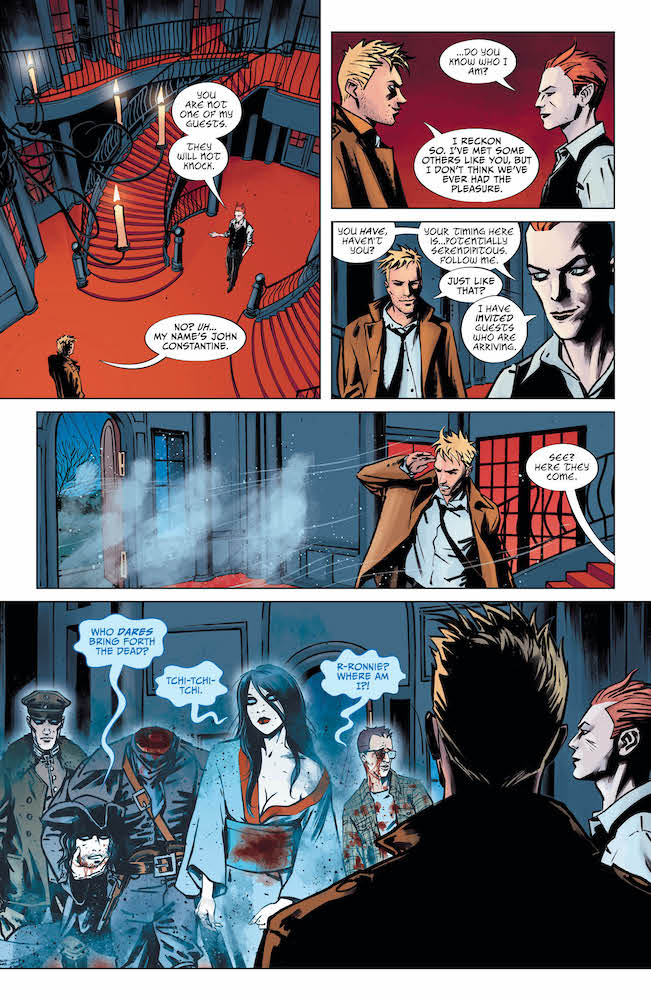 Positives
The guests are all twisted and perverted. In this case they are warped by their time in the afterlife. Interestingly the impact is disastrous in spite of the length of time spent being dead. If you don't believe me I recommend following the story of the hardware store owner who was murdered last issue. Things don't get better for him. However that's what makes the story even better for you. Dan Watters does the masterful work of building a delightful tale of mirth, wisdom, and proper party planning.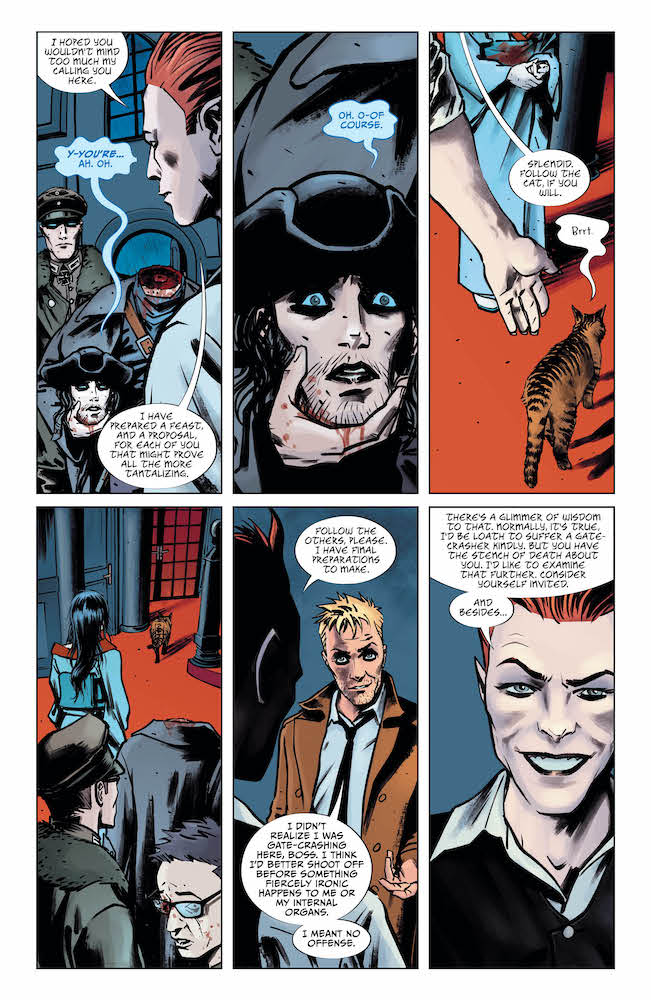 Constantine is the unexpected guest who knows exactly how dangerous it is to attend this house party and chooses to walk in anyway. He begins the night hunting, joins a ménage à trois, and then discovers that he is the prey of the Herald of the Hunt while in the loo. Afterward, he is reduced to delivering a message from Lucifer to Odin and Achilles. Confused? You'll want to start reading right away.
The dead are desperate pawns. John and Lucifer have fun teasing them both, while ignoring the potential threat that each could pose for the other. Instead Lucifer returns to the dead dinner guests their ability to feel, sits them down at a table, and feeds them a delicious meal. Lucifer simply doesn't have any interest in killing John, who's only threat is that he might muck up the devil's dinner plans.
The machinations of Odin, Achilles, and even an ancient evil become screwball characters in a confederacy of dunces or a production of Noises Off. 
Lastly, there are so many wonderful things to list from this book that I will do exactly that. In this order, I name the lovely details to whet your appetite beginning with a story about bulletproof propellers, holy water in a bottle of wine…
Negatives
I was too busy having fun! If you need a bitter review of Lucifer #15, I am certain there are plenty of bitter websites with plenty say.
Seriously.
Verdict
In conclusion, this issue was clutch. By which I mean hold it tightly between chuckles and a few outright guffaws. I want Lucifer!