Review: The Dollhouse Family #3
[Editor's Note: This review may contain spoilers]
Writer: M.R. Carey
Artist: Vince Locke and Peter Gross
Colorist: Cris Peter
Letterer: Todd Klein
Reviewer: Tony Farina
Summary
Time is slippery in the lives of the characters in The Dollhouse Family #3. Alice, all grown up and speaking finally after all the trauma she suffered during her childhood, finds herself having a one night stand in 1998 which leads to a baby in 2005 despite her best efforts to keep that from happening. Honestly, she is in a great place anyway, so it is all good.
Back in the 1800's Joseph Kent, the great great something or other of Alice, suffers a loss as his wife Charlotte dies during childbirth. Her son, Cordwainer, who also happens to live in the Dollhouse of Alice's childhood, survives. He grows up to be despised by his father.
Deep in the dark cave that started this whole thing Cloax, the half woman half demon who seduced Joseph and started the curse on his family and Aparadon the giant that trapped her below ground bicker in way that people who are trapped together for eons would.
Oh yeah, the dollhouse releases Jen, Alice's childhood nemesis from the dark room. Nothing bad can happen I'm sure.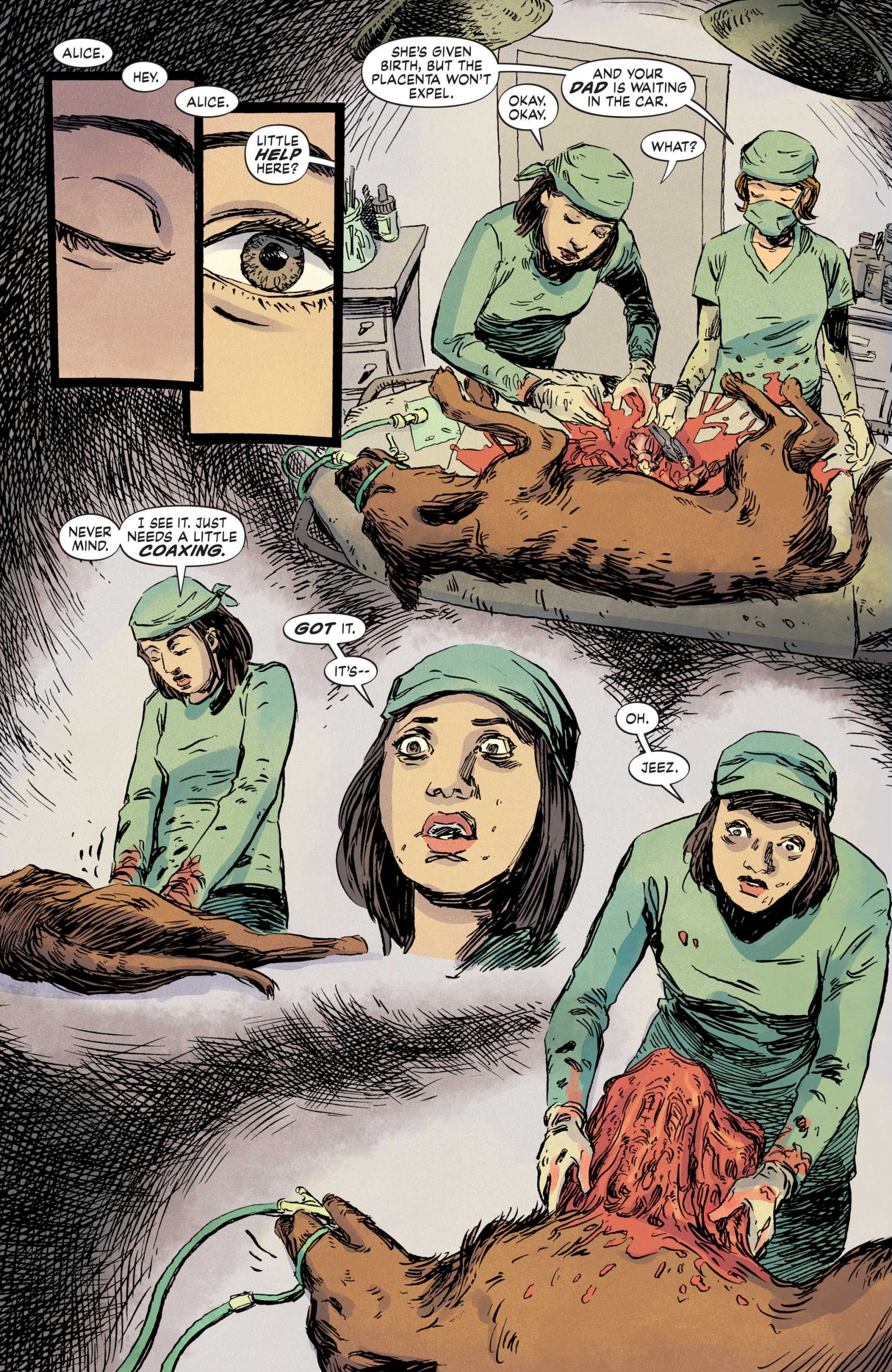 Positives
Where to begin? The Dollhouse Family #3 is not your typical third issue in a series where things cool off. This issue is bringing some serious heat. The villains from issue one finally have names. That is a big deal. We understand so much more, but more questions are raised. It is an excellent bit of story telling. We don't spend a lot of time with then, as it is not really their story, but we visit with them just so we know they have a part to play.
Alice is quite a protagonist. She has moxie. She is brilliant. Her daughter Una is totally adorable and smart and everything we would want to have for her. Of course, she is not really safe from here past and thus, adorable Una is not going to be safe. M.R. Carey really has done an amazing job developing characters. We just meet Una but we care about her from the jump.
Artists Peter Gross and Vince Locke look like they are having a lot of fun. They get to draw demons and ghosts and creepy, nasty little dolls. I have never been so happy that I don't remember my dreams. Nasty little buggers. The way we see Alice grow up as this story progresses has been inspired as well. We feel like we know her so well by the way she looks at Una or the way she downs a glass of wine. The devil is in the details and these two are devilish for sure.
Negatives
Nothing to report here. The Dollhouse Family #3 could have fallen down, but it has stood on it's creepy foundation.
Verdict
Look, if you are not reading the Hill House Comics you are missing out. This series is by far my favorite, but that is like trying to pick your favorite M&M. They are all good.