Review: Hellmouth #4

[Editor's Note: This review may contain spoilers]
Creator: Joss Whedon
Writers: Jordie Bellaire and Jeremy Lambert
Artist: Eleorona Carlini
Colorist: Chris Peter
Letterer: Ed Dukeshire
Reviewer: Tony Farina
Summary
Hellmouth #4 begins where the last one ends. Time is not fluid down there so…Buffy finds out Angel is a vampire. She is none too pleased. They bicker. Augie, the little demon guy, dies a heroes death. Buffy meets herself. That is strange. Angel and the Hell Mother have a disagreement. Someone walks through the fire (there is no musical accompaniment though). There is not a ton that happens here, but this issue works as a huge piece of connective tissue for the final month of the Hellmouth crossover.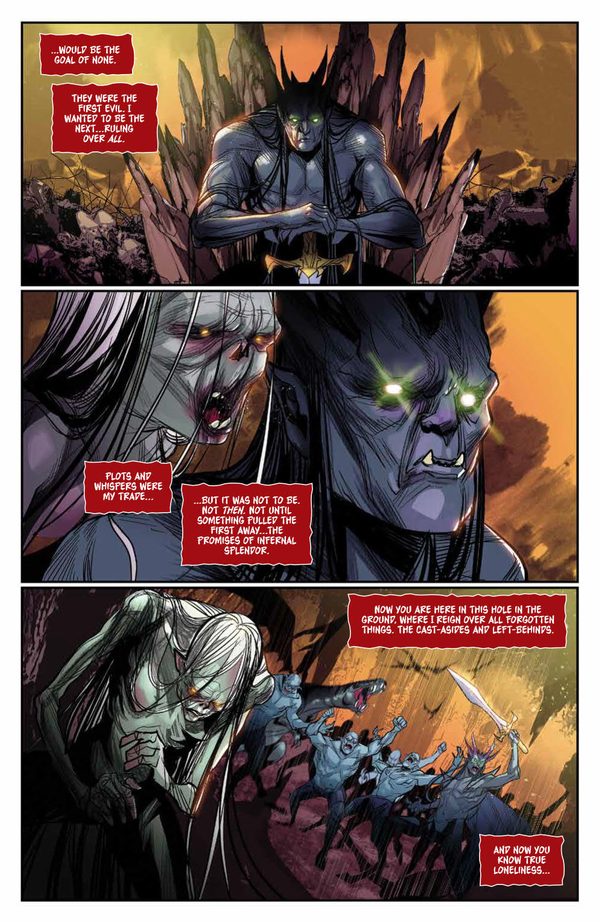 Positives
The art team are the big stars of Hellmouth #4. There is so much to see here. The despair. The darkness. The angst. All of those things are hard to capture without the pages being so dark the characters are hard to make out. In the hands of Carlini and Peter, every painful grimace. Every fire walk. Every betrayal feels magnified by 10 million. Considering that this is 16-year-old Buffy, that is spot on. There is not a ton of talking in this issue so the art team really does have to do all the heavy lifting.
The best bit of writing comes when Buffy faces future Buffy. Which Buffy is it? Is it TV show Buffy? Is it Dark Horse Buffy? Is it Boom! Buffy from the future? I love that the questions are being asked. A bit of speculation is always good fun.
Negatives
The downfall of Hellmouth #4 is that Buffy acts like a dumb 16-year-old. It is on point, but it also makes no sense down in the Hellmouth for here to suddenly decide she is better off alone. Yes, Angel has lied to her, but she is in a bad situation and she needs all the help she can get. I understand her running off services the plot, but they were separated in previous issues without it being because she is acting stupidly. Buffy may act dumb, but she isn't stupid.
Verdict
All mini-series have a bad issue. Hellmouth #4 is that issue. Bad isn't fair. There is a lot to like, but considering issue #3 was SOOOOOO good, this one feels like a kick in the crotch. I do love that final panel and Buffy's confrontation with herself is excellent and thought provoking. I am going to keep reading of course, and you should too, but just remember that even the White Album had Revolution 9 on it.