Review: Books of Magic #16

[Editor's Note: This Review may contain spoilers]
Writer:  Kat Howard
Artist: Tom Fowler, Craig Taillefer
Colors: Jordan Boyd and Marissa Louise
Letters: Todd Klein
Reviewer: Tony Farina
Summary
Books of Magic #16 picks up the day after the last issue when Tim comes face to face with, well, Tim. Deals have been made and broken. Tim has been walking between worlds and skipping school. Rose lies to Hettie. Things are, as they often are for Tim, a giant mess. Even his owl YoYo knows things are not good.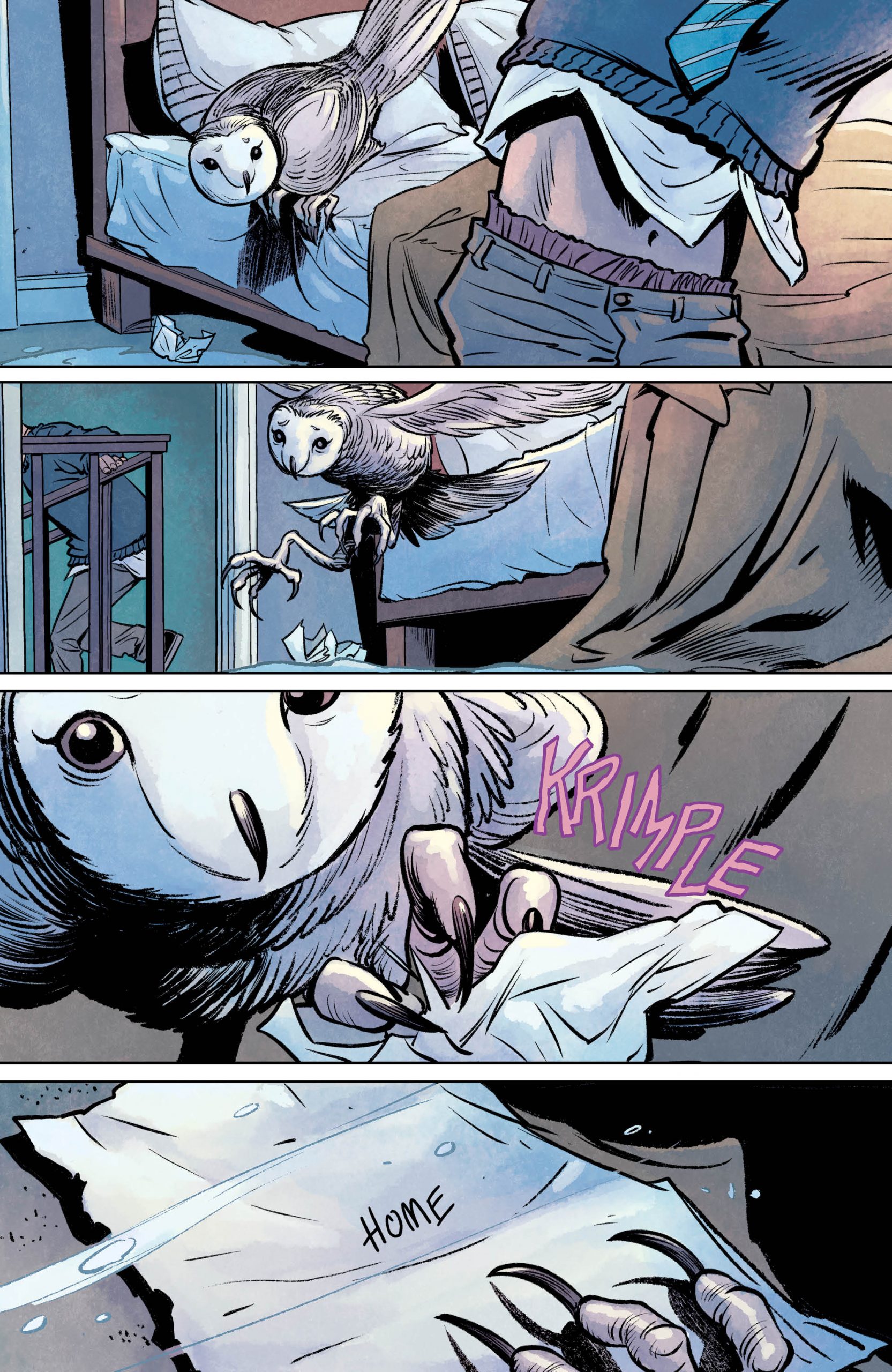 Positives
I can heap praise on the art time of Books of Magic #16 all day long. I only have so many words for this review so I will not spend all day on it. Each month I am amazed by the work done by Taillefer, Fowler and Boyd. This month Marissa Louise is back as co-colorist. Since it's inception, Books of Magic's art has been all about the details. This month, we see all kinds of pain, suffering, confusing and snow. Lots and lots of snow. The team here make us feel each emotion. They lead us on a scavenger hunt through each panel trying to find the hidden message, the look that Rose gives, grimace that Ellie has, the fear or joy or pain that is written all over Tim's face. Kat Howard gives the team so much room to move that some panels, many in fact, don't even need words. She trusts them to tell her story and they have never failed.
Just take a look at the bottom three panels above. Everything you need to know about these two women unfolds there. Look in the middle panel at Rose's hands and then in the last panel at them again. She goes from anger to shock and the hands tell us that. Bravo all around!
Negatives
It is hard for me to say what is wrong with this issue. Why isn't it a five? Well, normally, I love the slow burn pace of Books of Magic, but Books of Magic #16 feels particularly slow. This is clearly a connective story and when the whole volume is put together, readers wont even notice. In fact, they will be relieved for the break. I am not saying it is a deal breaker. It just is noticeable.
Verdict
Sixteen issues in and Kat Howard and company is still pitching a shut out. I say leave them on the mound for as long as they want. While this book is slow, it is still be best book in The Sandman Universe. I will anxiously wait to find out who can help Tim this time.