Review: Wonder Woman #750
[Editor's note: This review may contain spoilers]
Writers: Steve Orlando, Gail Simone, Mariko Tamaki, Greg Rucka, Kami Garcia, Shannon Hale, Dean Hale, Marguerite Bennett, Vita Ayala & Scott Snyder
Artists: Jesus Merino, Vicente Cifuentes, Colleen Doran, Elena Casagrande, Nicola Scott, Phil Hester, Ande Parks, Riley Rossmo, Laura Braga, Amancay Nahuelpan & Bryan Hitch
Colorists: Romulo Fajardo Jr., Hi-Fi, Sunny Gho, Trish Mulvihill, Ivan Plascencia, Jay David Ramos & Mike Spencer
Letterers: Pat Brosseau, Dave Sharpe, Deron Bennett, Rob Leigh, Gabriela Downie, Joshua Reed, Wes Abbott, Clayton Cowles & Tom Napolitano
Reviewed by: Sean Blumenshine
Summary
An all-star 96-page celebration of the Amazon Princess by longtime favorites and acclaimed new voices! In the lead story, Wonder Woman's epic "Year of the Villain" battle comes to a close, leading the way to new challenges ahead. Additionally, this oversized gem tells tales from Diana's past, present and future by some of the greatest storytellers in the business- including Colleen Doran, Mariko Tamaki, the Teen Titans: Raven team of writer Kami Garcia and artist Gabriel Picolo, and legendary Wonder Woman creators returning to the character, including Gail Simone and Greg Rucka!
Positives
Joelle Jones and Trisha Mulvihill's cover is great. The latter's colors are vibrant and striking. It's simple but very effective and cool. I love it.
I love anthologies and I wish they happened more often. Gail Simone's story is my favorite for a lot of different reasons. Simone has a great ability to combine silly elements with pathos. So Diana had a pet megalodon that recently died. That is so insane but the emotion still lands. There is so much heart in this story that really connected with me.
As a big fan of Rebirth, I was thrilled to see Greg Rucka reunite with Nicola Scott and Romulo Fajardo Jr. They were a great team and I loved their story. There's great tragedy in watching Diana desperately try to save someone who doesn't want to be saved.
I enjoyed Vita Ayala's epilogue to the somewhat recent Silver Swan story. I liked that story a lot so it was nice to see it revisited.
Negatives
Ending the "Year of the Villain" arc in this issue is a baffling decision. The issue very awkwardly tries to catch people up to speed because a lot of people are going to read this that haven't read recent Wonder Woman issues. But even as someone who reads and reviews every issue, I was kind of confused too. Part of that is because it's been awhile since the last issue. This is the weakest story of the bunch and feels almost out of place.
My other big disappointment is the Bombshells story. I think that could have been cool but it's more of a tribute than anything. Much of it is a group of characters talking about how great Wonder Woman is. I think a more proper short narrative would have been more interesting. This section felt weird to me.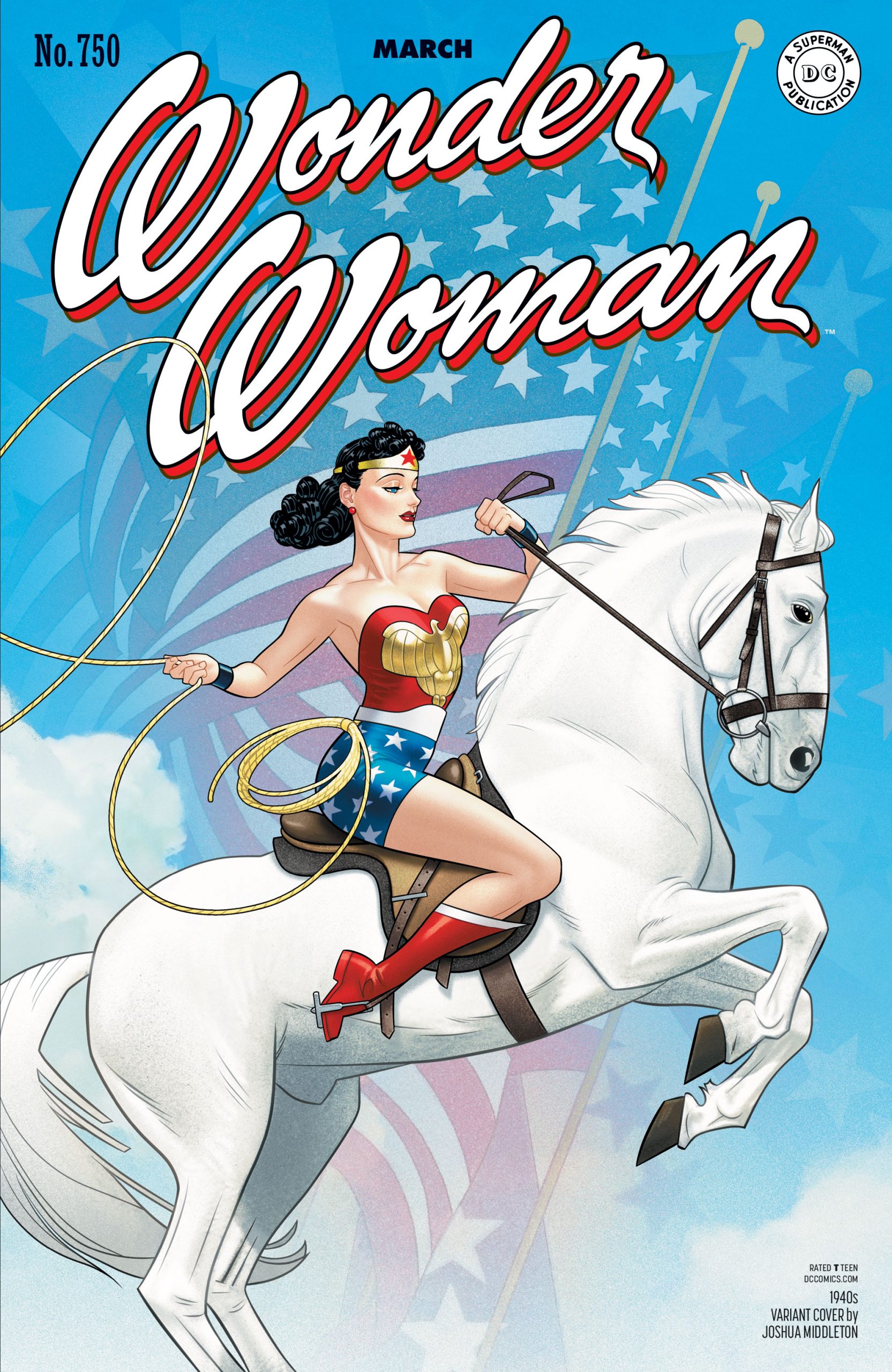 Verdict
This is a solid issue. Like a lot of these anniversary anthologies, it's going to be hit and miss. I absolutely loved some stories and didn't care much for others. I think a lot of the art is gorgeous but there is some that didn't work me. The sentiment is ultimately what matters. This is a major milestone and it's full of heart.