The hit CW show Arrow has come to an end after 8 seasons. Stephen Amell over that time has created a legacy, one of which that I am going to truely miss. Prior to Arrow we had shows like Smallville, but nothing like this had ever graced our tv screens. Before Arrow had aired I was not one to watch or invest in TV shows for a prolonged period of time. I had never watched an entire show end to end. I was always more of a movie buff, I still am but now things have changed.
In Christopher Nolan's the Dark Knight the Joker sat opposite Batman and said to him, "You've changed things, forever!". We can say the same for Stephen Amell, he has changed things forever. Who would have thought that the show would morph into its own universe and pave the path for a host of CW superhero shows, cross overs and much more. Particularly in a time when the DCEU has not met the expectations of many, I felt that the DC TV universe has provided us with much needed balance.
First Look
In 2012 I was in NYC on vacation staying on broadway. Every morning I would get up early and go for a run through downtown Manhattan. I remember running through time square and was stopped in my tracks. All I could see was a gigantic promotional poster of Stephen Amell, top off, battle scares, with these piercing eyes looking straight at me. At the time (and i'll have the courage to be vulnerable here) I didn't know who the Arrow was). All I knew was that it had a DC and CW logo on it and I had to find out what was going on. The poster brought a very Bruce Wayne / Batman feel, and I've been a life long Batman fan. From that point on I never looked back. I invested in the show, the story and adventure which has had a fundamental impact on me and my life over the last 8 years.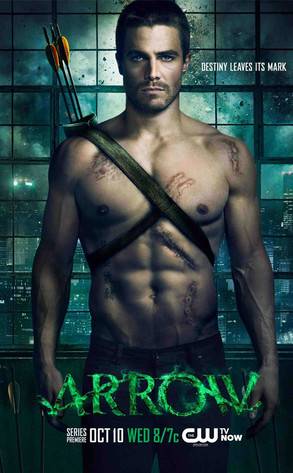 DC Comics News Grows with the Arrow
As a fan site we have grown and expanded over the last five years, and part of that growth has to do with the opportunities this TV show has given us. We have over the years interviewed show runner Marc Guggenheim, Katy Cassidy, Echo Kellum, John Barrowman and at San Diego Comic Con we've had the pleasure of interviewing the rest of the cast and crew through the roundtables. The most compelling and fun experience was my interview with John Barrowman at Oz Comic Con here in Melbourne, Australia. An amazing man, funny character, he had the ability to make you feel heard, welcome and you felt like you were his friend. I'll never forget that experience.
Stephen Amell 
When we choose a TV show or a film, we are invested in the story, the character, the brand. Stephen Amell gave us an experience that was truly unique like no other. While the TV show was one side of the product experience, his online engagement created a sense of community that made feel like i was part of something special. I looked forward to his facebook videos and online campaigns just as much as the TV show. His conversations, quirky nature, charities brought people together in a way that was close to my heart. I ended up donating to his charities multiple times, and I had never donated prior to his campaigns. He created a sense of "team" and this was powerful, it was almost like a movement. One of which that i felt very much part of. I am not sure anyone else will be able to do anything like that again in the DC universe.
His training and fitness videos on Facebook were inspirational, fitness is a big part of my life and I really enjoyed watching Amell push through his PT sessions. Over the years I would take some of his exercises and incorporate them into my own workouts to see if I could do them. I couldn't find a salmon ladder anywhere, but had fun modifying some of my routines to incorporate some of the unique training methods shared online. I hope he keeps engaging with his fans moving forward.
https://www.facebook.com/stephenamell/videos/1876372115781380/
Oliver Queen
The character has obvious cross overs with Bruce Wayne and the Batman. That was a core reason why I was able to enjoy the story and the evolution of the character. I gravitate to characters / heroes with no powers because I can find them relatable. The concept of a man stuck on an island for so long, doing all he can to survive but to also take the opportunity to embrace and absorb the world around him was inspirational. Oliver's story truly came full circle by the end of the show, but the struggles he went through to keep those he loved safe, the inception of team Arrow, and his personal journey of a man and leader was compelling. A lot of fans enjoyed the relationship between Felicity and Oliver, but I found Oliver's relationship with Diggle the one that was key and my personal favourite. For Diggle to begin with the role of Oliver's body guard, then to become his best friend, his right hand man in team arrow, a partner in  war, and in the end Diggle's transformation (no spoilers here…to the Green L..) was nothing short of fitting. I shed a tear. I'll miss David Ramsey!
The Arrow – Some of my favourite moments (In no order)
The original training sequences and the salmon ladder: What a way to get the attention of fans. Some guy we really hadn't seen before with muscles on top of muscles in a bunker, training on his own smashing through body weight pull and pushes and that salmon ladder! Yes Stephen Amell did most of his own stunts and is a natural athlete. Inspiring! Makes me want to be the best version of me.
Season 1 final battle with the Dark Archer: John Barrowman did a great job as the Dark Archer, that fight scene was co-ordinated beautifully. Every kick, punch, block, the sequence was fitting to end an epic first season.
Oliver Queen vs Ra's al Ghul: This scene was shot outside on top of a mountain in freezing weather. The show invested heavily in this scene. The Batman villain was a compelling part of Oliver's journey. Even though a lot of fans didn't like the fact that the CW had incorporated Batman characters into the show, I thought it was a great move. An epic battle, one of which Oliver was in a winning position but in the end paid the ultimate price. His life. The internet then went into a frenzy. At the time I had created a meme with Arnold Schwarzenegger yelling into the camera. I had inserted the words, "Oliver get to the pit!". Amell ended up liking the meme i posted on his page and that was evident that Amell was engaged with his fans.
Diggle challenges Oliver Queen: This fundamentally changed the relationship between these two and also shifted Oliver's focus on the type of leader he needed to be. In Season 6 Episode 17 Diggle challenges Oliver Queen, he tells him that his motives have changed and as a result he has endangered those who are closest to him. Diggle argued that the fight was no longer about protecting the city, it was about Oliver. The messaging hits home for Oliver, it hit home hard. To the point where Oliver bites back and accuses Diggle for killing his own brother. The argument morphs into a physical confrontation, one in which Felicity walks in on and stops. Again this showed the human nature of Oliver and the fact without good people around us sometimes we can lose focus. The bond between these two characters went from strength to strength and it was one that was core to the show.
Oliver Queen becomes Ra's al Ghul: I enjoyed this part of the series. Experiencing Oliver's journey of infiltration, even though he had to take the mantle of Ra's al Ghul and lead the League of Shadows, he always had a particular focus. With Team Arrow not knowing what side Oliver was really on, that was an intriguing part of the story showing us that there really was no limit to Oliver's will and determination.
Prometheus breaks Oliver Queen: In Season 5 Episode 17 Prometheus was able to break down Oliver Queen to the point where he had him admit that he was in fact a killer. A monster. This scene humanises the character like never before and one that drew me right in. Broken and in chains Oliver screams out loud saying that he killed because he liked it. Now, we know that this wasn't the only reason for his crusade. However it showed that there was a dark side to Oliver and yes, he did enjoy doing what he did, to be in a position of power to prey and hunt. Fundamental to the overall story and Oliver's journey.
The First Cross Over Flash vs Green Arrow: The Flash Season 1 Episode 8 Barry Allen is not himself, possessed and dangerous Oliver Queen as the Arrow steps in to tame the Flash telling him he needs to calm down. The fastest man alive takes on the Green Archer in a fun, entertaining battle. Super speed vs one of the most finely tuned fighters in the DC Universe.
Thank you
I will miss the Arrow, Stephen Amell and the adventure the CW gave us. While we have shows in the Arrowverse that we can still watch there won't be anything like what he had with this hero. I found a connection with the character, the story helped me over the years deal with challenging moments in my life. I was able to find inspiration and solace in the story of a man who was inspired by what he thought was right, doing all he can to achieve his goals and to watch his evolution, his losses, his wins, his overall transformation was phenomenal.
I have laughed, cried multiple times (throughout his end that was quite fitting), punched the air in excitement and overall thoroughly enjoyed the story of Oliver Queen & the Green Arrow. In the finale his dedication scene with the his statue had shades of the Dark Knight Rises ending which made me shed a tear. A true hero, a true believer in good, a man, a father, a husband, a kick ass super hero. We all need good stories to help us in own personal adventures and this one will forever remain close to to my heart.
To understand a little more about Stephen Amell, the impact Arrow had on his personal life and his next project make sure you listen to his interview on the "Inside of You" Podcast here.
Long Live the Arrow!