Review: Books of Magic #17
[Editor's Note: This Review may contain spoilers]
Writer:  Kat Howard
Artist: Tom Fowler,
Colors: Marissa Louise
Letters: Todd Klein
Reviewer: Tony Farina
Summary
Books of Magic #17 finds our Tim and A-hole Tim in a snowscape. It sucks there. Where are they? You'll find out in this issue. Rose comes and she brings some help. It doesn't really help, but Tim could use a win. Bundle up boys and girls. It's time to visit the Sandman Universe.
Positives
Kat Howard continues to prove that she is transcendent in the world of fiction. Books of Magic #17 features characters she did not create, but it is clear that she loves Tim and she wants us to love him and so, as any good creator does, she puts him in peril so we are worried. Well, Ms. Howard. I'm worried. I know Tim is the lead character so I feel like he is most likely going to be OK, but honestly, that other Tim is a bit of a wanker and I don't put it past him to kill good Tim. That final panel, brilliantly done by Tom Fowler and colored by Marissa Louise kicked my heart in the heart.
Oh, and since I can't show you that final panel, wait until you get a load of this splash page. It is a knee breaker for sure. Here is the set up. Tim asks the book what happens if he gives other Tim the book. Ready? Are you really? You should sit down. I'll wait.
OK. I warned you to take a seat.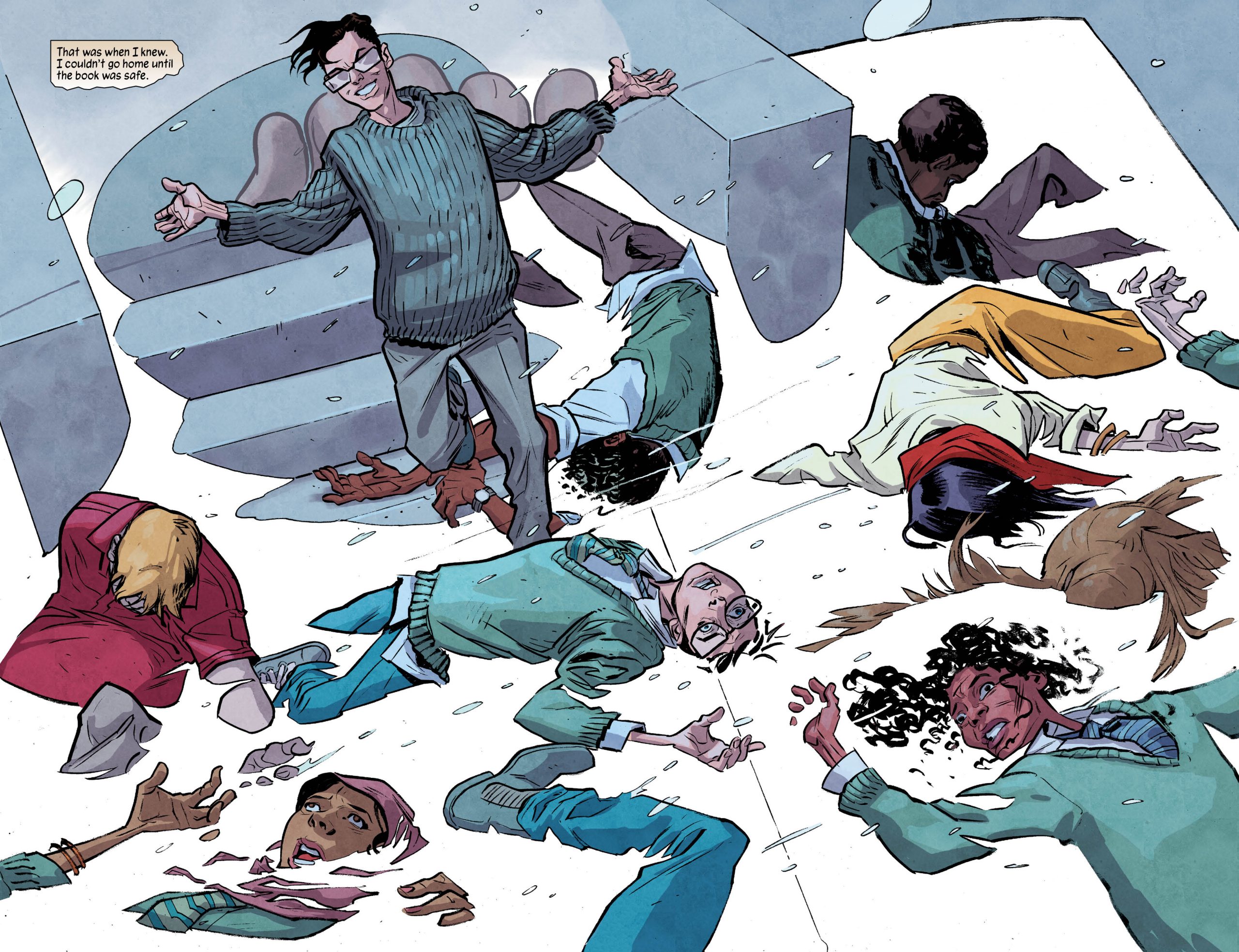 Negatives
The only negative thing I can say is that there is nothing negative to say and thus, I used the word negative. Super meta and silly I know. Well, maybe I could argue that each issue leaves me wanting the next issue and I have to wait a month. OK. That is problematic for me.
Verdict
Books of Magic #17 proves that, without a doubt Books of Magic is the best book in the Sandman Universe. I can't express how much I love it. The pacing is breakneck, but the story is a slow burn. It makes not a lick of sense, I know. Maybe I am just under a spell or something, but if you are not reading Books of Magic, you are missing out.