Review: YEAR OF THE VILLAIN: HELL ARISEN #4
[Editor's Note: This review may contain spoilers]
Writer: James Tinion IV
Artist: Javier Fernandez, Steve Epting
Letters: Travis Lanham
Colors: Nick Falardi  
Reviewed by: Carl Bryan  
Summary
" In the future, gods will bow to man!" – Lex Luthor
This is it! Lex Luthor has gathered a strike force of villains he's leveled up to be the baddest bad guys around-Captain Cold, Oracle, Solomon Grundy, Black Manta, and Lobo, each and every one a recipient of one of Lex's dark gifts. But the Batman Who Laughs has his own army of infected heroes. Six hundred sixty-six of them, all transformed into their worst selves. It's a final showdown between two of DC's most iconic villains, all to curry the favor of Perpetua. Whoever wins will take over the Multiverse alongside her. Does Lex ascend, or does he get laid low? Does the Batman Who Laughs finally remake the DC Universe in his own image? Either way, life for our heroes will never be the same. Find out in the second chapter of a two-part epic featuring the work of artist Nick Derington!
Positives
James Tinion IV gives a glimpse of what motivates Luthor and he does a great job of walking through the timeline as to where Luthor has been and where he wishes to go.
Mercy inquires of some of Luthor's time to get an explanation of what is his motivation when he apparently had everything.  But Luthor is driven to the point that he must rule….everything.
Tinion IV is superb in setting up not only a physical conflict among Luthor's army and The Batman Who Laughs army of converted heroes to villains.  But lest we forget, TBWL's intellect is that of Bruce Wayne who is one if not above Luthor's equal intellectually as well as in the bank book.
However, Luthor is a God of War himself.  And not to give a spoiler away, Luthor comes as close as anyone to providing total defeat of TBWL….. but this demented Bruce Wayne has Joker blood in his veins as well.  Things aren't that simple when TBWL is involved.
This book has twists and turns, and is a roller coaster read.  Setting up quite the confrontation between Luthor and TBWL in front of Perpetua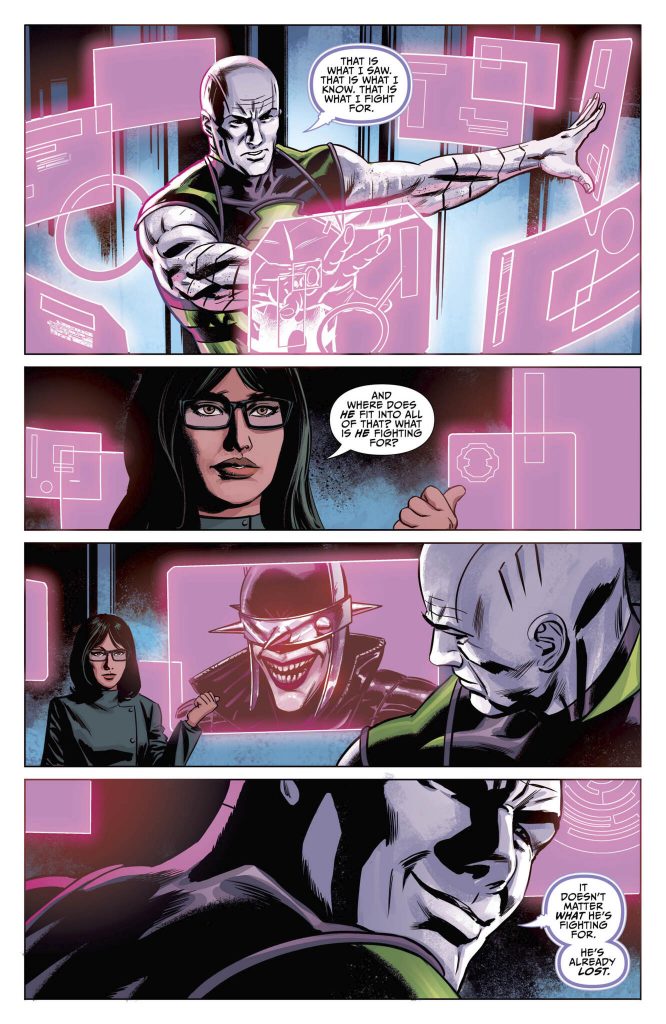 Positives 2.0
Three word – "Control..Alt..Delete".  Luthor puts some books back on the shelf in the right way.  And unfortunately for him, this term applies to him in more ways than any.
Both Javier Fernandez, and Steve Epting are superlative in their renderings of all of the characters.  Though no one may ever rival the team that Scott Snyder put together for original The Batman Who Laughs drawings.   But this team captures each character really well.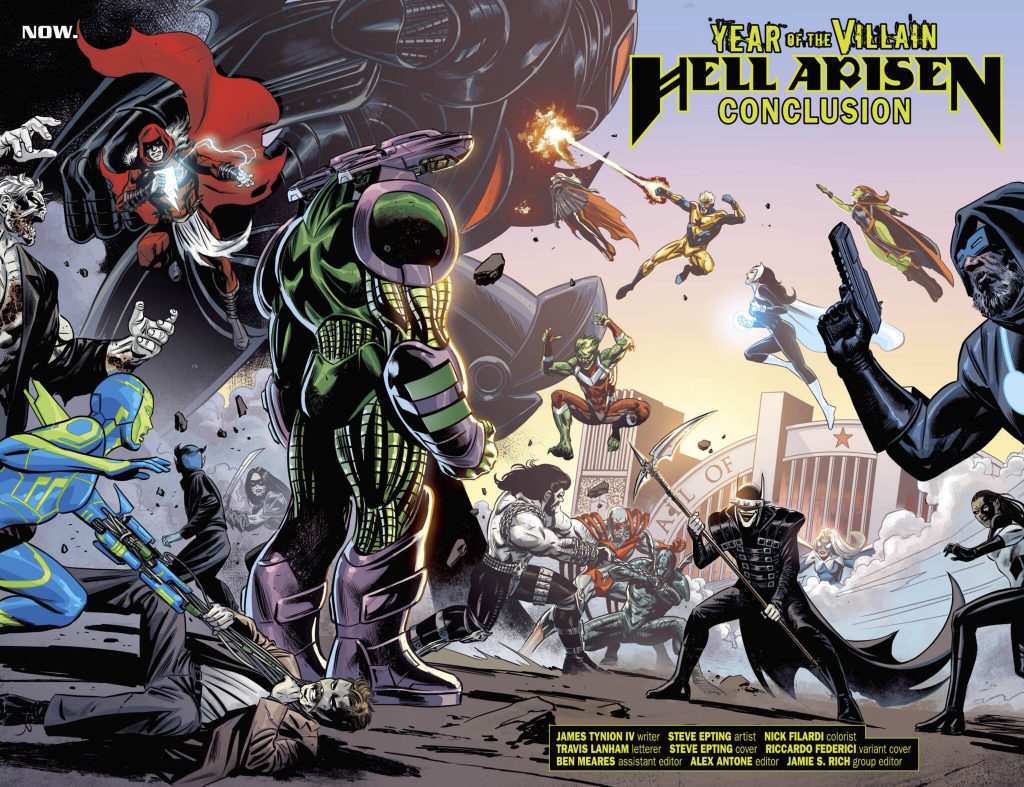 Negatives
Perpetua giveth and Perpetua taketh away!  Cliff hanger of a ending, but it sets up one heckuva ride coming up with Death Metal!
And no Joker this issue…when are we going to see that Joker and TBWL battle.  Come on…!
Verdict
If this is missing from your shelf, as you are collecting anything dealing with Dark Metal and The Batman Who Laughs, you will regret it.