Review: Hellmouth #5

[Editor's Note: This review may contain spoilers]
Creator: Joss Whedon
Writers: Jordie Bellaire and Jeremy Lambert
Artist: Eleorona Carlini
Colorist: Chris Peter
Letterer: Ed Dukeshire
Reviewer: Tony Farina
Summary
Hellmouth #5 has a lot of ground to cover. Buffy and Angel, still in the Hellmouth, fighting the Hell Mother, are not on speaking terms. That is fine because Buffy is on punching terms. There is also the matter of the other Buffy. Where the hell did she come from?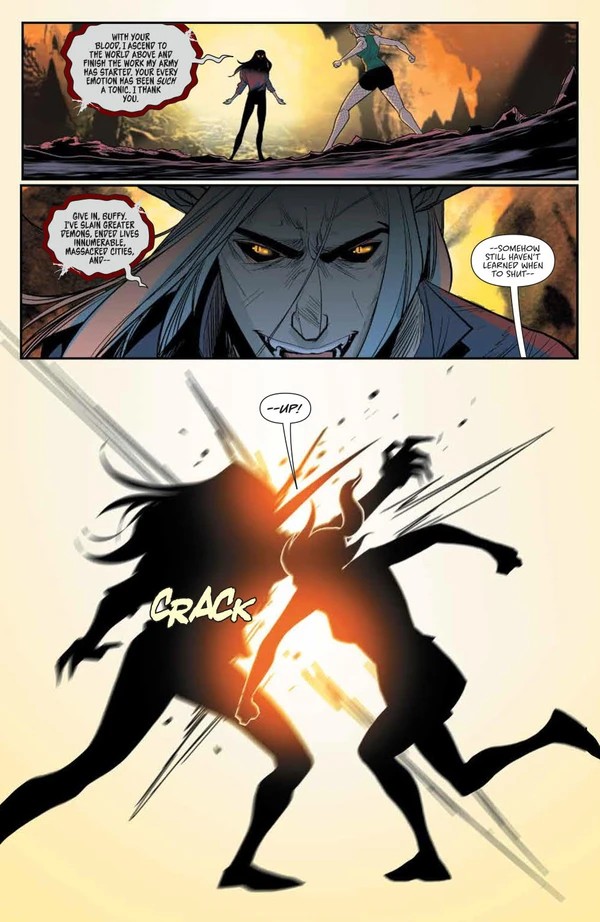 Positives
Almost everything about Hellmouth #5 is good. The star of this whole run as been Eleorona Carlini. I just love watching the action, the facial expressions, the world building. There was not one hair, be it human or demon out of place in this whole crossover. This is my first time inside the Hellmouth, so I was totally at her mercy and I was not disappointed. Feast your eyes below. Linger for a while. It is beautiful.
Jordie Bellaire is a great story teller and paired with Jeremy Lambert, this book is cracking. It is hard to bring three stories together while still telling this story and yet, they are essentially flawless. Not 100 Percent flawless, but close. I really have grown to love this version of Buffy. I love her toughness and her snarkiness. She is the Buffy we need in 2020. The Coda on this book is AMAZING! Talk about making the crowd wanting more. Wow. How exciting. I don't want to say too much, but man, I am so geeked for what is to come.
Negatives
There were a few things that Buffy wouldn't have understood that she simply accepted out of hand. I don't care for that. This is such a tight story, but it seems strange to have some major questions hanging out there like that.
Verdict
That ending is bananas. Holy crap. I LOVE what Boom is doing with the Buffyverse. Sure, it took a long while for us to finally figure it out (sort of), but it was so worth the ride. Everyone has a moment or two to shine in this book and for that we should be grateful. It is doing to be one amazing second year in Sunnydale.