Review: Buffy The Vampire Slayer #13

[Editor's Note: This review may contain spoilers]
Creator: Joss Whedon
Writer: Jordie Bellaire
Art: Rosemary Valero-O'Connell
Colors: Raul Angulo and Eleonora Bruni
Letters: Ed Dukeshire
Reviewer: Tony Farina
Summary
Before she became the Slayer, Kendra was a young woman in training on the island of Jamaica, fighting vampires under the guidance of her Watcher, and eagerly awaiting the day that she would be called to serve as the Chosen One. But when the vampires in her hometown get out of hand, threatening the safety of her people, will the young not-yet-Slayer have the strength to face them on her own? Or are the burdens too much for one teen to bear?
Positives
Welcome to the Hellmouth Ms. Valero-O'Connell. I hope you stay a while. I really enjoy Valero-O'Connell's clean style. She doesn't try to over do too much. There is a simple feel here. That should not be seen as a derogatory term. When there is this much going on, a clean book is useful. There is no obfuscation. We see what everyone is doing. The emotions are clear. It is really well done.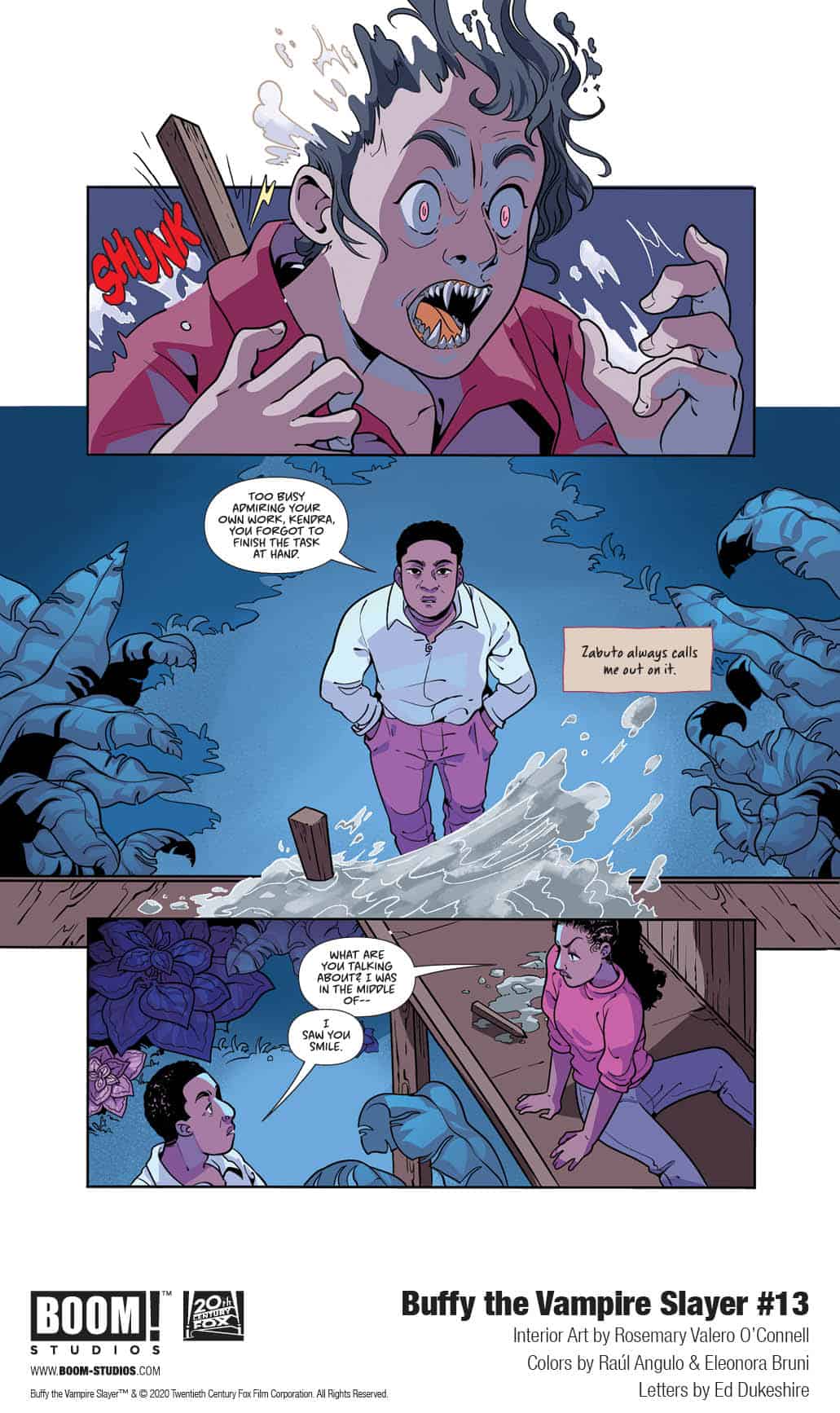 Jordie Bellaire proves that she is in complete control of the new Buffyverse. She is funny. He pacing is incredible. She leaves us always wanting more. I want more. I want it now.
Negatives
There is no Buffy in Buffy The Vampire Slayer #13. This has become a trend during the Hellmouth crossover. I get it, this is really a team comic in the guise of a solo book, but I LIKE Buffy. I like Kendra too, but just a peek at the end would be great. This all takes place the day before Buffy gets sent to the Hellmouth, so we know what happens next and so the stakes here are a bit low too. Kendra was never really in danger in this book. Prequels have that distinct disadvantage.
Verdict
While it seems like an odd choice to start Year Two of the new Buffy in the past, it really makes perfect sense. There is a new artist who appears to be bringing her own style and flair. Kendra will obviously feature strongly in this version of the Buffyverse, so it is good to get to know her. Plus, issue 12 was such a kick in the pants, we needed a chance to walk it off before we accept the facts. I am looking forward to this new year.