Review: SPAWN #307
[Editor's Note: This review may contain spoilers]
Writers:  Todd McFarlane, and Philip Tan
Artists: Philip Tan
Letters: Tom Orzechowski
Colors:   Sunny Gho and Peter Steigerwald  
Reviewed by: Carl Bryan
Summary
"God Help Us All." –  An anonymous narrator on the arrival of the Beast…Kincaid
"PROPHECY OF DEATH," Part Two – SPAWN like you've never seen it before! Fan-favorite artist PHILIP TAN and SPAWN creator TODD McFARLANE explore an epic tomorrow. The ramifications of Spawn's war with Heaven and Hell have created a nightmare future… A future that threatens to destroy everything Al Simmons has fought to defend.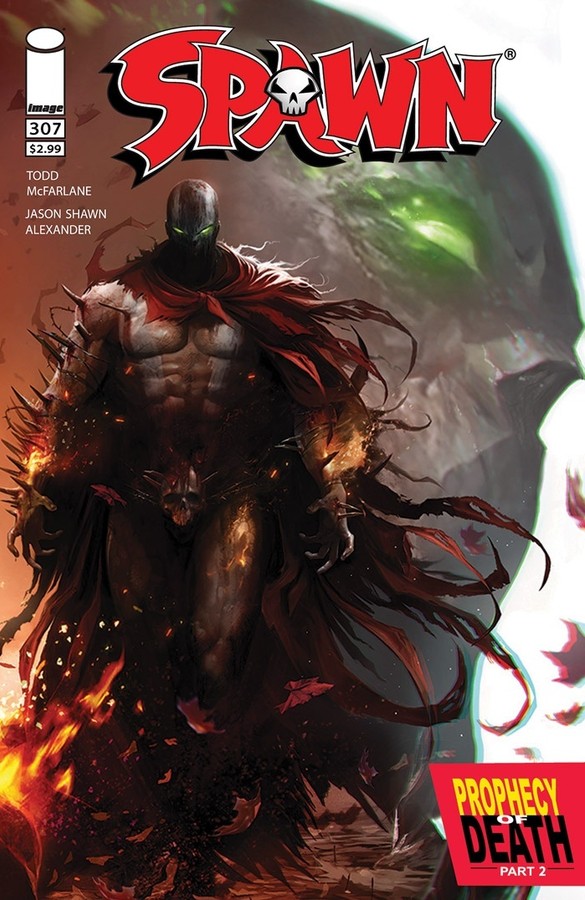 Positives
Philip Tan….I could simply write that name and if you have been following Spawn, you know what an iconic artist he is as he has done some great things with Batman, Green Lantern, and had a several issue run in Spawn starting with issue #150.
Tan is now focused on penciling Spawn and Raptor.  His work picks up where other great Spawn artists such as Todd McFarlane and Greg Capullo left off.  Every turn of the cape and chains and every blood stained stump are there in this issue as Spawn is in some type of future world void.
Raptor seems to have HellSpawn energy and is sharing some of that energy and mixture of memories with Spawn.  Given McFarlane's work on one of his lesser known comics Haunt, where two brothers share the same body, you can see where the shared mind influence comes from.
And Raptor doesn't want anything to do with it.
As it turns out Raptor is simply a pawn or a key to unleashing what Spawn has termed as "The Beast" which is an agent of neither Heaven nor Hell.  
McFarlane is now unleashing his version of the worst villain he has created in the Spawn Universe.  We never thought that McFarlane could create a monster as bad as Stephen King's Pennywise the Clown.  But he did it in child killer Billy Kincaid.
But now the "Billy" part of him is gone, and now all that is left is "Kincaid". 
Billy Kincaid….now just Kincaid
Billy Kincaid is forever etched into our minds from Spawn #5 as a mental institution parolee that goes on a killing spree of children using his ice cream truck as a lure.  Avid readers will recall that Kincaid is killed by Spawn by ice cream sticks…a fitting end and a really vivid piece of art work by Todd McFarlane.
The revelation of a new Kincaid is spoiler worthy, but not here in this article.  You need to buy the issue to see what would keep a parent up at night if this type of horror really existed.
Accolades for World Record Setting
Each issue of Spawn sets a new World Record for independent comics.  That's history every time you buy an issue!
Negatives
Crickets are chirping…I mean…come on…Phillip Tan and Todd McFarlane..  But I am waiting on some other characters to show up with some of Spawn's energy. 
More She-Spawn please!!! 
Verdict
Kincaid…I don't know if one can read another issue of Spawn without blood dripping directly off the pages.  The next few issues may rival the Joker War that is taking place at DC.