Review: Harley Quinn-Black+White+Red #6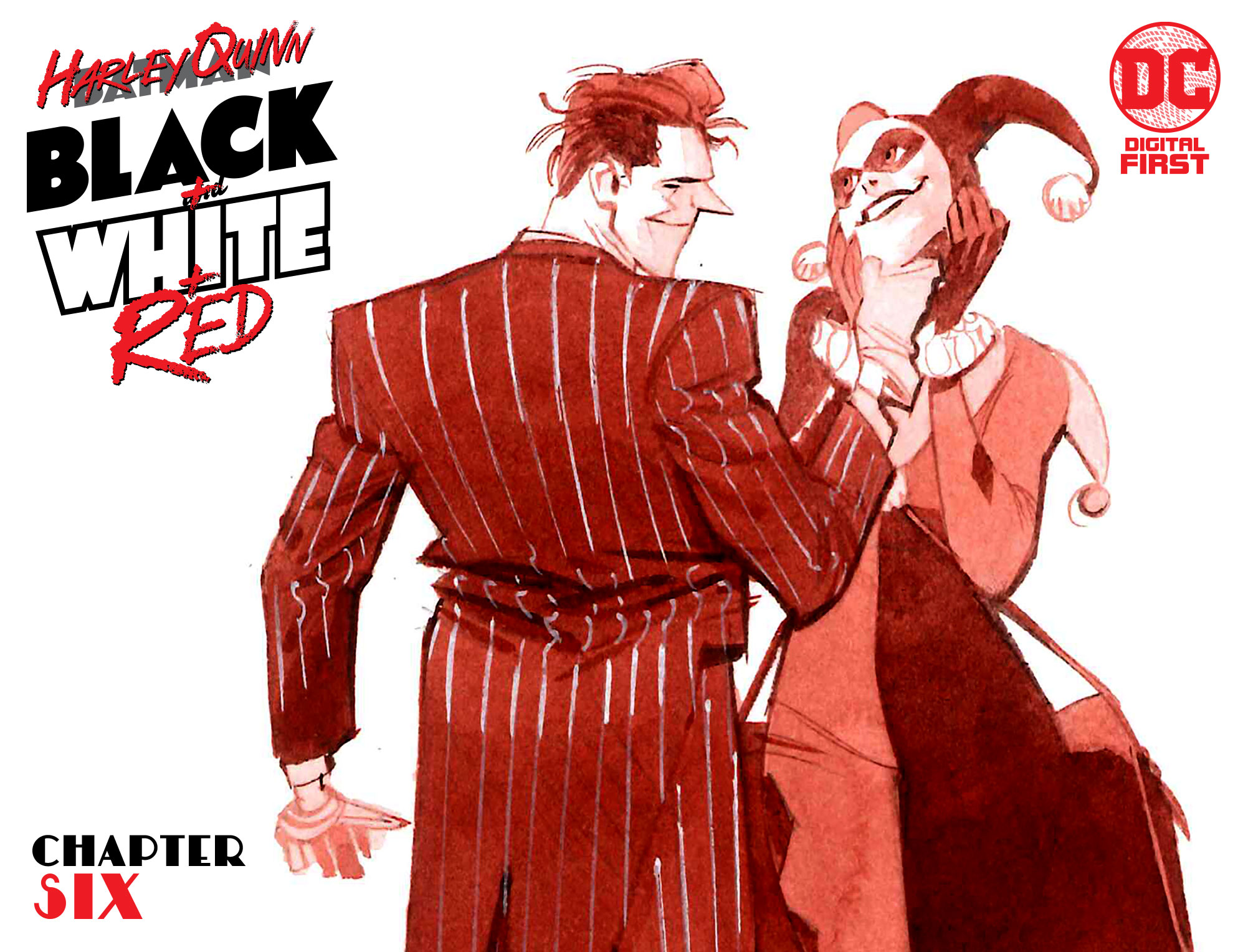 [Editor's note: This review may contain spoilers]
Writers: Sean Murphy and Katana Collins
Artist: Matteo Scalera
Letterer: Andworld Design
Reviewed by: Sean Blumenshine
Summary
Harley looks back on the night of her first arrest by Batman. In the heat of one of her earliest escapades with the Joker, Harley's high spirits are tanked and she gets a cold glimpse of the chaos to come when violence escalates and their heist is crashed by Batman and Robin. Forced to save face or take the high road, Harley makes a choice that will cement her unspoken bond with Batman for years to come.
Positives
I like the cover. The style is appealing and looks great.
I also enjoy the interior art. I love that the present day sequences are mostly white while the flashbacks have a red hue. That was a great design choice that's really effective and looks cool.
This is a fascinating idea for a story that is a preview for an upcoming book. Basically, Harley has given up crime and is raising her two kids. She has formed a friendship with Bruce Wayne who she knows is Batman. The story flashes back to the first time Batman arrested Harley Quinn and what, I'm assuming, is the start of her road to redemption.
It's a cool perspective that hasn't been explored. Harley as a comedic antihero has been done to death at this point. But everything this story presents is so interesting and unique. And I like that Batman recognizes Harley's potential. Harley does things in the flashback that Joker perceives as dumb mistakes. But they were things Harley did intentionally to keep people out of harm. Batman is able to see that which is why he tries to talk to her.
The chapter is also very funny. They reference the bit in Batman (1989) where Joker puts on glasses and says, "You wouldn't hit a guy with glasses, would you?" Which was already a funny joke but they add a little twist on it where, in this, Batman takes Joker's glasses off before punching him. I thought that was very funny.
Negatives
There are no negatives worth mentioning.
Verdict
This is a great issue. The premise is immediately interesting with a lot of character potential. The art looks great and it's entertaining. As a preview, this is excellent because I'm really excited about this new book now.