Review: YOU LOOK LIKE DEATH: TALES FROM THE UMBRELLA ACADEMY #4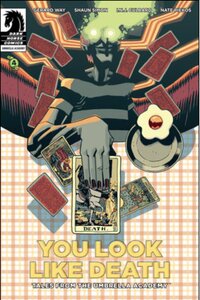 [Editor's Note: This review may contain spoilers]
Writers: Gerard Way, Shaun Simon
Artist & Colorist: I.N.J. Culbard
Letters: Nate Piekos
Reviewed by: Alex McDonald
Summary
You Look Like Death #4: The Hollywood Gods reveal why the once-famous Vivian Clarke was blacklisted, and Klaus sees a side of Vivian that scares even him. Business is booming at the underground vampire amusement park–funhouse mirrors don't really work for the undead, but the bobbing-for-apples-in-blood-station is a hit. The vampire chimp boss discovers that Klaus could serve him better alive than dead.
Positives
This is probably the best issue of the series so far. The term slow burn gets thrown around a lot now in the age of Netflix binges, but it's a pretty apt way to describe You Look Like Death. For months now the plot has been a little thin while the connection to Séance as a character has been driving a majority of the interest in the series. With issue four Way and Simon are starting to show what the series is about.
Klaus for the better part of the previous three issues has been a bit of an inactive protagonist. While the stories have been interesting, he has sort of just waltzed his way through the story with little agency. Of course this goes with his down and out character, but it's very satisfying to see him start to take control. For those that have had questions so far Way and Simon are starting to drip feed some answers to keep readers hooked. While it took Klaus a little longer than maybe necessary to express any agency in his own spin-off, now that he has everything about the series is picking up.
It goes without saying at this point but Culbard's artwork is still beautiful to look at. If anything the things he's getting to depict are increasing in their lunacy so this is not only one of the most engaging issues of the series but also one of the prettiest to look at. As always the colours are used fantastically to tell a story in themselves. It feels like colours are too often forgotten these days so it's refreshing for creators like Culbard to remind readers what they can achieve on their own.
Negatives
If you're this far into the series then this is the best issue and worth picking up. But what if you haven't picked any issue up yet? Well that's where things get a little muddy. As said, the pacing is very 'Netflix.' Now the slow-burn TV shows are made such a way because the audience is nigh on guaranteed to binge it in a weekend. You Look Like Death doesn't have that luxury. This is still a monthly comic until the trade comes out. Is this issue strong enough to justify the slower issues? Probably, but only if you're a fan of the Umbrella Academy. Otherwise this spin-off is a strong contender for the 'wait for the trade' market, which is never great.
Verdict
You Look Like Death #4 gives readers some of the answers they've been waiting for while ratcheting up the conflict. It's evident that all the threads are drawing dangerously close and the interest is at an all-time high as the series rolls on. For Umbrella Academy fans this is a series you really don't want to miss.