The ultimate DC fan destination has arrived! This Thursday, January 21, DC will launch DC UNIVERSE INFINITE, a premium digital comic book service and community. With the largest collection of DC Comics found anywhere, fans can now dive into over 25,000 comic books and graphic novels on DC UNIVERSE INFINITE. Starting at launch, the platform will continuously add selections from DC's iconic labels, Vertigo, DC Black Label and Milestone Media, the platform will also feature new comic releases six months after their in-store releases, as well as, Digital First titles available three months after launch, and brand new comic titles exclusive to DC UNIVERSE INFINITE. Additionally, fans will soon have exclusive access to DC fan events to connect with other DC enthusiasts. Following Thursday's U.S. launch, DC UNIVERSE INFINITE will begin expanding globally later this year.
DC UNIVERSE INFINITE is presented in a sleek, newly designed app with updated personalization features and an enhanced comic reading experience. Current DC UNIVERSE subscribers will not need to create a new account, as their DC UNIVERSE login will transfer to DC UNIVERSE INFINITE. Fans can download comics, graphic novels and originals for unlimited offline reading on their favorite devices from a smartphone or tablet.
"This is just the beginning of DC UNIVERSE INFINITE's transformation," explained  Pam Lifford, President of Global Brands and Experiences at Warner Bros. "Our fans will have access to a rich collection of their favorite comic books and publishing while connecting with a community that loves the same DC characters and brands."
DC's premium digital comic book platform provides members with an expanded collection of comics and Original Graphic Novels (OGN), spanning over 80 years of the DC Multiverse. With an enhanced reading experience, some of DC's best-selling comic titles are now available on the platform including LUCIFER, PREACHER, V FOR VENDETTA, BATMAN: DAMNED, SUPERMAN: YEAR ONE, DARK NIGHTS: DEATH METAL, MISTER MIRACLE, DCEASED: UNKILLABLES, and more!
Starting Thursday subscribers will also have earlier access to new digital first comics including those from DC's digital archive with five new backlist titles released a week. With DC's revival and commitment of digitizing Milestone Media, a comics line created by a coalition of black talent including Dwayne McDuffie and Denys Cowan to increase representation in comics, fans will soon find beloved series like STATIC, ICON and HARDWARE on the platform.
DC UNIVERSE INFINITE's new offerings include:
Long standing DC UNIVERSE member requests
BATMAN: ARKHAM ASYLUM (OGN) written by Grant Morrison and art by Dave McKean
BATMAN: EARTH ONE V1 (OGN) written by Geoff Johns and art by Gary Frank
GREEN LANTERN: EARTH ONE (OGN) written by Corinna Bechko and Gabriel Hardman
JOKER (OGN) written by Brian Azzarello with art by Lee Bermejo
JUSTICE LEAGUE: THE WORLD'S GREATEST SUPERHEROES (OGN) written Paul Dini with art by Alex Ross
LUTHOR (OGN) written by Brian Azzarello with art by Lee Bermejo
MISTER MIRACLE written by Tom King with art by Mitch Gerads
SUPERGIRL: BEING SUPER witten by Mariko Tamaki with art by Joëlle Jones
SUPERMAN: EARTH ONE V1 (OGN) written by J. Michael Straczynski with art by Shane Davis
Full series from DC's Vertigo catalogue
EX MACHINA written by Brian K. Vaughan with art by Tony Harris
HELLBLAZER Written by Jamie Delano, Garth Ennis, Paul Jenkins, Mike Carey and more
iZOMBIE written by Chris Roberson with art by Michael Allred
LUCIFER written by Mike Carey with art by Peter Gross
PREACHER written by Garth Ennis with art by Steve Dillion
V FOR VENDETTA written by Alan Moore with art by David Lloyd
Selections from the DC Black Label catalogue
BATMAN: DAMNED written by Brian Azzarello with art by Lee Bermejo
HARLEEN written and illustrated by Stjepan Šejić
SUPERMAN: YEAR ONE written by Frank Miller with art by John Romita Jr.
THE LAST GOD written by Phillip Kennedy Johnson with art by Riccardo Federici
THE QUESTION: DEATHS OF VIC SAGE written by Jeff Lemire with art by Denys Cowan
Joe Hill Presents Hill House Comics titles:  
BASKETFUL OF HEADS written by Joe Hill with art by Leomacs
PLUNGE written by Joe Hill with art by Stuart Immonen
THE LOW, LOW WOODS written by Carmen Maria Machado with art by Dani
DAPHNE BYRNE written by Laura Marks with art by Kelley Jones
THE DOLLHOUSE FAMILY written by Mike Carey with art by Peter Gross
Titles from DC's archives, with a big focus on Milestone Media titles after launch like:
STATIC written by Dwayne McDuffie with art by John Paul Leon
HARDWARE written by Dwayne McDuffie with art by Denys Cowan
STATIC SHOCK! REBIRTH OF THE COOL written by Dwayne McDuffie with art by John Paul Leon
ICON: A HERO'S WELCOME written by Dwayne McDuffie with art by M.D. Bright
ICON: VOL. 2: THE MOTHERSHIP CONNECTION written by Dwayne McDuffie and M.D. Bright with art by Chris Cross, M.D. Bright, John Paul Leon, and Jeff Moore
Expect to see batches of archived titles from the DC vault!
In addition to the extensive digital comic library DC UNIVERSE INFINITE provides, fans will also find a portal into the DC COMMUNITY hub at
community.dcuniverseinfinite.com
, and it's entirely free! With another portal located on
dccomics.com
, DC fans from all walks of life have their new home for deep diving into spirited discussions, thoughtful book clubs, hard-hitting trivia challenges, and live DC talent Q&As, all in one positive and friendly space. Stay tuned for the DC COMMUNITY's full calendar of events planned for 2021.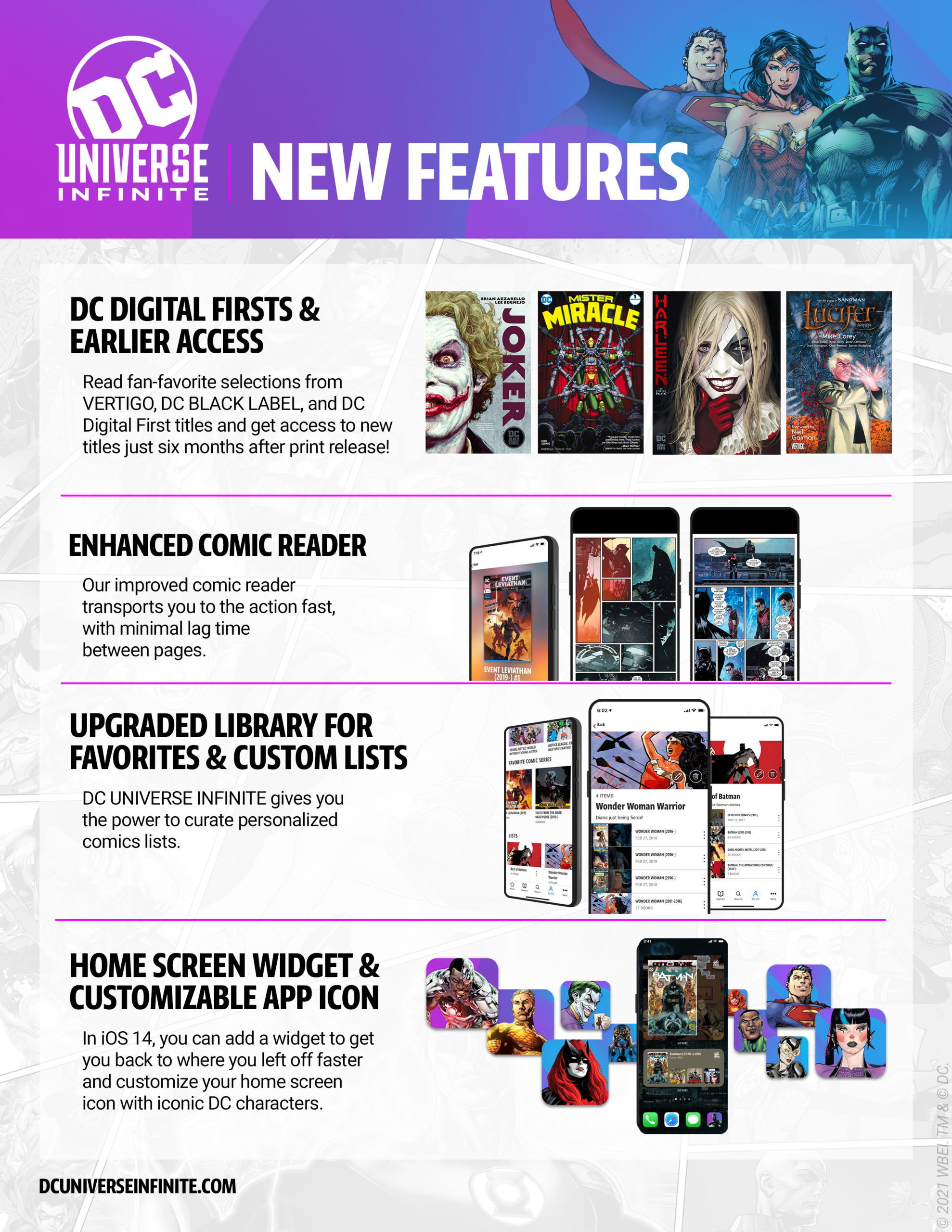 Fans can also enjoy a brand new DC SHOP at
Shop.dccomics.com
with the latest merch from every fan's favorite DC shows, movies, and characters. The DC SHOP has a wide assortment of gear and collectibles, including exclusive, limited-edition products dropping regularly.
In addition to DC UNIVERSE INFINITE's debut,
dccomics.com
has new updates with design tweaks across the site making it easier for fans to connect to new content, products, and fellow fans.
HBO Max is the home for premium video content that will include new DC series, key DC classics and DC UNIVERSE originals like Young Justice Seasons 1-4, Titans Seasons 1-3, Doom Patrol Seasons 1-3, and DC's Stargirl Season 1. Additionally, HBO Max has ordered a third season of Warner Bros. Animation's critically acclaimed DC UNIVERSE adult animated comedy series Harley Quinn, starring Kaley Cuoco, who also served as executive producer during the first two seasons along with Justin Halpern, Patrick Schumacker, Dean Lorey, and Sam Register.  Harley Quinn will be a Max Original going forward, and all three seasons of the show will be available.
DC UNIVERSE INFINITE is available online at
DCUniverseInfinite.com
, iOS and Android devices for $7.99 a month or $74.99 a year ($6.25 a month). DC UNIVERSE INFINITE subscribers in good standing who were existing members of DC UNIVERSE or who joined during the DC UNIVERSE INFINITE pre-order offer window and who enrolled in auto-renewal, will receive a special thank you voucher redeemable at the DC Shop, on or after February 1, 2021, subject to terms and conditions. Annual subscribers will receive a $25 voucher, while monthly subscribers will receive a $10 voucher. See full terms and conditions for details.