Review: Future State: Aquaman #1
Writer: Brandon Thomas
Artist: Daniel Sampere
Colors: Adriano Lucas
Letters: Clayton Cowles
Reviewer: Tony Farina
Summary
When Jackson Hyde accepted the mantle of Aquaman, he didn't expect to also have to mentor Andy Curry, Arthur and Mera's teen daughter. Nor did he expect that he and Andy would get sucked into the Confluence-an interdimensional nexus that connects distant planets and galaxies through the One Great Ocean. And he certainly didn't expect to lose Andy in the process of trying to find their way back home. Now Jackson's not sure how long he's been stuck in a prison on Neptune (five years?) or how many times he's tried to escape (200 at least!). But today Jackson saw something in the water that gave him hope for the first time in a long time-and his captors have no idea what he's got in store for them.
Positives
Future State: Aquaman #1 is gorgeous. Sure, Jackson and Andy are the heroes of this tale, but Daniel Sampere is the star. I think drawing underwater must be difficult. Look, comic art in general is tough, but to make it look like someone is moving and doing battle and breathing underwater takes it all to another level. Sampere's work here is special. There is not one time when reading this book where I didn't feel the weight of the water all around the characters. Bravo.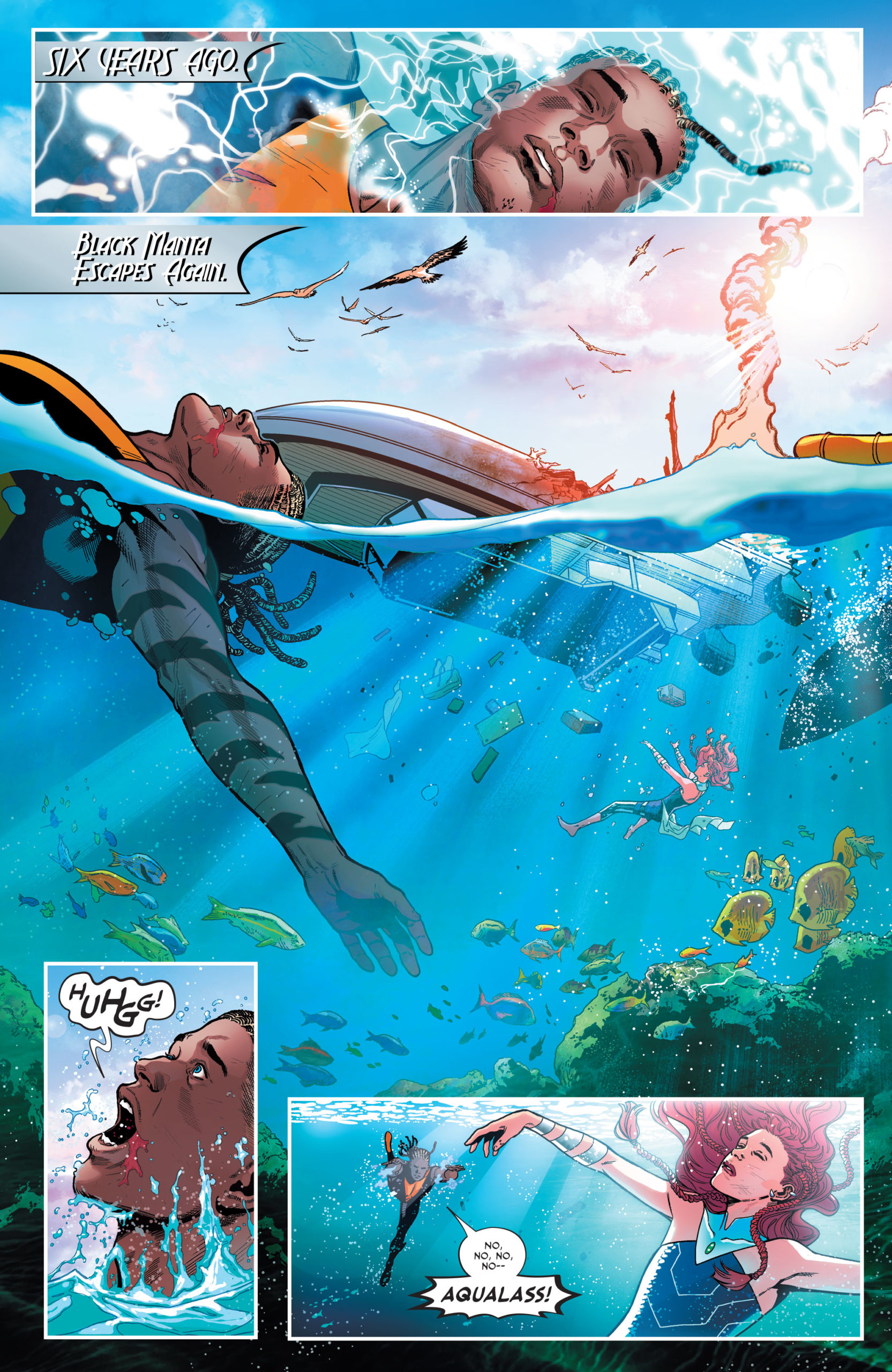 What a great way to start and end a story. Nice work Mr. Thomas. I was hooked (pun intended) from the jump. Andy and Jackson are well developed in just a few short pages. In the flashback sequence (pictured above), we learn so much about them and their relationship in a few words. That is the way to do it. There is such a tendency to bring in an exposition character and talk down to the reader. Not here. I am relieved.
Negatives
Aquaman is not actually the only star of this book. Aquafolks. Aqua people. Something like that would be more appropriate. I actually think they missed the mark by not calling it something else. We all know Aquaman titles do not sell as well as they should even when they are brilliant.
Verdict
Future State: Aquaman #1 is really good. Telling a story out of order does not always work, but the team here has dropped the mic. Beyond the fact that the title is misleading and no one is actually the color aqua, which seems like a big miss, this has a lot of legs and gills and fins.