In celebration of the highly anticipated feature film ZACK SNYDER'S JUSTICE LEAGUE, DC is revealing a special selection of  Justice League #59 variant covers, on sale March 16, 2021. The covers will debut in advance of the film's premiere on HBO Max on March 18, 2021. Justice League #59 also signals the debut a new League lineup as well as a new creative team, featuring award-winning writer Brian Michael Bendis, with art by fan-favorite artist David Marquez.
In Justice League #59, Bendis reunites with artist David Marquez for a new, star-studded Justice League featuring Superman, Batman, the Flash, Hawkgirl, Aquaman, Hippolyta, new DC powerhouse Naomi, and Black Adam.
And in the backup story by Ram V and Xermanico, dark days lie ahead for the new Justice League Dark. Zatanna and John Constantine take a road trip, only to discover horror around the bend as a friend—and sometime foe—is reborn in fire!
In ZACK SNYDER'S JUSTICE LEAGUE, determined to ensure Superman's ultimate sacrifice was not in vain, Bruce Wayne aligns forces with Diana Prince with plans to recruit a team of metahumans to protect the world from an approaching threat of catastrophic proportions. Now united, Batman , Wonder Woman  , Aquaman  , Cyborg and The Flash  may be too late to save the planet from Steppenwolf, DeSaad and Darkseid and their dreadful intentions.
These special variant covers are available in both full color and black and white versions at participating comic book stores for $5.99 each. Check your local store for availability.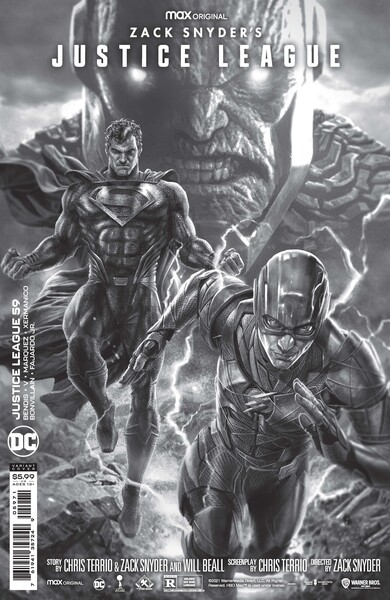 ZACK SNYDER'S JUSTICE LEAGUE stars Ben Affleck, Henry Cavill, Amy Adams, Gal Gadot, Ray Fisher, Jason Momoa, Ezra Miller, Willem Dafoe, Jesse Eisenberg, Jeremy Irons, Diane Lane, Connie Nielsen, J.K. Simmons. The screenplay is by Chris Terrio, story by Chris Terrio & Zack Snyder and Will Beall, based on characters from DC, Superman created by Jerry Siegel and Joe Shuster. The film's producers are Charles Roven, Deborah Snyder, with executive producers Christopher Nolan, Emma Thomas, Wesley Coller, Jim Rowe, Curtis Kanemoto, Chris Terrio and Ben Affleck.
For the latest information on Justice League by Bendis and Marquez and more, make sure and visit the website at www.dccomics.com, and follow on social media @dccomics and @thedcnation.