Review: Future State: Shazam #2
[Editor's Note: This review may contain spoilers]
Writer: Tim Sheridan
Artist: Eduardo Pansica
Colors: Julio Ferreira 
Inks: Marcelo Maiolo
Letters: Rob Leigh
Reviewed by: Seth Singleton
Summary
Future State: Shazam #2 continues the story of Shazam's seduction at the hands of Neron. And now the sin of omission and a deal with the Devil is all coming to fruition. Shazam may harness the power of the gods but young Billy Batson is just a boy who wants to do the right thing.
Positives — Story
The Latin phrase, "corruptio optimi pessima" translates to the corruption of the best is the worst. The purity of Shazam and Batson are now corrupt. The separation of Billy Batson from Shazam exacerbates the problem. and the two suffer even more.
It is impossible to imagine the Captain of Marvel falling for a ploy. He is imbued with the power of gods including the wisdom of Solomon. However, fear and sacrifice are damaging wounds that never heal. The choices Shazam and Billy were forced to make haunt them. The scars remain. Each one is angry and itches with frustration.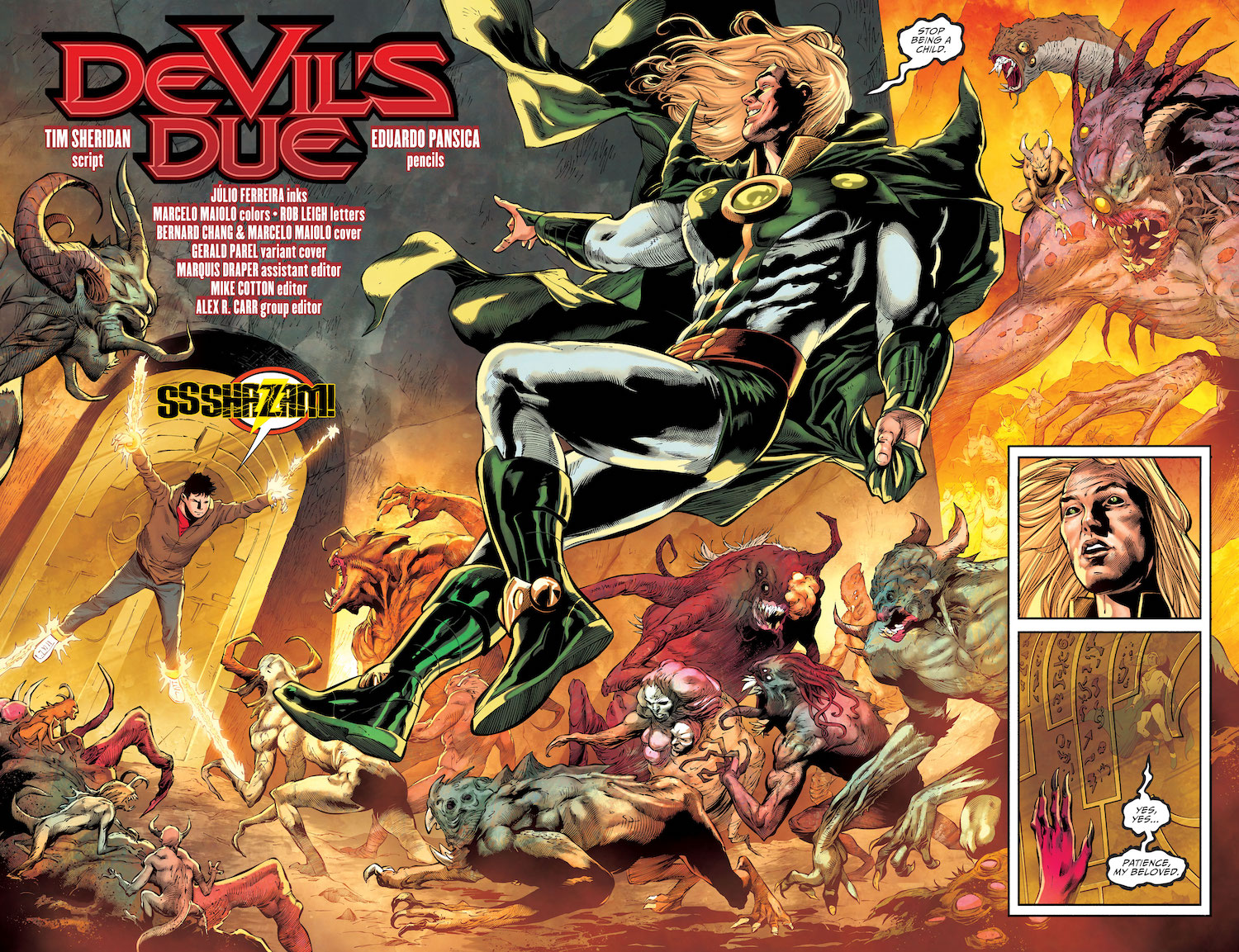 Dangerous evil is imprisoned within the Rock of Eternity. It broke the previous Titans team. Shazam locked it away but a shadow remained. Neiron took the shadow and manipulated the emotions it held to deceive Shazam.
The arrival of two agents of the Presence does a wonderful job hinting at the danger. Stakes are rising. The plot is thickening. Now the hand of vengeance and the forever-damned are players in a shell game.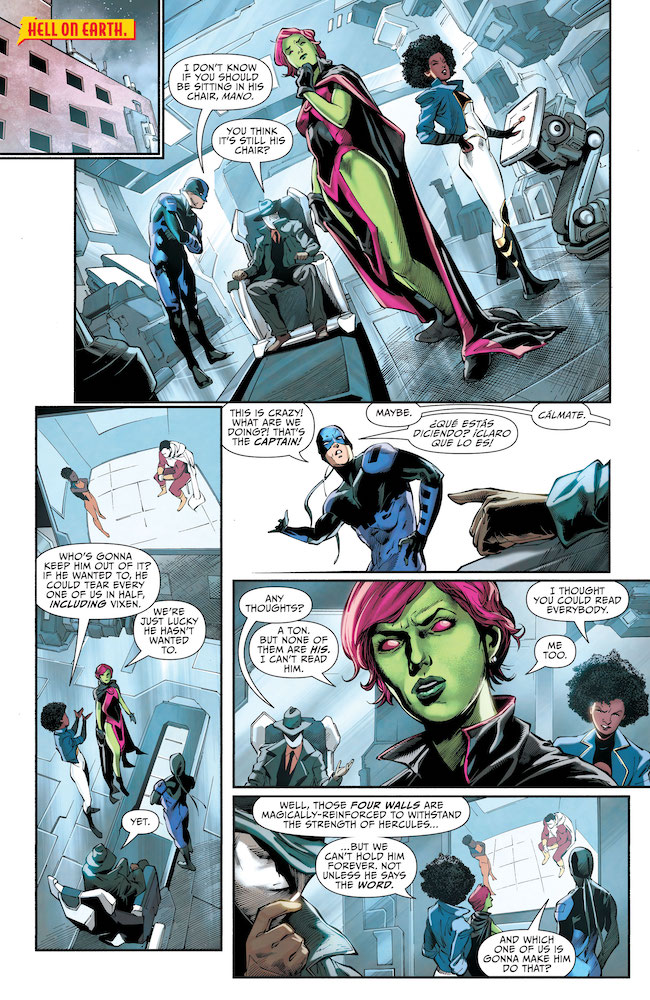 Positives — Creative Team
To begin with, Tim Sheridan is doing an amazing job telling a story of pain and suffering. The experience is more jarring when one of DCs most virtuous characters is the victim. This is easier to do when Joe Pansica brings the pain, power, and the wonderful magic in the story to painstaking detail.
Likewise, Julio Ferreira's inks create a wonderful blend of 10 and shut up. Marcella uses beautifully bright red-orange pinks yellows to make the Flames of hell and the demons haunting Shazam pair glaring on the page. It is a stark contrast to the cold white interior have the room where Vixen interrogates Shazam.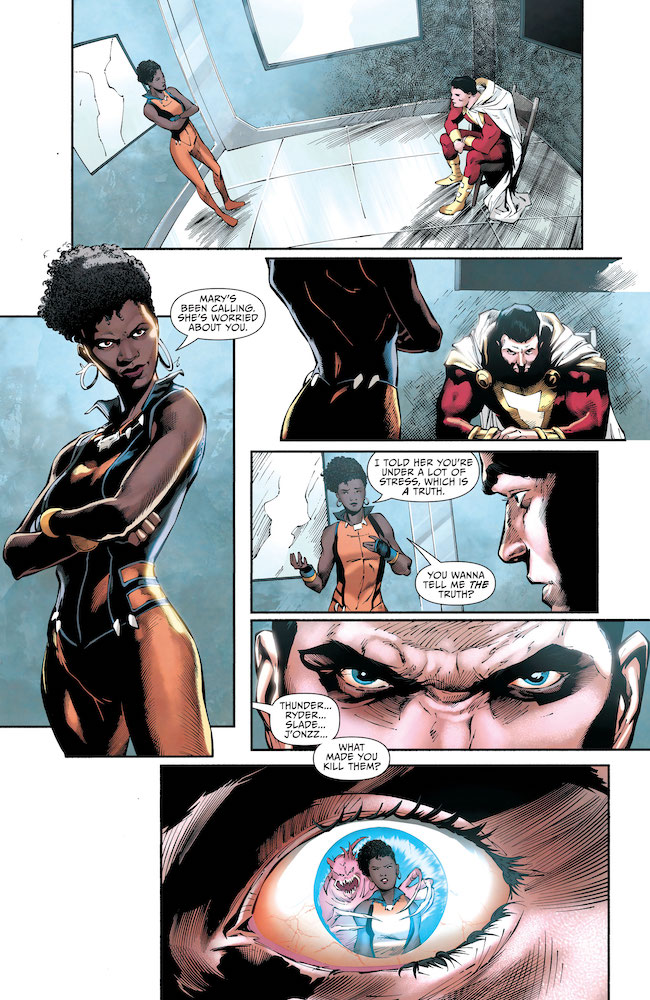 Rob Leigh uses thoughtful letter constructions to make neuron sound ominous, terrifying well Billy is mournful and Shazam explodes in suffering.
Negatives
Not today.
Verdict
Future State: Shazam #2 it's a story of how Shazam was manipulated by Neron. Sheridan they just out very clearly for the reader and it becomes so quickly that Billy and Shazam were trying to do the right thing immediately after being forced to do something horribly painful. Suffering from that trauma never ends.
This wonderful story is brought to life by Pansica, Ferreira, Maiolo, and Leigh. The execution of the script includes brilliant notes of creative inspiration. A band of storytellers is in sync when the layers of skill are seamless. Shazam's trials are not over. But, when his redemption is final, it will be told with promise and shine with glory.