Review: Scooby-Doo! Where Are You? #108
[Editor's Note: This review may contain spoilers]
Writer: Sholly Fisch, Alex Simmons
Artist: Walter Carzon, Leo Batic
Colors:  Silvana Brys, Paul Becton
Letters: Saida Temofonte, Rob Leigh
Reviewed by: Carl Bryan
Summary
This lighter side of the Scooby-Doo comics contains two stories that have all of the standard Saturday morning hi-jinks we expect from the Scooby-Doo series.
"The Devil Dog You Say?" – Talk of mysterious curses and lost treasure is pretty common out on the moors, but when a terrifying howling begins to haunt the night, Scooby and the gang are called upon to investigate.
Finding themselves trapped in Wilson Gottrich III's mansion with his strange guests, the gang will need their combined sleuthing skills to uncover the mystery before it's too late to escape from the Hound of the Moors…
"Prisoner of the Ghost in the Iron Mask"  –   A secret trip into Morovania for Scooby and the Gang as the Princess seeks to find out if a Legend has really come to life in the form of a Ghost.  It's a royal tale that has Scooby and Shaggy eating like Kings!
Positives
In each story, you get the components of a great Scooby-Doo episode – the mystery set up, the comic escapades of Scooby and Shaggy and "I would have gotten away with it if it wasn't for you annoying kids!".
Both mysteries have an old school travel theme… haunted moors and castles.  What I love is that this comic introduces a new lesson or sport or subject for young readers.  While it is fun to solve the mystery, it also evokes questions that kids can ask their parents about history or any other back story provided.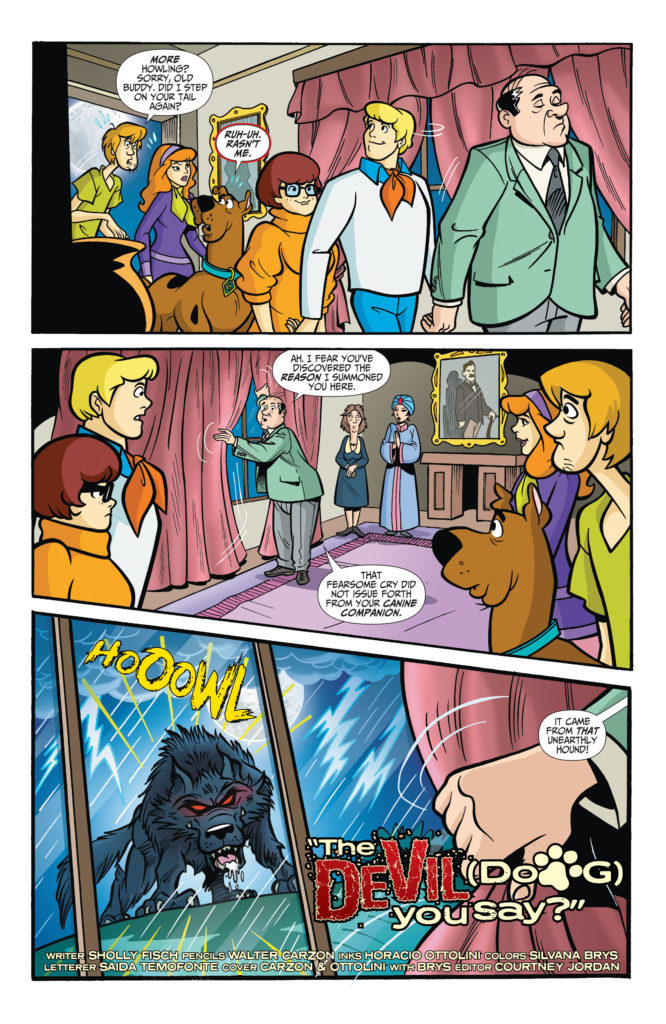 Negatives
No real negatives as this is a wonderful comic for young readers that follows a solid formula for years.  No surprises, but also not anything that will detract the reader from enjoying Scooby and the Gang!
Verdict
Scooby-Doo comics are a great way to teach kids critical thinking skills as well after you see the evidence, and they pick who is the culprit.  As a parent you should sit with your son or daughter and simply read a copy of Scooby-Doo! Where Are You?