Review: Man-Bat #2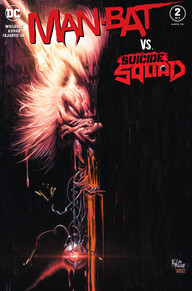 [Editor's Note: This review may contain spoilers]
Writer: Dave Wielgosz
Artist: Sumit Kumar
Letters:  Tom Napolatino
Colors: Romulo Fajardo, Jr.
Reviewed by: Carl Bryan
Summary
"Man-Bat is good for me.  I feel confident.  I feel free.  I feel powerful….. "- Kirk Langstrom
Man-Bat #2 -For years Kirk Langstrom has struggled with his monstrous alter ego, Man-Bat, and the serum that transformed him.
Man-Bat is now on the run from the law following a horrific night of blood and mayhem on the streets of Gotham.
But the police aren't what Kirk Langstrom's monstrous alter ego should worry about…it's Task Force X, better known as the Suicide Squad.
To undo the damage he caused, Man-Bat must seek out a cure for the innocents he has injured, all while staying out of the deadly sights of the world's most dangerous mercenaries!
Positives
Man-Bat is looking to be more and more like Curtis Connors/The Lizard or Bruce Banner/Hulk.  But with the dialogue of a modern day pronoun expert…always referring to himself as "we" as there are two "presences" in Man-Bat…the creature and Kirk Langstrom.
Sumit Kumar's pencils are on point!  What he does with a farmhouse to a city is amazing.  Landscapes to rooftops are his thing.  He is spot on with the Suicide Squad in this one as well.  I love it when an artist can lend his touch to a character while complimenting another cast of characters as well.  
The storyline is a bit confusing as we will see, but Langstrom is bent on curing himself in this comic, but in the prior comic he wrestles with both the power Man-Bat can provide and his ego in wanting to be idolized as a hero.
This "anti-hero" (I am stopping short of calling him an equivalent of Batman's Bizarro) is all over the place….very manic…suspicious… you can see the scientist disappearing and the creature taking his place.  Very Jekyll and Hyde stuff here.
It will be interesting what therapy time with Harley will do!  Oops…. Spoiler Alert!
Positives 2.0
Dave Wielgosz starts this story with glimpses of Langstrom's love for his wife and for his family.  That's where most motivations out of science come from…to help someone else who might have a condition or situation where we need a cure.
Wielgosz creates a character in Langstrom a misguided and misunderstood scientist.  He desperately wants to help, but the Man-Bat wants to take him over…give into the carnal instincts.  Where does he fit in?  I loved the Gotham City Monsters and JL Dark
Where does Langstrom fit in?  So many places for this character to be other than facing Batman every so often.
Negatives
The timing on this issue hopefully has ramifications in the current timeline as the editor notes it occurs before the events in Death Metal.  Wow!  That's a long time ago for a current issue, but I am assuming all will be revealed.
Man-Bat is a tortured soul, but we are left to wonder if Batman cannot cage him and he manhandles the Suicide Squad (except for Harley???), what gives?
A few loose ends even for the comic universe seem to be left hanging!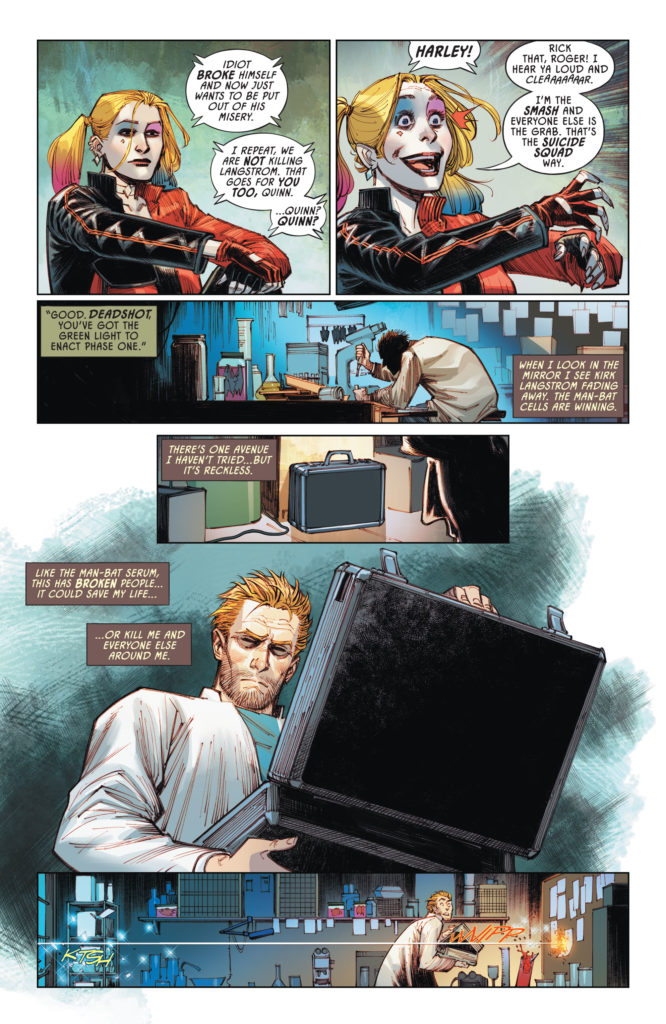 Verdict
Dave Wielgosz and Sumit Kumar work really well together to deliver a solid revisit to the origin of Man-Bat.  One such frame of wingspan and capes over Gotham is worth the price of the issue!  However, how this inserts into the current Future State or as a stand alone tale is a bit confusing.  However, taken on its own, its a great reminder of Man-Bat and a hopeful piece of story telling that allows him to remain relevant on the DC landscape.