Review: Scooby-Doo! Where Are You? #109
[Editor's Note: This review may contain spoilers]
Writer: Derek Fridolfs, Dan Abnett
Artist: Scott Jeralds, Anthony Williams
Colors:  Jermey Lawson, Paul Becton
Letters:  Saida Temofonte, Tom Orzechoswski
Reviewed by: Carl Bryan
Summary
This lighter side of the Scooby-Doo comics contains two stories that have all of the standard Saturday morning hi-jinks we expect from the Scooby-Doo series.
"Escape Claws" –  Fred's skills are well-known around town for creating many of the traps used to capture monsters. When he is invited to test out the new Coolsville Escape Room complex, the gang tags along to help out.
But can Fred and his friends now escape being trapped by a creepy chimera haunting the halls? Or will it be game over for Mystery Inc.?
"Petrified"  -Small town shenanigans feature people being turned to stone at the gaze of a Golden Monster.  What happens when Fred and Daphne are petrified?  It's up to Scooby, Shaggy and Velma to make things right.
Positives
In each story, you get the components of a great Scooby-Doo episode – the mystery set up, the comic escapades of Scooby and Shaggy and "I would have gotten away with it if it wasn't for you annoying kids!".
Both mysteries have a common ground… escape  What I love is that this comic introduces a new lesson or sport or subject for young readers.  While it is fun to solve the mystery, it also evokes questions that kids can ask their parents about history or any other back story provided.
Negatives
No real negatives as this is a wonderful comic for young readers that follows a solid formula for years.  No surprises, but also not anything that will detract the reader from enjoying Scooby and the Gang!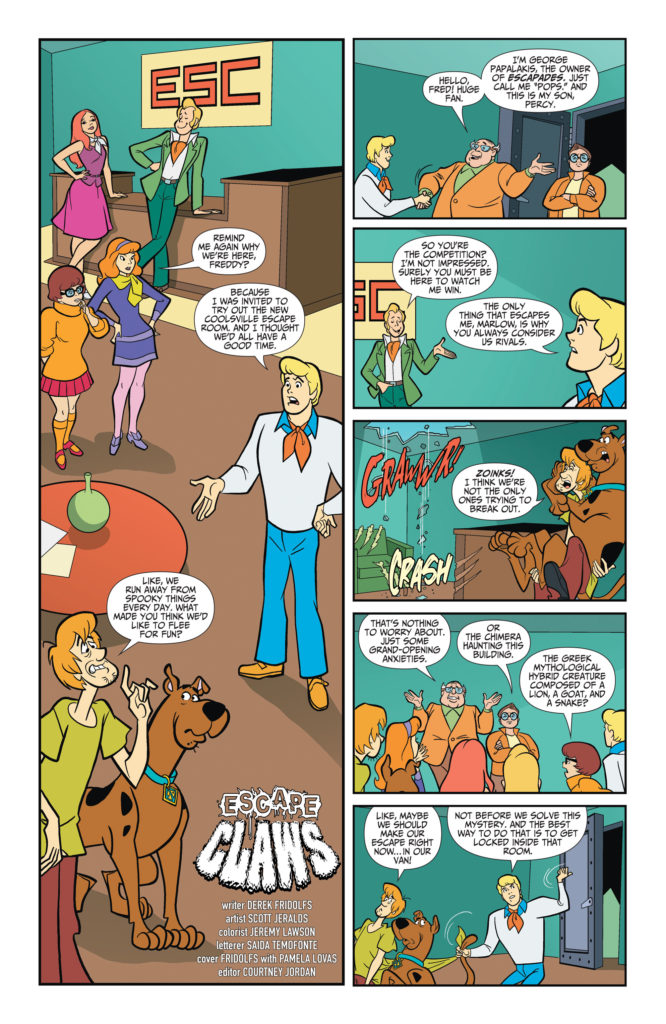 Verdict
Scooby-Doo comics are a great way to teach kids critical thinking skills as well after you see the evidence, and they pick who is the culprit.  As a parent you should sit with your son or daughter and simply read a copy of Scooby-Doo! Where Are You?