Review: Grimm Fairy Tales #47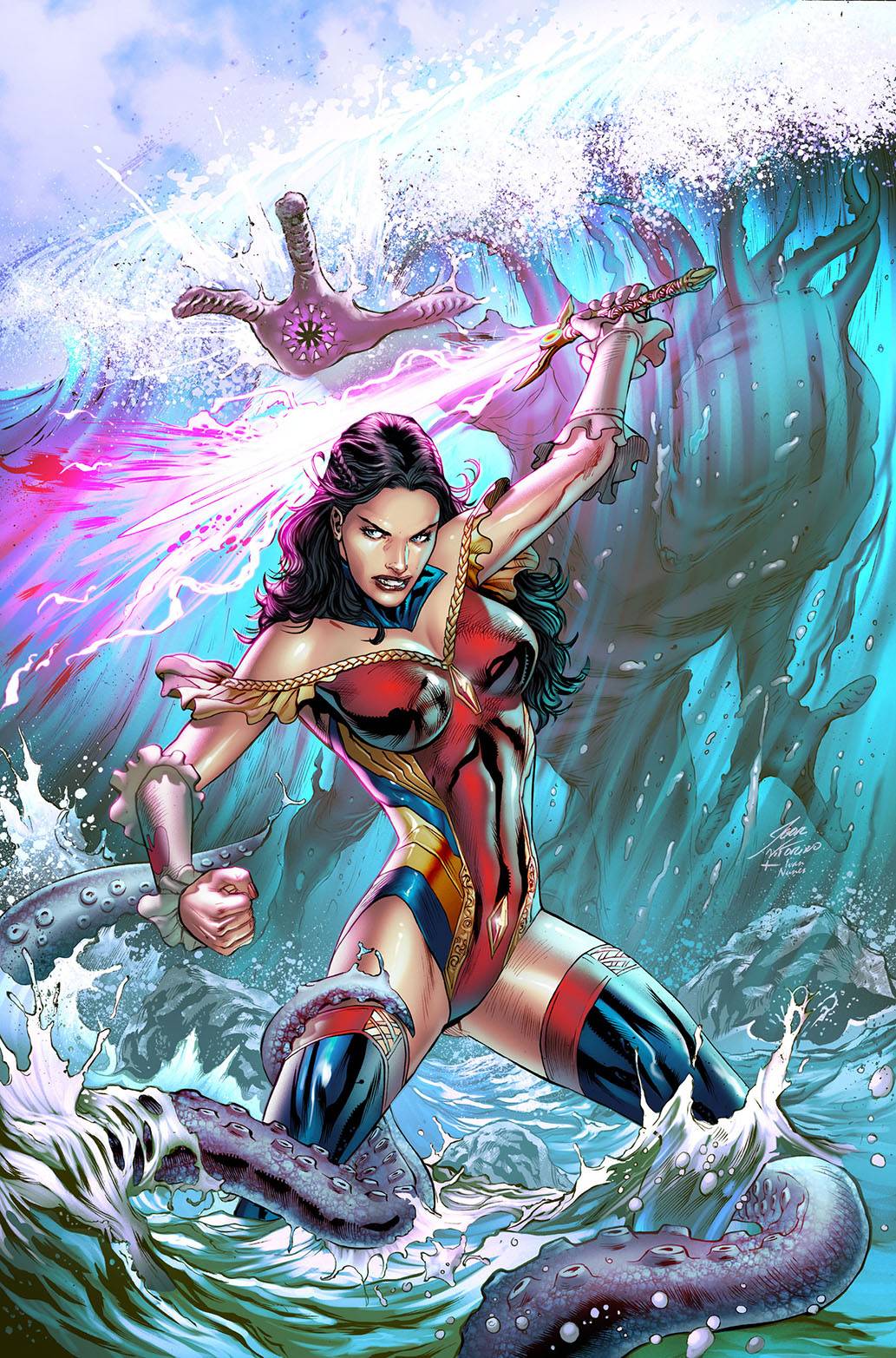 [Editor's Note: This review may contain spoilers]
Publisher: Zenescope Comics
Story By: Joe Brusha, Ralph Tedesco, and Dave Franchini
Written By: Dave Franchini
Art By: Sergio Arino
Colors By: Jorge Cortes
Letters By: Tyler Esposito (Of Ghost Glyph Studios)
Review By: Kendra Hale 
Summary
The previous issue gave us Mother Hulda, another of the escapees from the Dark Book. Now, in Grimm Fairy Tales #47, Skye is going to check on Jasmine who we learned last issue was in danger. That is where this issue drops us back into the fray. Let's dive right in. 
Skye has found out that Jasmine never checked in after they went to investigate two different locations. While Skye's journey resulted in Mother Hulda being added back into the Dark Book, Jasmine has run across a hungry Nixie. Skye runs into a woman whose husband was also stolen away. Both dive right in, and soon enough find themselves in an underground cavern that has no business being in the underside of a pond. 
Can Skye save both her friend and this couple when even the book doesn't work on the Nixie?
Positives
With the Nixie being a rarely used Mythos, it was nice to see it included and carrying some of the traits of lore. While this story is honestly just moving the plot forward, it was a really nice way to do so. Especially learning that there are creatures the book will not work against. Foreshadowing? We will have to wait and see. 
Negatives
The only minor negative is that this is a filler story, but since those are necessary, all is forgiven.
Verdict
Grimm Fairy Tales #47 – "Nixie Of Mill Pond" gives us subtle hints of potential foreshadowing, and has the gang coming back together. I look forward to issue #48, as it promises to bring us ever closer to the end of this arc with the last of the escapees being sought.