[Editor's Note: This review may contain spoilers]
Publisher:  Image Comics
Writer: Scott Snyder
Artist: Tony S. Daniel
Colors: Tomeu Morey
Letters: AndWorld Design
Reviewed by: Carl Bryan    
Summary
"I love you…I love you very much"  – Emory Riggs
"FULL THROTTLE DARK" In Nocterra #3 Val is in a race to outrun a confrontation with Blacktop Bill whose mystique grows even more.  Val loses a passenger en route to survival, and symptoms worsen for Emory.
Time is not on her side, but it appears to have never been in the "Great PM".  This is Nocterra!
Positives
Scott Snyder and Tony S. Daniel are providing the comic of the year.  With every turn of the page, you get the giddiness of when you first read an issue of The Walking Dead, except this has more of a Stephen King's The Stand feel to it.  So many homages, but this is an original.
I can only imagine how this can transfer to the big screen as a movie, as the comic reads like a perfect movie.  Flashback scenes are used to both fill in the gaps as well as foreshadow perfectly.  The expression of "love" by Val and Emory's parents in the first flashback scene gives us a glimpse of two kids who had to grow up too soon and too fast in this world of the "Great PM".
No spoilers, but expect the baggage to get shed in this issue as the load lightens for Val.  Also, Emory's timeline…. the eyes have it.  Sigh!
News reports are haunting and the skin condition and eyes of those that transform due to the darkness….. so perfectly drawn.  Not to mention, the detail of both a road chase and neon signs.  The comic exceeds anything out on the market right now from any publisher.
Positives 2.0
Blacktop Bill is one heckuva great villain.  As readers, we are unsure of his motivation as Snyder is dripping out the details.  his work on this comic really is a reinvention of a horror genre as he takes elements of good story telling, but adds that extra home cooking that makes your Mom's lasagna better than any you ever had in a restaurant.

The art is exemplary and the use of colors make the darkness and the light so much more detectable than you would expect.  It is hard to describe a chase scene so vivid but between the flood lights, explosions, and neon, this issue just wets the appetite for more of this story.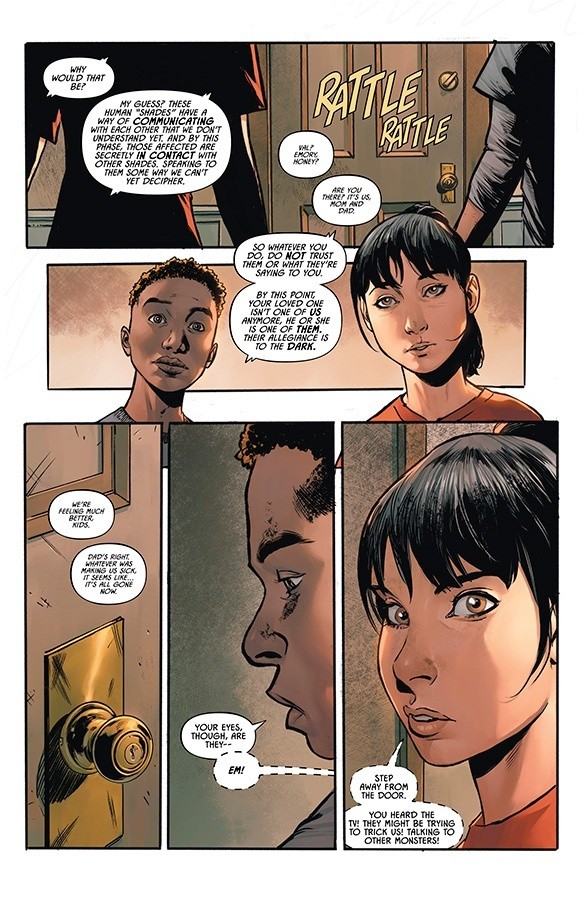 Negatives
Why is there even a sentence under this heading?  Nothing here as this comic hits on all cylinders….no pun intended as this road warrior has her tank full.  That visor….. gotta have an explanation on that one!
Verdict
BUY THIS BOOK! For those lucky enough to get on the ground floor of anything that Scott Snyder does, he's one of the hottest authors the past few years.  I am not sure how his imaginative faucet gets turned on, but I hope he has a run that rivals that of Stephen King! With Tony S. Daniel on art, you can't go wrong. What he did with Batman in Detective Comics is simply art at its finest… gallery worthy stuff!  Nocterra #3… the issues get better and better!