Review: Man-Bat #4
[Editor's Note: This review may contain spoilers]
Writer: Dave Wielgosz
Artist: Sumit Kumar
Letters:  Tom Napolatino
Colors: Romulo Fajardo, Jr.
Reviewed by: Carl Bryan
Summary
"This is the last time you will have to pay for Kirk's shortcomings "- Man-Bat to Francine
Man-Bat #4 – It's Batman versus Man-Bat round two!
After a disastrous encounter with the Suicide Squad, a therapy session with Harley Quinn and (yet another) failed attempt to cure himself, Langston has been located at last by the Dark Knight!
The only problem? Scarecrow got there first! What does the master of fear plan to do with a serum that literally creates monsters? We'll give you one guess…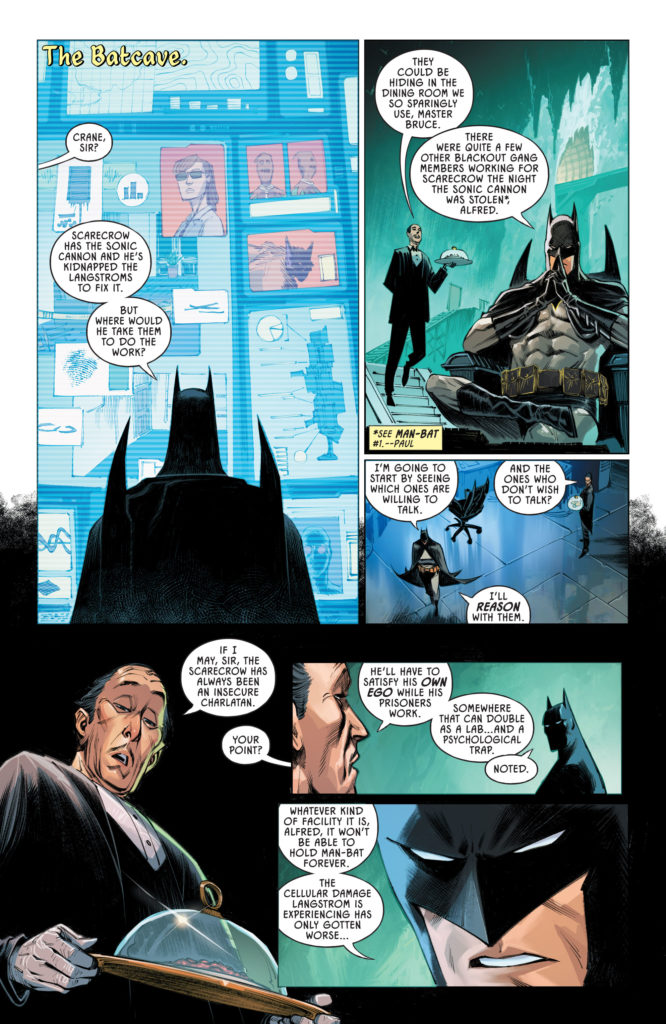 Positives
Dave Wielgosz provides quite the turning point in that the Scarecrow is forcing Man-Bat/Kirk Langstrom and Francine to work in some sort of alternate reality.  They are in an abandoned junky building, but they picture it as a luxurious lab.
Scarecrow can turn up the heat at any time emotionally, or place them in a Groundhog Day scenario.  What torture Crane provides to the couple.  Wielgosz lets us in on that the Scarecrow is just as bad as the Joker if not worse on some psychological levels.
Subsequently, Langstrom's Hulk-like battle between his alter-ego of Man-Bat and himself literally comes to a crescendo.  The ace up his sleeve in confronting both Scarecrow and Batman…Venom.  Man-Bat plus a Bane body…can Langstrom ever come back from this?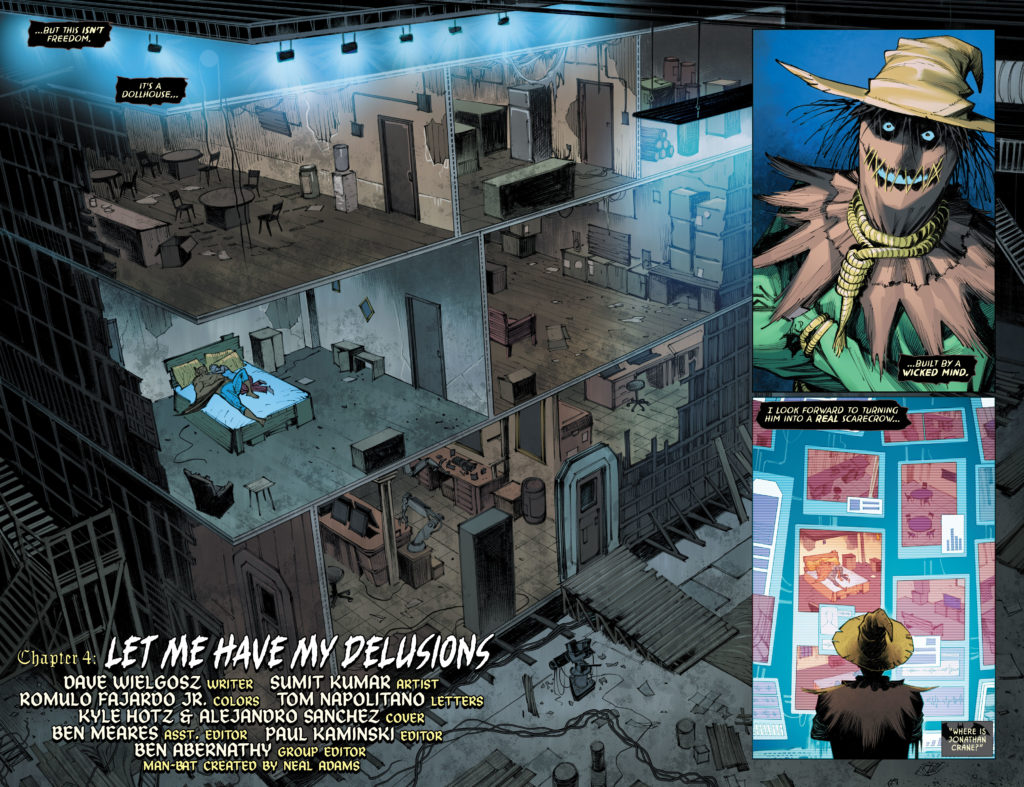 Positives 2.0
Dave Wielgosz is killing all human ties for Langstrom.  When you cut those strings from a character, I am not sure how it is going to go, but it looks pretty bad.  Whether Man-Bat will continue on in JLA Dark or Gotham City Monsters (arguably he is as this comic is way off the timeline), we will have to fill in the pieces to see how he actually survives.
All the while, this is some good writing and what this particular character deserved.
Negatives
I've bought into the timing issue from last month as this all takes place before Death Metal. Timeline issues and a few errors in preceding issues make for a tedious read as you come up with more questions than answers.  Can it stand alone by itself?
Maybe…but there are a few holes in this story.
Verdict
Dave Wielgosz and Sumit Kumar work really well together to deliver a solid revisit to the origin of Man-Bat.  However, how this inserts into the current Future State or as a stand alone tale is a bit confusing.  However, taken on its own, its a great reminder of Man-Bat and a hopeful piece of story telling that allows him to remain relevant on the DC landscape.  He's a team player and not really worthy of a monthly series.  The old misguided principled anti-hero is a bit played out.