Review: Batman: Urban Legends #3
[Editor's Note: This review may contain spoilers]
Writers: Chip Zdarsky, Brandon Thomas, Matthew Rosenberg, Che Grayson
Artists: Eddy Barrows, Eber Ferreira, Laura Braga, Max Dunbar, Ryan Benjamin, Alberto Jimenez Alburquerque
Colorists: Adriano Lucas, Luis Guerrero, Antonio Fabela, David Baron
Letters: Becca Carey, Deron Bennett, Steve Wands, Saida Temofonte
Reviewer: Tony Farina
Summary
The mystery around Cole Cash and HALO deepens as Batman takes a more active role investigating the man known as Grifter. But other villains in Gotham have begun to notice what Grifter is up to, and they're about to attempt an assassination! How long can the unlikely team-up between this Dynamic Duo last? • The Outsiders epic reaches its end with the return of three iconic Outsiders: Black Lightning, Katana, and Metamorpho, all reunited to face down Katana's mother-in-law! This finale will change the makeup of the Outsiders forever and set them on a new trajectory in the DC Universe! • Red Hood and Batman fight over what they should do with the child who is now orphaned as a result of Red Hood's temper. While they place the child temporarily under the care of Leslie Thompkins, she debates if she's doing the right thing. Is she just looking after another Robin in training?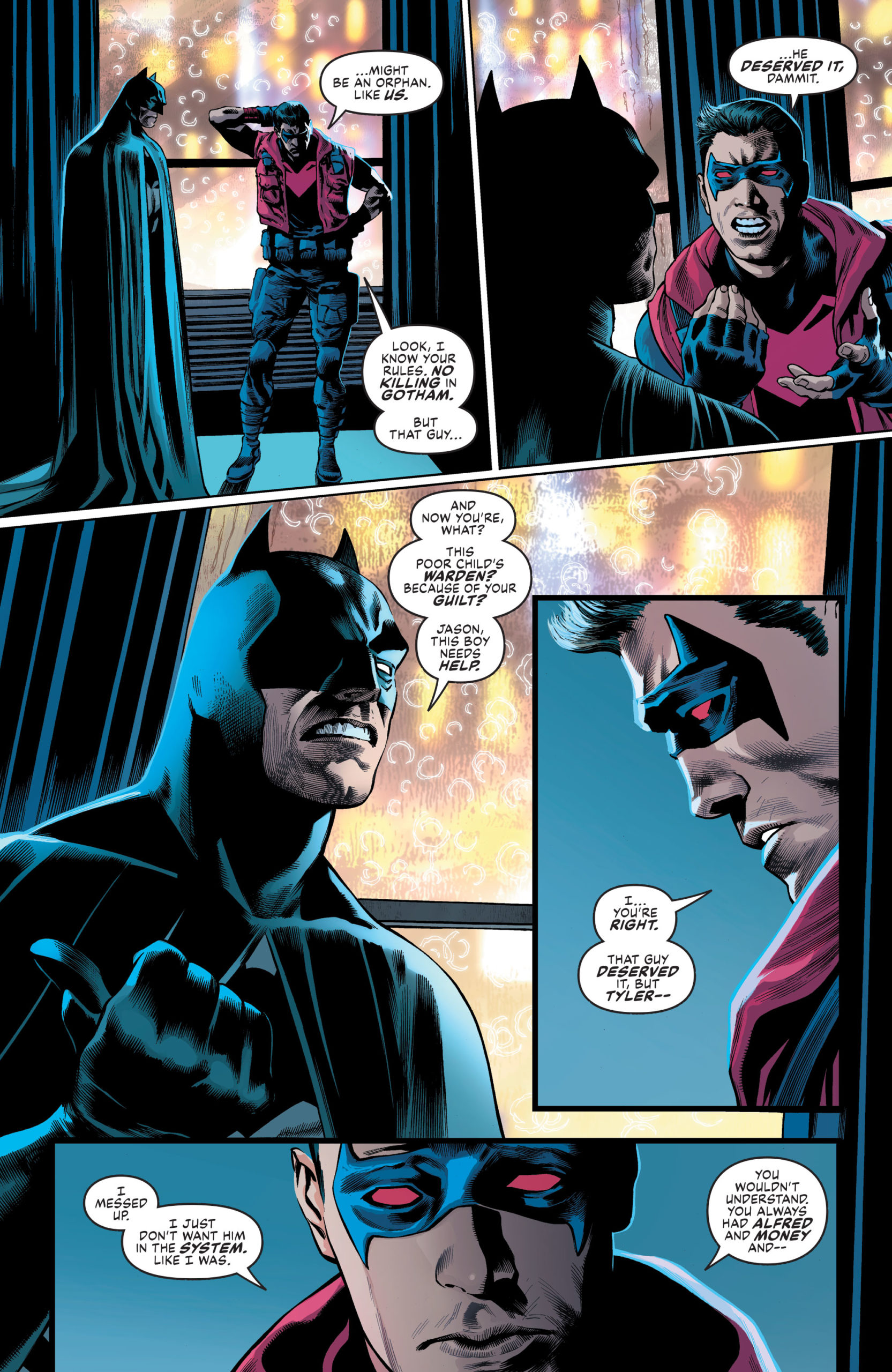 Positives
Batman: Urban Legends #3 has a stand alone story again featuring a character who should have her own book. Lady Shiva's story is really quite good. I like it so much. Also, the Jason and Bruce on an adventure story is awesome.
Ultimately, the art is fantastic. There is a panel just below that might rub people the wrong way, but I think it is pretty perfect. We forget that Bruce Wayne knows how to deal with broken children. Also, Leslie shows up and brings it full circle. The words are important, but the art team on the Red Hood story tell a beautiful story with just pictures. Love, love, love.
Negatives
There is a weak link and that weak link is Grifter. I keep bringing that up, but there is a reason for it. Until I saw him and Jason in the same book, I never really realized how similar they really are. Honestly, I prefer Jason and the Red Hood tale. I am sure people love Grifter, and honestly, I used to, but that was when he was in his own universe. Also, are Black Lightning and Katana a thing now? Do people ship them? I don't, but this story sure makes it feel that way.
Verdict
Batman: Urban Legends #3 is uneven as most anthology books are. The art is beautiful on every page. There is technical brilliance here. Once again though, this series was acting as a set up for The Outsiders series coming soon. Sure, I want to read that book, but does everyone? Is this supposed to act as an old school anthology book or is it supposed to be a gateway drug to get people to buy more comics? Sure, it can be both, but sometimes, a story can be just a story. So far, those have been the strongest.