Review: Buffy the Vampire Slayer #25
[Editor's Note: This review may contain spoilers]
Publisher: BOOM! Studios
Writer:  Jeremy Lambert
Art: Valentina Pinti
Colors: Raul Angulo
Letters: Ed Dukeshire
Reviewer: Tony Farina
Summary
The BIGGEST Buffy story of the century STARTS HERE. The truth about Buffy, the Scooby Gang and their very existence is revealed in this jaw dropping anniversary issue. But what is their connection to and how does it connect? Every answer only leads to more questions…and straight to the Big(gest) Bad you never saw coming.
Positives
Buffy the Vampire Slayer #25 features the answer to the big question posed in season five of the OG series: which world doesn't have shrimp. The answer? Well, you just have to read to find out. Lambert has really hit his stride as the stand alone writer of this series. It turns out, that season five of the show was really, really important. Interestingly enough, the show was supposed to end then, but it didn't and so the OG Buffy is alive and well in this series while also winking at us that we know she died (twice) before. The nostalgia and the new stories mix up pretty well and create a tasty story.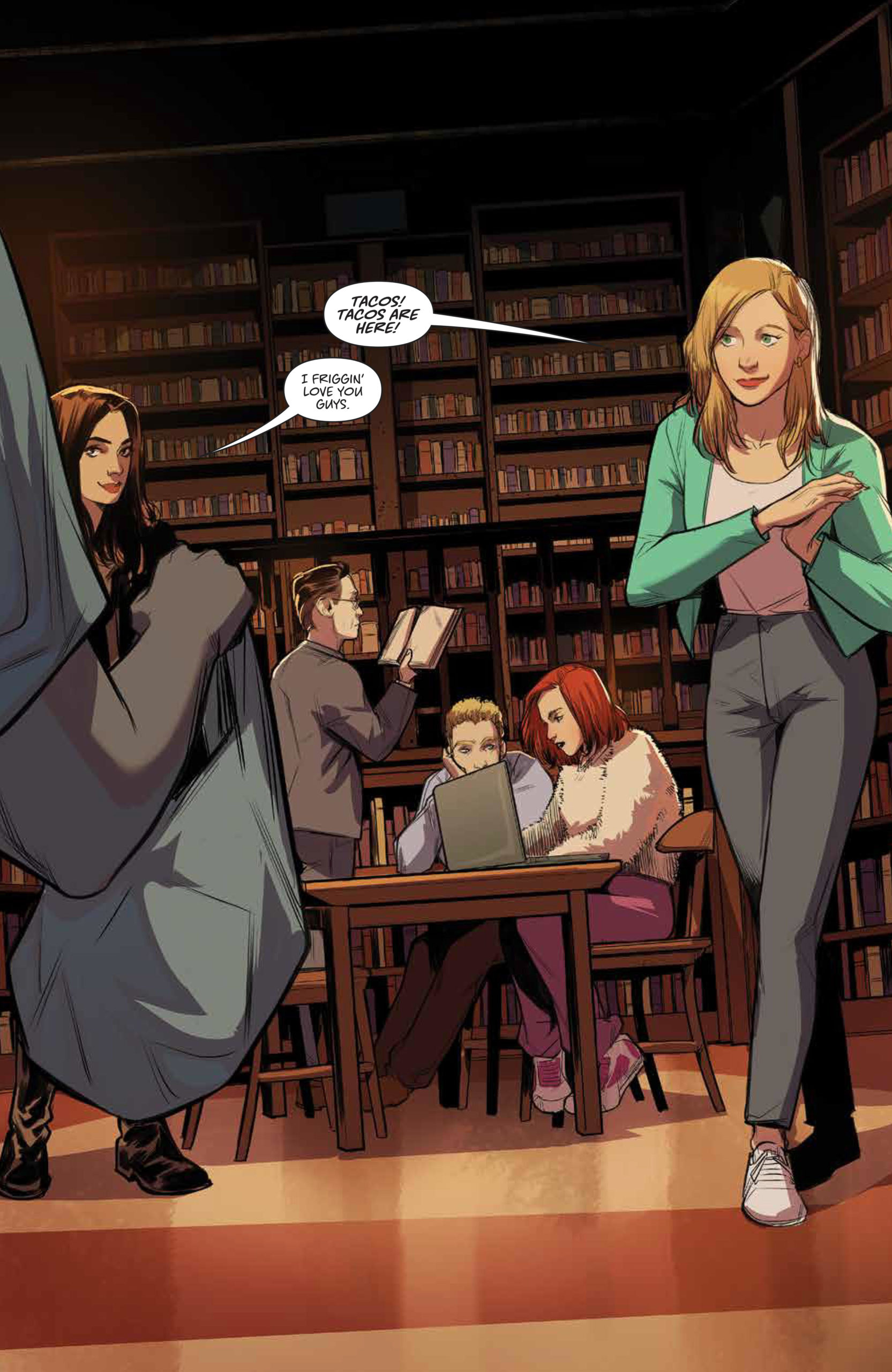 Valentina Pinti is on to draw this issue and she is really good. There are a lot of versions of each character running about in this issue and she has to keep them all straight. At no point was I ever confused. She made them look alike, but not the same. We don't look like our 16-year-old selves when we are 40 (unless we are Paul Rudd, what is up man?).
Negatives
This issue suffers from what this whole series suffers; there are too many characters for too few pages. I hate to say it, because I want some weekly Buffy, but this story works better in the arcs, thus making this a negative. I shouldn't have to need to read the whole five or six issue arc to know what is going on. Sure, I may not be able to jump in right in the middle, but I should at least feel like I could know something of what is going on. With this many characters, we just don't really know, for sure, what is what and who is from where or when. I know that was confusing. It was supposed to be.
Verdict
Buffy the Vampire Slayer #25 made me, as the kids say, have some feels. I think it is well drawn and well paced. Honestly, I am genuinely unsure of what to expect next month and honestly, that is a very good thing. We want to be surprised by our comics. If we always knew exactly what would happen from month to month, there wouldn't be a point would there?