Review: Man-Bat #5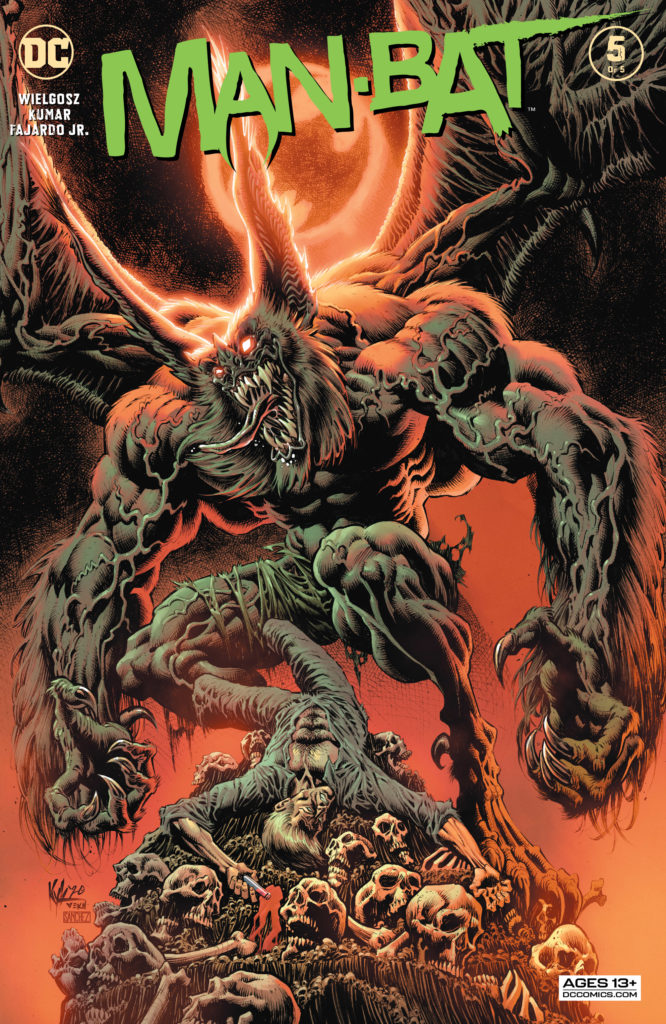 [Editor's Note: This review may contain spoilers]
Writer: Dave Wielgosz
Artist: Sumit Kumar
Letters:  Tom Napolatino
Colors: Romulo Fajardo, Jr.
Reviewed by: Carl Bryan
Summary
"This is the last time you will have to pay for Kirk's shortcomings "- Man-Bat to Francine
Man-Bat #5 – Man-Bat has been hunted by the Suicide Squad, beaten to a pulp by Batman, shot at by the police and terrorized by Scarecrow.
ENOUGH IS ENOUGH! In this explosive conclusion to the tragic tale of Man-Bat, Kirk Langstrom will need to fight off the hordes that hound him, rescue his loved ones from the clutches of a madman, and do it all before the Man-Bat serum coursing through his veins eats him alive from the inside out.
Do not miss this epic final act with a conclusion that brings everything into perfect perspective!
Positives
Dave Wielgosz provides a strong ending that is both redemptive and the breakup of Man-Bat with his beloved and arguably with himself.  Batman comics have always been about sacrifice and duality from the initial start.  Man-Bat is a tortured soul whose science background  put him in the position he is enveloped in the first place.
Wielgosz rectifies that along the lines of a "Demi-Man-Bat" (Is that a thing?) in that Kirk's consciousness along with Man-Bat's streamlined body allows both sides to be at their best (Picture The Beast from X-Men).
However, his beloved partner in all of this needs to be let go as Kirk reluctantly severs his relationship with Francine.  Very Shakespearean here, but all's well that ends well in this case as the end justifies all the means.
Positives 2.0
There are some high points for art in this book and some low points.  I love the battle between Man-Bat and Batman as the lines have never been sharper and the color is on point!  However, Scarecrow seems to be too soft and not the equivalent in terms of the current Batman run of the villain.  Again, the timeline flaw rears its head issue after issue!
Negatives
Sigh – the timeline on this has always bothered me as I am not sure if it was the pandemic or the Scarecrow timeline within the main Batman timeline, but this book is out of place.
Given the ending (spoiler alert) that Wonder Woman arrives to recruit Man-Bat to join the JLA Dark, it really is a strange "retro" book in terms of sequencing.  It was warranted that we needed to know how Man-Bat is now in this version, but could it have been done sooner or weaved a bit into JLA Dark's initial run….yes.
However, we do have it now and it makes sense, but it was like finding a puzzle piece a year later in the living room and you may have forgotten where you put the puzzle box containing the actual puzzle.  It would have been great to find this comic earlier!
Art – Scarecrow looks like a pale imitation of himself as it pertains to the current incarnation in the Batman main titles.  To have this type of art throwback really sets the entire book back as you recognize that this is not the villain we now have in the current mainstream.  The look is too antiquated now.
Verdict
Dave Wielgosz and Sumit Kumar worked to deliver a solid revisit to the origin of Man-Bat and his new incarnation.  However, how this inserts into the current Future State or as a stand alone tale is a bit confusing.  Taken on its own, its a great reminder of Man-Bat and a hopeful piece of story telling that allows him to remain relevant on the DC landscape.
But given the whole landscape of Man-Bat and his affiliation with the JLA Dark now, I see that Man-Bat thrives more on the ensemble level than a stand-alone.  We already have seen the tortured scientist on the Marvel side (Hulk, Man-Thing, Lizard) so this formula is a bit played out!