Review: Batwoman 2×16 – "Rebirth"
[Editor's note: This review may contain spoilers!]
Director: Michael A. Allowitz
Writers: Natalie Abrams, Ebony Gilbert, Maya Houston, Daphne Miles
Summary: Javicia Leslie, Rachel Skarsten, Meagan Tandy, Nicole Kang, Peter Outerbridge, Camrus Johnson, Dougray Scott, with special appearance by David Ramsey
Reviewed by: Steven Brown
Summary
Luke goes after Russell Tavaroff and ends up running into a visitor from Star City. Meanwhile Batwoman makes a trade of something personal to save Alice from Safiyah. Jacob Kane's past affiliations finally catch up to him.
Positives
Batwoman 2×16 finds Luke pursuing revenge against Russell Tavaroff for shooting him. I thought at first that Luke would take a more direct approach and just confront Tavaroff. However, Luke decides to be a little more subtle and I enjoyed it. Surprising Tavaroff at a local bar, Luke immediately confronts him and the two share a drink. I was really expecting things to get physical between the two, but Luke seems to be a great poker player, challenging Tavaroff to a game. Tavaroff apparently was a poker champion for the CROWS two years in a row. This causes him to accept Luke's offer. I was even more surprised that we had a special appearance from John Diggle from Arrow. Apparently he's in Gotham City to see a physician and shares some words of advice with Luke.
Negatives
I have no complaints. The story is told well and all of our characters get some great screen time. Alice and Jacob work together to rescue Kate, who's still convinced that she's Circe Sionis. This leads to Alice attempting to jog Kate's memory back. It seems to work briefly, but it seems that she returns to Circe soon enough. The writers do a great job of showing the fight occurring in the damaged psyche of Kate Kane. Alice is finally getting some redemption in this episode as her and Jacob finally come to terms of her crimes in Gotham City. Jacob finds himself betrayed soon enough and is arrested by the Gotham police. Thanks to Black Mask aka Roman Sionis, Jacob Kane is now sitting behind prison bars, because of his associations with Alice.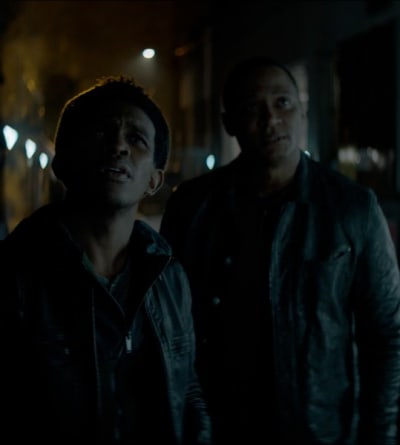 Verdict
Batwoman 2×16 was a great episode and I can't wait to see how Luke handles Tavaroff. Towards the end of the episode Diggle really gives Luke some good advice and I'm eager to see what he does next. It seems that Jacob Kane will be put through even more trials and tribulations in the next episode but I really hope it pays off for him at some point–he's been through so much this season.