Review: The Joker Presents: A Puzzlebox – Chapter 2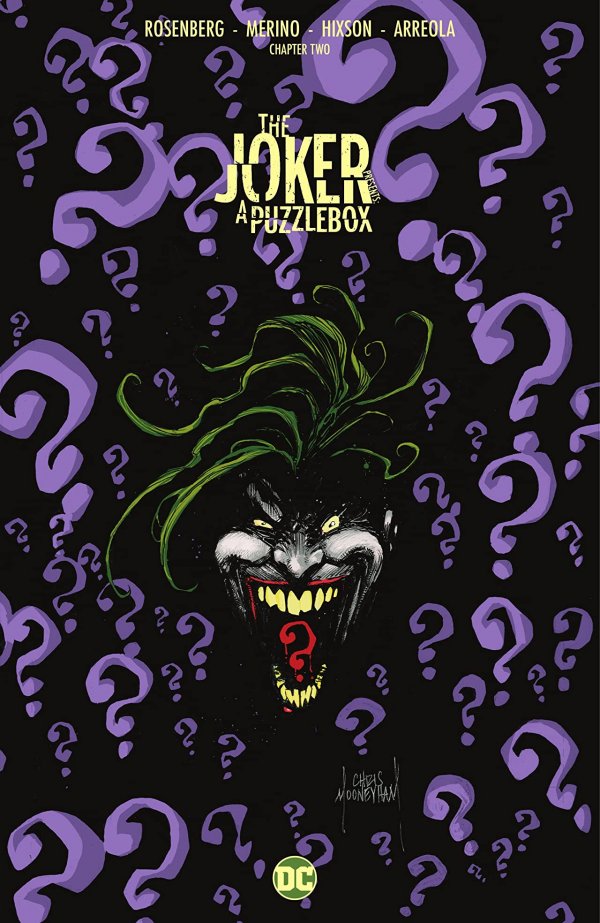 [Editor's Note: This review may contain spoilers]
Writer: Matthew Rosenberg
Artists: Keron Grant, Jesús Merino, Dani, Chip Zdarsky, Shawn Crystal
Letters: Ferran Delgado
Colors: Uliles Arreola
Reviewed by: Carl Bryan
Summary
"Maybe you should take the handcuffs off, Officer Gordon."-  Joker's Interrogation Session with James Gordon
The mystery of "WHO KILLED THE RIDDLER" heats up as Joker, now incarcerated and under interrogation by Commissioner Jim Gordon, retells his version of events, starting with the victim himself on the hunt for an all-powerful weapon.
How did the other Gotham villains get involved, and why?
What does this weapon do, and why does Riddler want it?
Who had skin in the game, and who could stand to lose everything?
It's a whodunit spiraling out of control, retold by the world's most unreliable narrator. See if you can spot the clues and solve the puzzle!

Positives
In The Joker Presents: A Puzzlebox – Chapter 2 Matthew Rosenberg's second installment of his puzzle provides the Joker at this best…a chaos of words as he is interrogated by Lieutenant…Officer….Commissioner Gordon .  There is a clue in there somewhere as Joker will not call Gordon by his current title until one frame of the comic.
The focus is now on the Riddler's apparent murder, and Joker recounts a story that involves an Indiana Jones type of quest by the Joker that involves the Kobra Cult (I love how DC is now encouraging their writers to dust off some relics to infuse some nostalgia for their readers!) and the New Gods!
Rosenberg provides a frosty meeting between Edward Nigma and the Joker that results in the Riddler assembling a lot of the Rogues Gallery in a quest to assemble five pieces of a puzzle that will provide power beyond belief.  He holds what looks like a Raiders of the Lost Ark Staff of Ra in his hand to cajole this group.
However Gordon gleans something from the  Joker's interrogation that leads him to believe that the Police Department has something in its possession that is valuable to cracking the case.  
Rosenberg's work is worth a series of reads and re-reads.  I feel like there are clues peppered in the pages that are staring at you from the frames…but what am I missing?  Leave your comments in our Review section as I want to crack this case!
Clues
It would be terribly insulting of me to give away even one clue in this puzzle box.  However, there are moments in the dialogue where you wonder why Joker uses particular terms or names.  That in and of itself lends to being a clue…or does it?  With issue 1 and 2 , I am sure we'll have to go back and forth between all of the eventual issues to really put this puzzle together.  So for now, in the comment section, drop in your thoughts.  Maybe we can solve this thing before Gordon does!
Negatives
None, as we move to more clues, an examination of every conversation and every word.  Batman hasn't shown up to divulge anything.  We are on our own with Gordon and I am not sure where we are headed!  It's an awesome read to try to figure out!
Verdict
This Matthew Rosenberg adventure is not what it seems.  When I read and re-read the comic, I think we will eventually see clues all in Joker's accounts to James Gordon that point to the actual killer (if there is an actual murder).  On the surface, when you read it, it is far fetched.  But taken out of the context of the current timeline, this "puzzle" continues to be worth your time and energy to try to solve!  Check out The Joker Presents: A Puzzlebox – Chapter 2 today!