It is widely known that Tim Burton had intended on including Robin in his follow-up to the 1989 film Batman, Batman Returns, but unfortunately that never happened. The studio felt there were already too many characters in the film, which is why Robin, as well as Billy Dee Williams' Harvey Dent (who was supposed to transform into the villainous Two-Face in the sequel), got nixed from the film.
Burton had even cast the role of Robin before production began with a young Marlon Wayans. And since it didn't happen in Batman Returns, Burton planned to bring him into Batman Forever, but the studio decided to go a different way, giving the franchise over to Joel Schumacher, who took that film in a completely different direction, lightening the tone and color palette, as well as casting Chris O'Donnell as the Boy Wonder.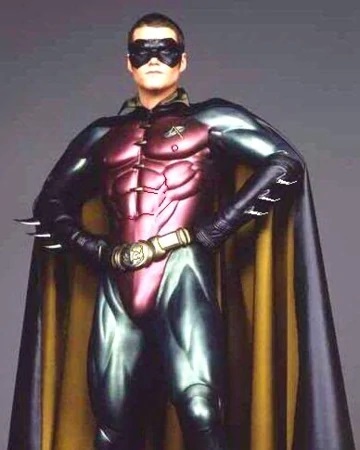 However, we now have our first look at what this version of Robin would have looked like in the upcoming miniseries adaptation, Batman '89.
Batman '89 artist Joe Quinones has shared a preview via Twitter of the series' Robin. In Quinones' preview, the classic Robin color scheme of red, green, and yellow is featured, and thanks to another tweet from Quinones, we got a peek at the Robin logo that will be worn, which looks rather classic. However, there are some big differences in the overall look of the suit. Check out the first images below:
This look is incredibly different from what we got out of Joel Schumacher. Instead of shiny armor, we get a more classic style of suit, with some cool changes like a hood and a face covering (reminiscent of both Damian Wayne's Robin and Stephanie Brown's Spoiler), both of which seem practical for the purpose of hiding his identity from villains.
Batman '89 is a digital-first series and its first issue will be available on participating platforms come July 27.