Review: The Joker #5
 [
Editor's Note: This review may contain spoilers]
Writer: Sam Johns, Matthew Rosenberg, James Tynion IV
Artist:  Sweeney Boo, Francesco Francavilla
Letters: Tom Napolitano, Ariana Maher
Colors: Arif Prianto, Romulo Fajardo Jr.
Reviewed by: Carl Bryan  
Summary
"You get too worked up about this guy.  He's a real wacko, sure.  But you got him.  Let it go!- Harvey Dent to Jim Gordon
The never-before-seen tale of the Joker's first night in Arkham Asylum is finally revealed!
When a lunatic in a clown suit tries to poison Gotham City's reservoir and is placed in Arkham Asylum before his trial, Detective Jim Gordon realizes something's different about this new inmate that could forever change the future of Gotham.
Backup: Rising-star artist Sweeney Boo joins the series as things get worse and worse for Punchline and Bluebird.
Punchline's prison war against the Queen of Spades escalates and no prisoner at Blackgate Penitentiary will be exempt from choosing sides. And after barely escaping death at the hands of Punchline's former accomplice, will Bluebird have the will to continue her investigation and find the mysterious woman from Punchline's past who has the answers she's looking for?

Positives
From art to writing, the first installment of Joker's first night in Arkham is very old school….as it should be.  It is straight out of a rendering of Batman;  Year One.
This is what makes the story work.  Who is the prisoner?  Is it James Gordon who is neglecting his family, friends, and arguably his job as a Captain in order to keep an all night vigil at the cell door in Arkham?  Or is it the Joker who keeps a constant haranguing dialogue with Gordon through the night?
There was a Marvel comic years ago where Dr. Doom and Reed Richards were on an isolated space prison as Richards was the guard and Doom was the prisoner.  But it begged the question…which was which?  Such great writing and such a conundrum provided by the authors!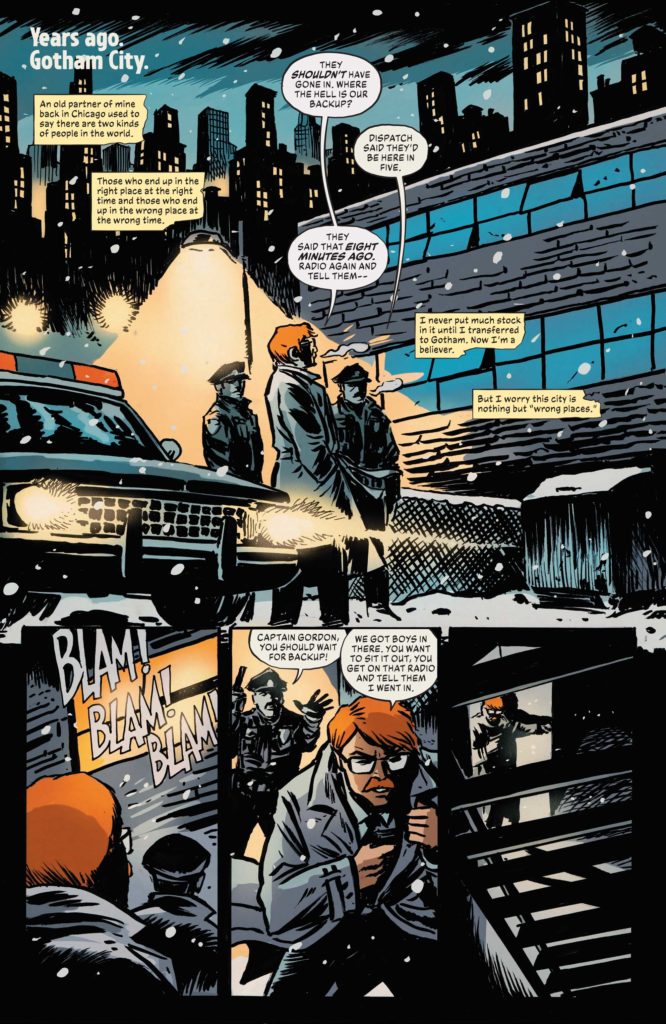 Positives 2.0
This issue is a timeout of sorts.  I feel like the authors are giving us some time to catch our breath to really indicate how the Joker has influenced all the parties involved in wanting his demise.  There is so much fodder here to sift through as an author as well as an artist. 
Chapter Five continues…
Oh…lest we not forget, another chapter of Punchline which has developed quite the cult like following both for readers and within the book.  In such a short time with the Clown Prince, she surely has delved deep into his type of manipulative ways! She is scary in how she can manipulate everything from behind bars.  Daresay, how long will the Joker allow someone who arguably his rival on manipulation be allowed to even be around him?  I don't think his ego will allow it!
Negatives
None…this back story development of The Joker and his relationship with all parties involved…. She-Bane, Gordon, and Punchline.  Now add in the Court of Owls, the Sampson family, and  well….eventually Bane (?).  All of this needed some much needed context, so well done on giving us the conflict first, and then the history!
Verdict
BUY THIS BOOK!   This one is a perfect stand alone Joker story with a bonus Punchline (see what I did there)!