Review: Superman: Red & Blue #5
[Editor's Note: This review may contain spoilers]
Writers: Daniel Warren Johnson, Mark Buckingham, Joshua Williamson, G. Willow Wilson, Judd Winick
Colors:  See Graphic Below
Letters: See Graphic Below
Artists: Audrey Mok, , Cully Hamner, Francis Manapul, Alitha Martinez
Reviewed by: Carl Bryan
Summary
"Because deep down, folks just want to be good to each other." – Clark to Pa Kent
Superman: Red & Blue #5 –  This new series presents fresh new visions of the Man of Steel in his two signature colors of red and blue! Around the world, everyone knows that when they see a red and blue streak in the sky, it's not a bird…it's not a plane…it's Superman.
There's no dog in the Multiverse quite like Superman's real best friend, Krypto!
Join us this month for an epic retelling of Superman's canine companion's origin story, along with four additional tales about the Man of Steel, including one that proves that even in his secret identity Clark Kent is just as super.
While Superman is known for his larger-than-life heroism, in this issue we tell the story of a delicate infant rocketed through the unforgiving universe!
Also, meet for the first time the man rescued by Superman more often than anyone else in the Multiverse.
And follow Pa Kent as he learns what it really means to be the father of a superhero. You won't want to miss the penultimate issue of this star-studded anthology celebrating the Man of Steel!

Positives
I'm a sucker for all Superman stories that involve a relationship between Clark and his parents.  Fetch is one of those stories about the initial meeting of Clark and Krypto.  Judd Winick and Ibrahim Moustafa capture the iconic moment of boy meets dog.  For all dog owners, it is the perfect story!  It is poignantly displayed through Martha and Jonathan as well.  "Besides…every kid needs a dog."  Yep…you'll cry!
G. Willow Wilson could not have written a more timely story with the demise of Richard Donner this past week as Valentine DeLandro draws a Clark Kent that is a tribute to Christopher Reeve's portrayal.  It is hard not to read Deescalation without using Reeve's voice in your head and every part of the writing and art is perfect to revisit when you first believed a man could fly.
Joshua Williamson's Your Favorite is a wonderful look at Jimmy Olson being interviewed by Lois Lane on his favorite picture that he has ever taken of Superman.  Chris Sprouse provides some really poignant pencils here that literally celebrate Christopher Reeve's image in his art!  However, the surprise comes at the end and is the bane of all that practice photography!
Mark Buckingham takes on both art and writing duties in Red Sun as we see the journey that Kal-El took in that wonderful rocket ship that delivered him to Kansas and the Kents!
Daniel Warren Johnson's writes a Father's Day story that tugs at our heart strings like no other.  If your eyes are dry, then you have a heart as cold as Darkseid.  A Father's love… like no other!
Positives 2.0
This began with Batman: Black & White, followed by Harley Quinn: Black + White + Red.  It now continues with Superman: Red & Blue & Wonder Woman: Black & Gold, so why don't we get some others, like Green Lantern: Green & White or maybe something like Booster & Beetle: Blue & Gold …so many playgrounds for a host of authors and artists!
Negatives  
You have to know going in that each story is like a playground for both author and artists.  Some stories will be poignant that will cause you pause.  Some will not be your cup of tea as you see the human side of Clark versus the hero side of Superman.  Either way, the reader gets to explore sides of Clark's journey that we did not know existed as we get a variety of takes on his character from numerous authors!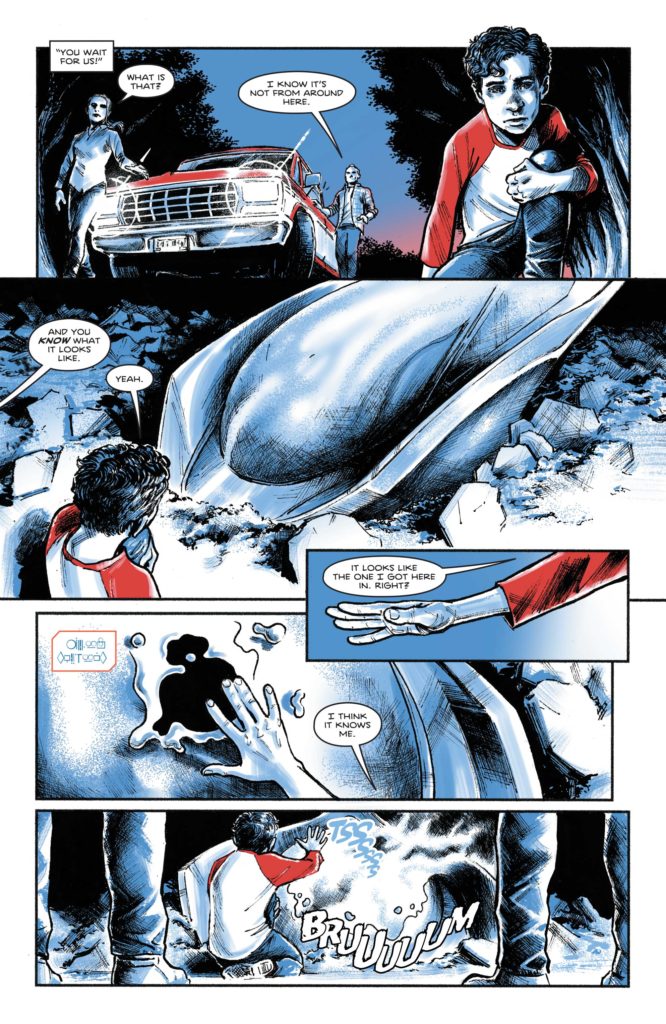 Verdict
Again, I have loved Batman: Black & White, Superman: Red & Blue and Wonder Woman: Black & Gold.   This arena works well for all fans who want a series of stories outside of the typical timeline that provides both historical adventures, as well as new authors and artists.  Expand this type of play with all of the DC heroes!  It's time!