Review: Wonder Woman: Black & Gold #3
[Editor's Note: This review may contain spoilers]
Writers: Aimee Garcia, Paula Sevenbergen, Robert Venditti, Janet Harvey Nevala
Colors:  See Graphic Below
Letters: See Graphic Below
Artists: Sebastian Fiumara, Inaki Miranda, Megan Levens
Reviewed by: Carl Bryan
Summary
Wonder Woman: Black & Gold #3 – Just in time for Wonder Woman's 80th anniversary, DC Comics proudly presents a new anthology series starring the Amazon Princess embellished in the the color of her famous lasso.
Our celebration of Diana continues with talent from all over the world paying homage to one of DC's most iconic characters.
This time around, our hero struggles with the memory of a lost love, battles a cult, loses her lasso, and more! You won't want to miss this issue packed with timeless stories.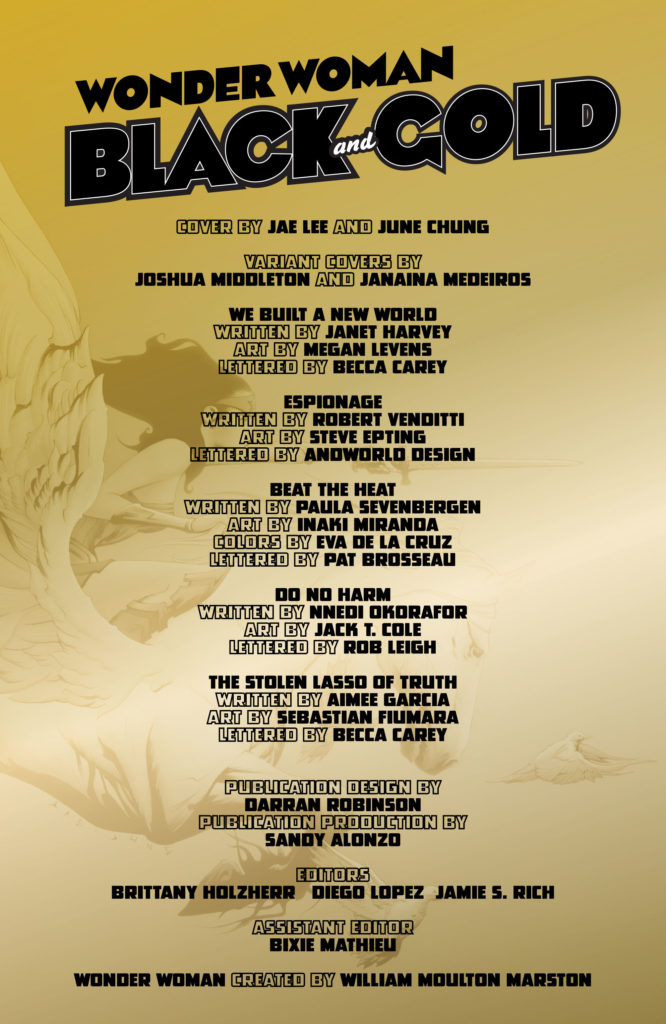 Positives
Having reviewed Batman: Black & White and Superman: Red & Blue, I really wanted DC to make sure they provided the same, if not better, treatment of Diana Prince.  Arguably the most powerful of The Trinity, I really appreciated that it was Red & Blue, but for her, as well as the eye being drawn upon gold…pure gold.
DC is putting together a great run in accentuating both artists and authors in their treatment of their heroes in this format.  It is a chance for readers to have a better glimpse into the imagined lives of these characters.  We think we know it all, but through the golden lenses of these collectives authors and artists, we get some new stories that contribute to all things Princess Diana!
Issue #3 takes a look at the relationship between Steve Trevor and Diana Prince n We Built a New World.  Janet Harvey Nevala cast a lense on the relationship from the warning of Diana's mother to the counter argument from Diana and the eventual settling on the idea that both Steve and Diana did build a better world together.
Espionage by Robert Vendetti paints Diana as the perfect spy for the United States…"I am Wonder Woman"…that mantra means so much more in this story.  It arguably hangs in the air stronger than when Michael Keaton uttered "I am Batman!"
Paula Sevenbergen provides a story of global warming as Diana is once again called to save humanity, but can mankind ever Beat The Heat?  The sadness in Wonder Woman's eyes tells all in this foreboding story of how we treat the Earth.
In Do No Harm, Mnedi Okorafor accentuates Diana's skills not that of a warrior but as a diplomat for the good of the Earth!
Aimee Garcia's Stolen Lasso of Truth allows Wonder Woman to teach a few lessons to a young girl that is more than meets the eye.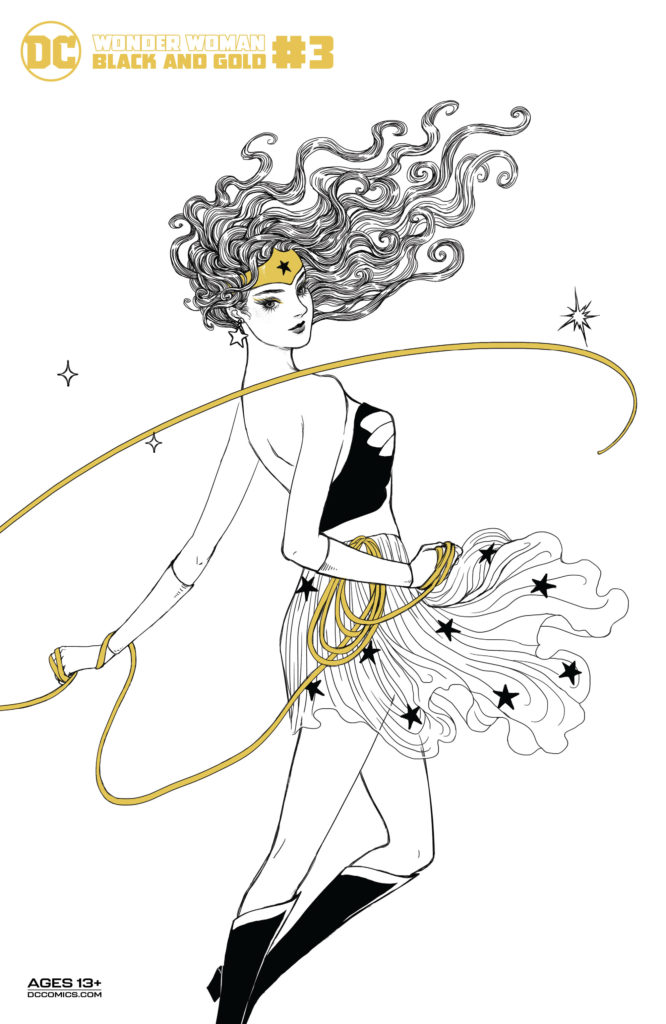 Positives 2.0
This began with Batman: Black & White, followed by Harley Quinn: Black + White + Red, and continued with Superman: Red & Blue.  Now, it is going further with Wonder Woman: Black & Gold, so why don't we get some others, like Green Lantern: Green & White or maybe something like Booster & Beetle: Blue & Gold… so many playgrounds for a host of authors and artists!
Negatives  
You have to know going in that each story is like a playground for both author and artists.  Some stories will be poignant and will cause you pause.  Some will not be your cup of tea as you see the human side of Diana versus the hero side of Wonder Woman.  Either way, the reader gets to explore sides of Diana that we did not know existed as we get a variety of takes on his character from numerous authors!
Verdict
While the Black and White is Batman's playground, and Red and Blue fits our Big Blue Boy Scout just fine, the gold is a perfect setting for Wonder Woman! When you think you have heard every angle to these heroes, these book provide just more evidence that they, and the many timelines they touch, can go forever.
This playground has been great for both Batman and Superman, and seems like it will do wonders (pun intended) for this Amazonian Princess.  I appreciate that DC is providing more insight into these characters for authors and artists alike.