Review: Icon and Rocket: Season One #2
[Editor's Note: This review may contain spoilers]
Writer: Reginald Hudlin, Leon Chills
Artist: Doug Braithwaite
Inks: Scott Hanna, Andrew Currie
Colors: Brad Anderson
Letters: AndWorld Design
Reviewed by: Seth Singleton
Summary
Icon and Rocket: Season One #2 delves deeper into the origin story that left off with August Freeman's arrival and then to his introduction to Raquel. They have public identities and there are threats from the street and the National Security Agency.

Positives — Allies
Rocket and Icon are taking down drug dealers and domestic abuse. Freeman is responding to the challenge from Raquel in the debut issue. Raquel can see a world that would benefit from his power. She has insight and a sense of purpose.
According to a news reporter asking questions, the neighborhood that Augustus and Raquel call home has seen a 65 percent reduction in crime. There are stories of saved lives and mighty deeds. Even some of a lawyer offering free legal advice and representation.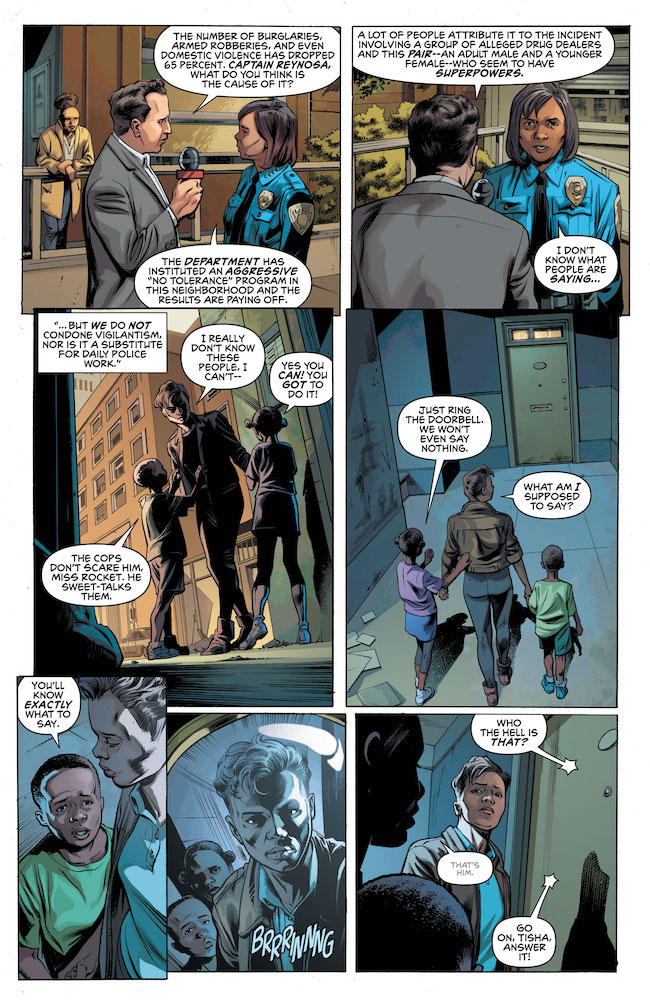 All involve the mysterious man and young woman. But no one gets a good look at the face of their saviors. In fact, one witness pushes back against the questions.
"Whatever helps us you take away from us," says an older resident. "And you expect us to snitch?" The question is rhetorical. The sentiment reflects a community that protects the heroes doing good works. Sadly, not all feel the same.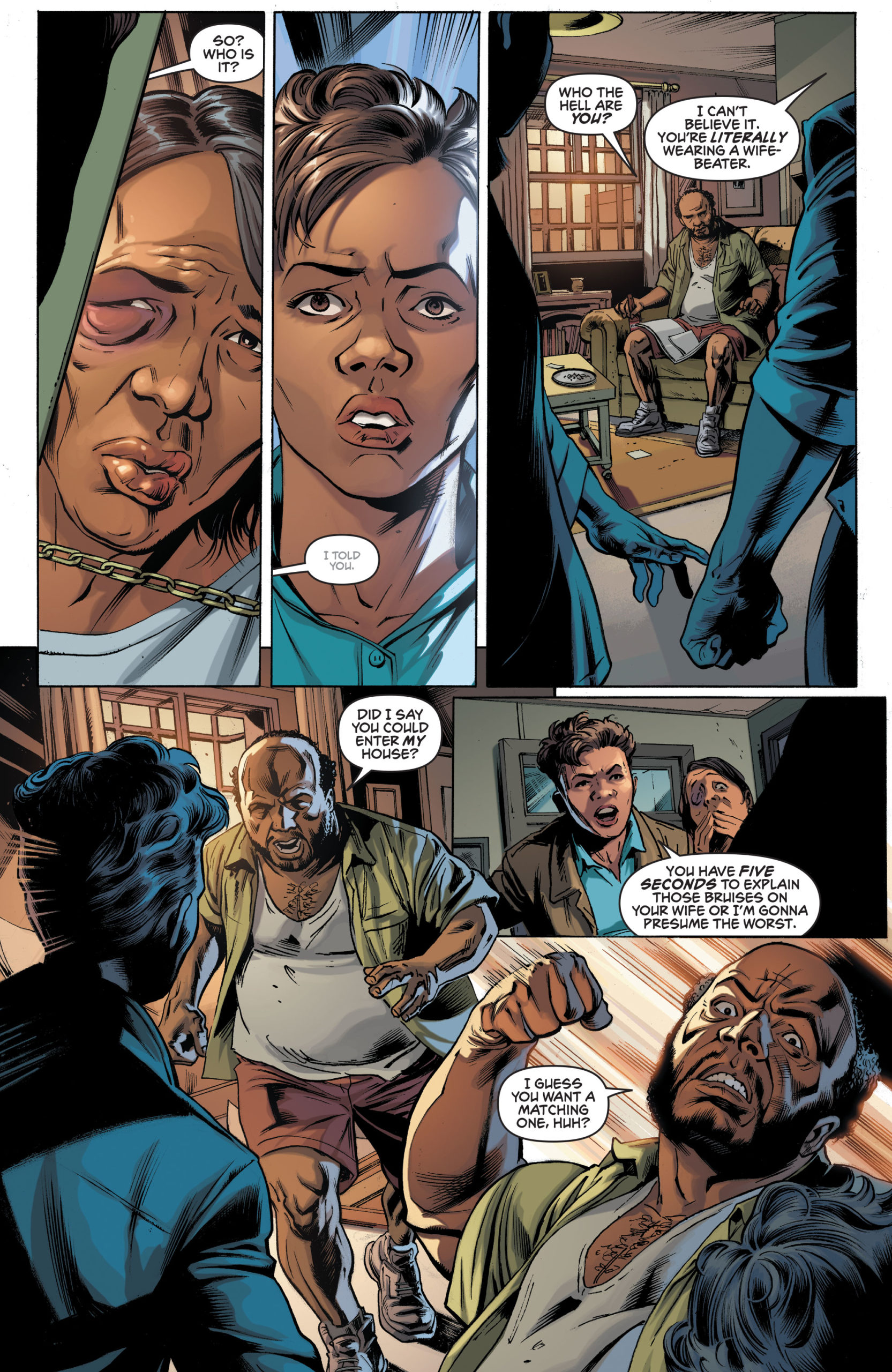 Positives — Enemies
Freeman has learned to live in the shadows. He has benefited from the value of his advanced technology. A partnership with the NSA and other branches of government affords him the privacy he has enjoyed for decades.
However, that relationship is based on his perceived hermitage. By stepping into the light with Rocket Freeman exposes them both to scrutiny. The belt Rocket wears generates a field around her that can absorb energy and return it with great force.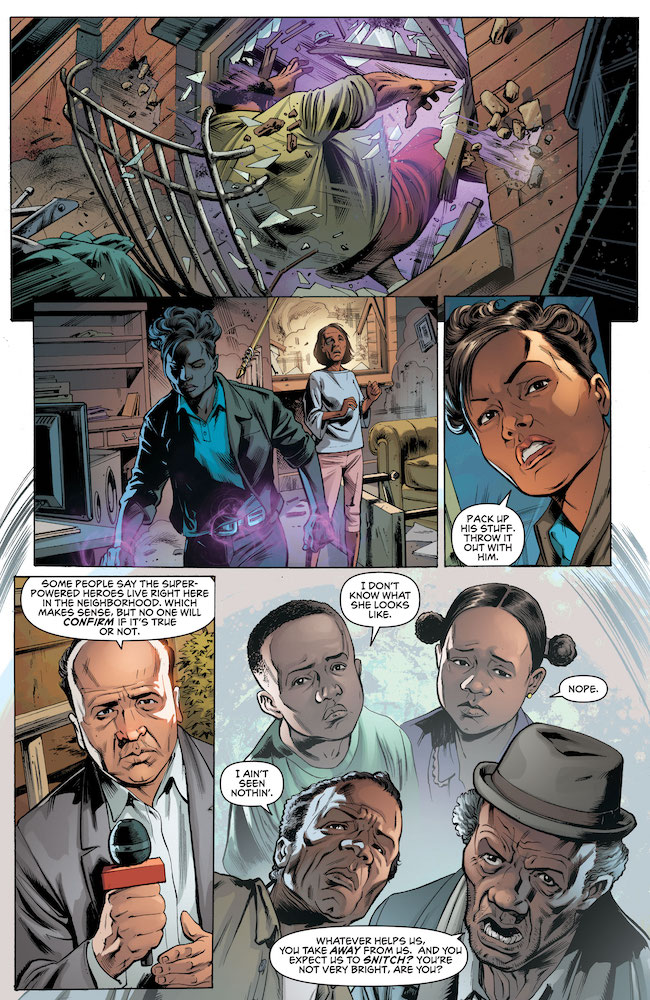 An NSA agent who appears at Freeman's law offices, notes that Rocket's belt uses technology that he has not shared with the U.S. government. The meeting ends with a warning. If Icon and Rocket continue in public there will be consequences.
Meanwhile, run-of-the-mill street bosses are fighting back. They are armed with weapons designed to fight Icon. Someone is offering the bad guys the resources to stop advanced alien technology.
Plus, there's a villain from Freeman's past. Someone who thought he put an end to Freeman when he was still a rebelling slave. Now, this Mr. Smith intends to finish the job.
Verdict
Reggie Hudlin is widening the lens of the story. Now that Icon and Rocket are together, this second issue introduces the challenges of the environment they want to change. Police officers don't like the scrutiny of the press or a process that they cannot influence and the press is trying to uncover a story in a community that is largely ignored unless it is covering a crime story.
A sense of uncertainty is sketched on their faces by Doug Braithwaite's pencils. The contrasts with the expressions of Freeman, Raquel, and their adversaries are balanced and measured by Andrew Currie's inks. Brad Anderson's colors evoke the tension of the shadows and the fire of the flames, while Icon and Rocket glow like beacons across the panels. AndWorld Design's letters match and keep pace in the dangerous charge to issue #3.