At this year's NYCC I had the opportunity to interview Mark and Vincent from Metropolis Collectibles, one of the biggest sellers of comics on the planet! NYCC has special meaning for Mark. He met his wife at the con 12 years ago. But the big news is that they will be auctioning off a rare copy of Superman #1 that is in excellent condition! The dynamic duo talked about their love for and the business of collecting comics.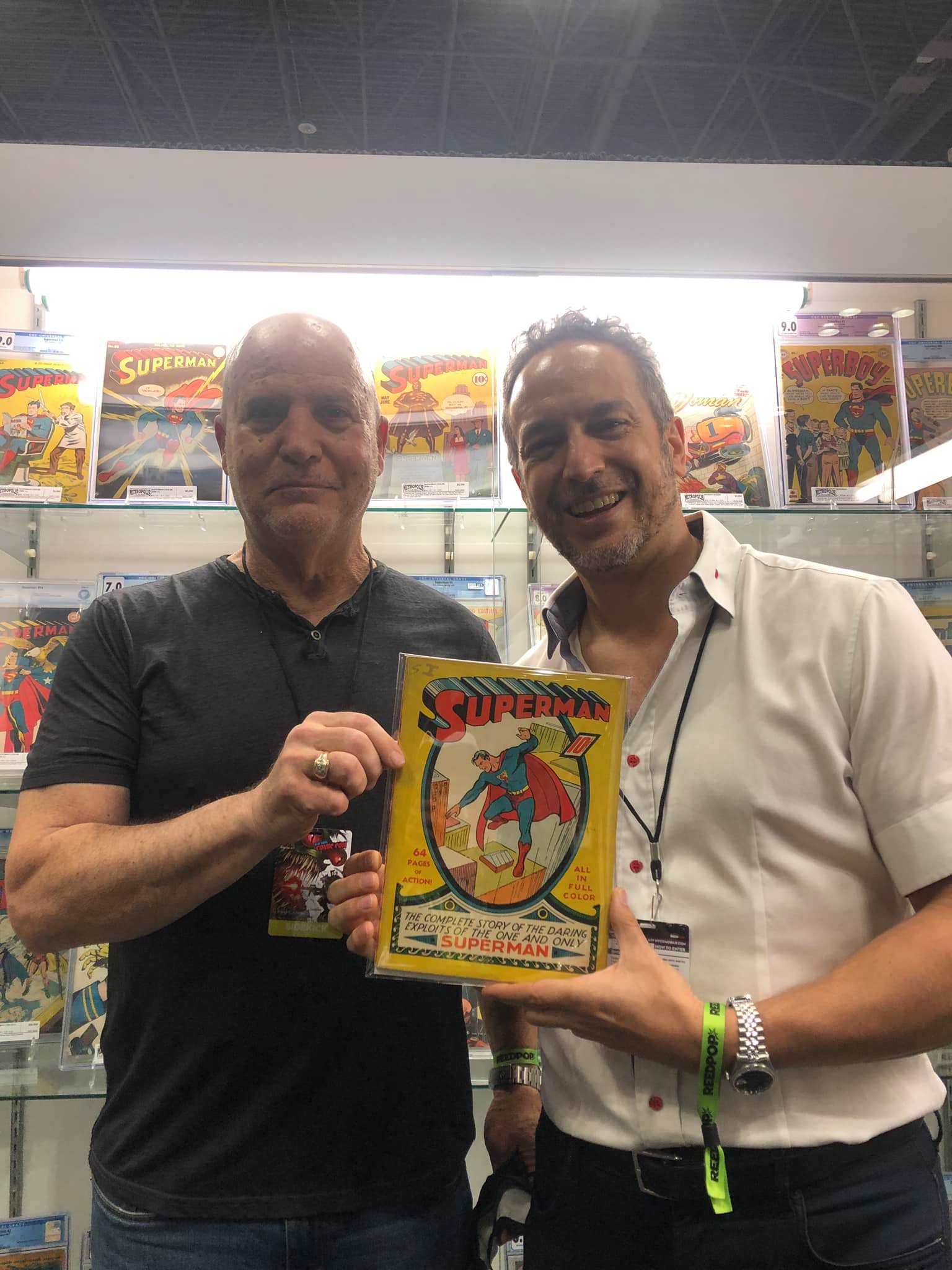 DCComicsNews – Mark, do you mind going over, for our readers, how you and Sara met?
Mark Michaelson – about a dozen years ago I was at Metropolis' booth. I was looking at this pretty girl, as guys do. I realized that I recognized her. We went to the same dog park in New Jersey. I just didn't know her name. She was looking at some books, laughing with a big smile on her face. I went over and asked her out. Now we have two children!
DCComicsNews – How has New York Comic-con changed over the years? You've both been coming for so long…
Vincent Zurzolo – It's actually changed for the better.
Mark Michaelson – It's just gotten bigger. More vendors. There are still like-minded people interested in collecting and the industry. It's grown in a proper way.
Vincent Zurzolo – One thing I would say has changed… I worked as a consultant for New York Comic-con for the first three years to make this a different kind of giant show. And it is a big show. It does have a very personal feel to it. There's a lot of passionate people here, from cosplayers to collectors to investors. The collectible market includes everything from high-end comics to toys and video games. That's what sets it apart. There's something here for everyone.
DCComicsNews – Mark, your wife is a collector as well. When you got together was it hard to combine your collections?
Mark Michaelson – I'm a bit older than my wife, so our collections were a bit different. I had X-Men #1. I had Avengers #1. I bought them when I was a kid. Her tastes were more modern. I think at that time what she was looking for was Teenage Mutant Ninja Turtles #1. So we had an appreciation for each other's collections so it worked out great.
DCComicsNews – Did she turn you on to anything you weren't familiar with?
Mark Michaelson – The first issue I ever bought was an issue of Superman back in the '60s.My parents were taking me to Disneyland and I got it at the airport.  I've been collecting ever since so I've kept up with it over the years and there wasn't really anything to turn me on to.
DCComicsNews – How did you come across this copy of Superman #1?
Mark Michaelson – I was in New Jersey perusing local comic shops when a manager of one of the shops said he wanted to give me a number of a guy who is trying to sell a comic I would be interested in. So I met with the guy and he was as nice as can be. He showed me the book and told me he bought it new. He bought it outside of Houston where read it and it was sitting in a dresser since then. Now, this was in 1979 and he was getting close to retirement. He said he wanted to sell the book to someone who would appreciate it. And there you have it.
DCComicsNews – As collectors are there any holy grail issues that you are looking for?
Mark Michaelson – I would say that Superman #1 was mine!
Vincent Zurzolo – Here's what I can say as a collector myself. There are a lot of comics that I wish were in my collection and I should have bought a long time ago, but the things that I like now are like rare esoteric covers. Things that I just never see that often. So when I see them in a real high grade I try to pick them up. When I talk to my very affluent clients they love characters like Batman, Spiderman, and of course Superman. And Superman is head shoulders above the others. Action Comics #1, which we hold multiple records for selling. Superman #1 has become a defacto Action #1 because it is more affordable. So now Superman #1 is actually a rarer book. In my 35 years of selling comics, this is the nicest copy I've ever come across. It knocked my socks off. we working with Mark and his family and bringing this to market in our Comic Connect auction which starts on November 22 and the week of December 13th. This will be the anchor of the event that carries this auction through. The page quality of this book is extraordinary for a book that is 80 years old.  The colors on the cover are exceptional. I had the head grader from CGC, the third-party grading service that everybody uses, and he thought it was extraordinary.
DCComicsNews – What goes into storing a book like that to keep it in such good condition?
Mark Michaelson – I've kept it for years in a temperature-controlled bank vault.
DCComicsNews – Is there a ballpark of how much you think you will get for this book?
Vincent Zurzolo – We think that this issue will easily break the 7 figure mark.
DCComicsNews – you've both made a living through selling comics. How has the business changed? In what ways has it gotten better or worse?
Vincent Zurzolo – One way that it has gotten better is that there are so many more fans and investors who are interested in comics than ever before. What makes it difficult is that it is a very competitive marketplace. And it's a very fast-moving marketplace where values of things can change 30%, 40%, 50% in a week. Years ago a price guide would come out once a year and prices didn't change for that year. Now thanks to the internet those prices can change quickly. So that makes it harder to sell at the right price. The margins have become thinner because the market has become a lot more transparent.
DCComicsNews – So Ebay hasn't muddied the water at all?
Vincent Zurzolo– In a way I think they've made it easier. I can now source a comic quicker. When somebody wants an issue they can look on Ebay. Before I would have to hope someone from Ohio would call the shop. The bad side is somebody selling on Ebay instead of selling through me. Another thing that I have noticed is that these varied ways of selling, through Ebay and auctions is that it brings a larger aggregate of collectors to the marketplace. Two years ago I was the first American comic bookseller in Saudi Arabia. And I was wondering if these kids were going to know these stories. And they did! They were asking for individual issues and parts of stories. They were so happy to see American comics. And another thing that was great about that trip is that about 65% of our customers were women.
DCComicsNews – Do you have any advice for someone who may want to get into the business of selling comics?
Vincent Zurzolo – I would say one of the most important things is to learn how to grade a comic. And do your research into the ins and outs of the business. One thing I built my company on was customer service. We want to treat people with respect if they're spending small amounts of many or large amounts. The person that is spending $10 with you today may be the person spending $10,000 tomorrow.
Check out Metropolis Collectibles online at metropliscomics.com!