Review: BLUE & GOLD #3
[Editor's Note: This review may contain spoilers]
Writer: Dan Jurgens
Artist: Cully Hamner
Colours: Chris Sotomayor
Letters: Rob Leigh
Reiewed By: Derek McNeil
Summary
Blue & Gold #3: The million-dollar debut of Buggles! Booster Gold and Blue Beetle go…broke?! Ted Kord's secret is out: the heir to the Kord Industries fortune has been cut off and cut out of his family's company! Now the duo needs all the help they can get to fight off the Omnizon's attack and set up their new business. Who can possibly save the guys from themselves? Meet the newest member of Blue & Gold…Buggles!
Positives
Omnizon, the alien conquer that Booster and Beetle defeated in the first issue returns in Blue & Gold #3. Declaring herself the rightful ruler of Earth, she attacks the United Nations. Fortunately, the team of Blue & Gold are on hand to stop her once again. While this is only a temporary win, the pair deal with her rather handily.
This goes to show that Dan Jurgens understands a key point about Blue Beetle and Booster Gold. While the pair are usually played for laughs, that doesn't mean that they are incompetent as heroes. Despite Booster's bluster, they are quite effective crimefighters, individually and as a team. While they do tend to get into misadventures when they're together, they also make a formidable duo.
I like seeing that Ted isn't letting his lack of funds hold him back from inventing new crimefighting tech. Inspired by Skeets, Ted has created his own robotic assistant, Buggles. However, Beetle doesn't seem to consider Buggles a sidekick like Booster does with Skeets. Instead, he refers to "it" as "a technological asset". I wonder if Ted will come to consider Buggles as anything more than a device. I also wonder if Buggles will prove to be a lasting addition to the Blue Beetle mythos.
Positives Cont.
Beetle and Booster's new venture hits a major snag. Without financial backing from Kord industries they are unable to afford to rent office space for their headquarters. However, a familiar face from Booster's past comes to the rescue: Trixie Collins, Booster's assistant from the original Booster Gold series Trixie tells them of some more affordable office space that the pair can afford with a little assistance from crowdsourcing.
A thought struck me when Beetle explains that he bested Omnizon by teleporting her away to "a bug-infested Louisiana swamp". That makes me suspect that Blue & Gold might soon be encountering the Swamp Thing, who lives in the swamps of Louisiana. That would make for a weird but intriguing team-up adventure.
Cully Hamner's art is well-suited for this title. Blue Beetle and Booster Gold look as good as they ever have. And he's doing a great job of creating the visualization of Ted's new creations like Buggles and the Buggy. Between his art and Jurgens' writing, they have captured much of the feel of both heroes' solo titles from the 80s.
Negatives
I have no complaints here. Jurgens makes no missteps with the characters. And his story is solid and strikes the proper tone for a Blue & Gold story: a bit silly, but with a lot of heart.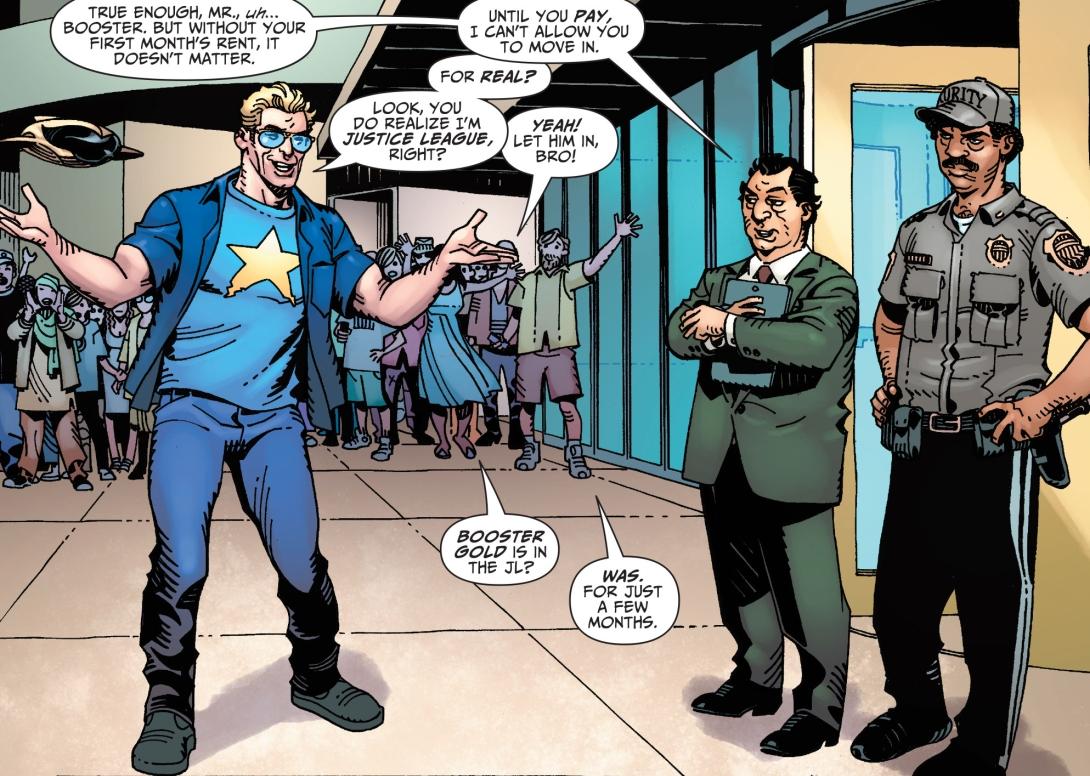 Verdict
While most heroes are great to read about, Blue Beetle and Booster Gold are the kind of heroes that it would be fun to hang out with. Despite their propensity to get in trouble, they have an endearing quality that Jurgens captures perfectly. Blue & Gold is the kind of entertaining fun that we don't see enough of in comics anymore.