Welcome to the official DC Comics News Holiday Gift Guide 2021! We have carefully curated a fantastic list of items from low-cost to wallet-busters and everything in between. There's something for everyone, from books and blu-rays, to games and Funko POPs, and even a kitchen gadget!
DC has some of the most popular superheroes every created with Batman, Superman, and Wonder Woman among the top three. And that means there's no shortage of merchandise out there for the DC fan in your life.
So take a stroll through our list… I guarantee you'll find something worth picking up!
So, to start off the Holiday Gift Guide 2021, I wanted to kick things off with a bang… and that's why I chose one of my favorite releases from the fine people over at Insight Editions…
Batman: The Definitive History of the Dark Knight in Comics, Film, and Beyond
This is the most extensive, well-researched, thorough book on a superhero I have ever seen. It's incredible, and hefty to boot (weighing in at 8 pounds).
This book came out in 2019 and celebrates Batman's 80th Anniversary, tracing his history across eighty years of comics, cartoons, live-action TV shows, and major motion pictures exploring the history and legacy of the Caped Crusader through his many incarnations. Featuring exciting never-before-seen imagery and commentary from key writers, artists, filmmakers, and more, this book also includes a variety of removable insert items, providing a unique, immersive experience for fans. Comprehensive, compelling, and filled with previously unseen treasures, Batman: The Definitive History of the Dark Knight in Comics, Film, and Beyond is the ultimate guide to the legendary hero.
Batman: The Long Halloween Part 1 & 2 Blu-ray

Batman: The Long Halloween Parts 1 & 2 tell the story of of a brutal series of murders in Gotham City, centered around the holidays. Batman sets out to discover who is behind these heinous crimes, with the help of James Gordon and Harvey Dent. However, when this killer takes on the infamous Falcone crime family, Dent ends up in the middle. Can Batman save Harvey Dent and the city of Gotham?
Dia De Los DC Funko POPs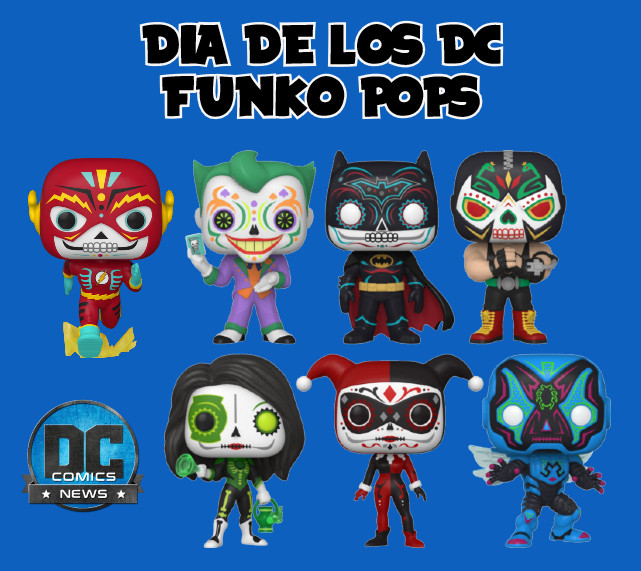 Decorate for your holiday traditions with a fun pop culture twist. It's the slightly spooky, colorful Dia De Los DC collection. This series has 7 different characters, including four classic characters with Batman, The Flash, Joker, and Harley Quinn, as well as three Latinx characters with Bane, Green Lantern (Jessica Cruz), and Blue Beetle (Jaime Reyes). These vinyl figure stand approximately 4-inches tall.
Purchase Batman Here           Purchase Joker Here                     Purchase Harley Quinn Here
Purchase Bane Here                Purchase Jessica Cruz Here        Purchase Blue Beetle Here
Superman: The Complete Animated Series Blu-ray Box Set 
The remarkable Superman: The Complete Animated Series box set features more than 19 hours of entertainment spread over six Blu-ray™ discs, including all 54 exciting episodes, an all-new series-defining featurette entitled Superman: Timeless Icon, a special video commentary episode and three specially selected episodes with audio commentaries by the showrunners.
All 54 episodes have been remastered from the original 35mm Interpositive sources, giving special attention to extensive color correction, dirt and scratch clean up, and adding a grain reduction pass to create a pristine picture, all while making sure not to affect the original lines in the artwork of the animation. The audio was retransferred from the original audio masters, and the series is presented in its original aspect ratio (4×3).
All-Terrain RC Batmobile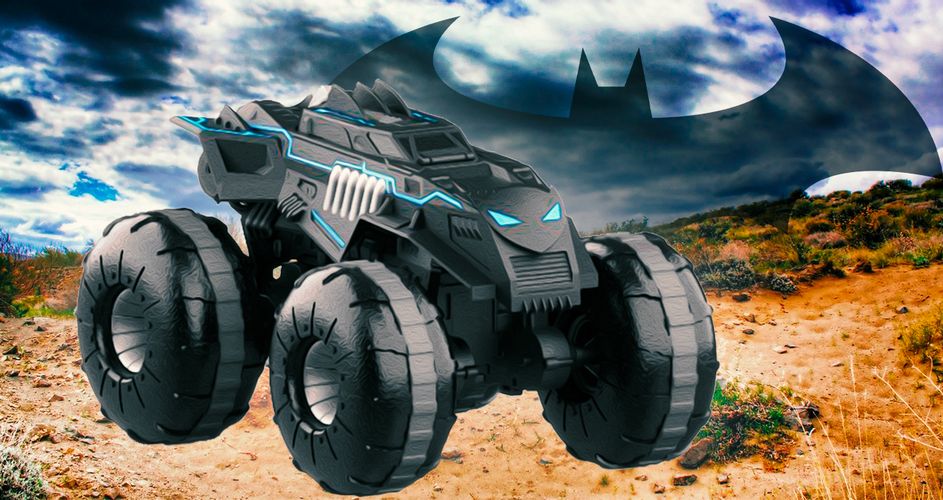 The high-tech, All-Terrain RC Batmobile is ready to conquer any terrain that comes your way. Mud, grass, snow, and even water are no match for Batman with this Batmobile! Just load a Batman figure into the driver's seat and get ready for some serious fun!
DC Comics Ugly Christmas Sweaters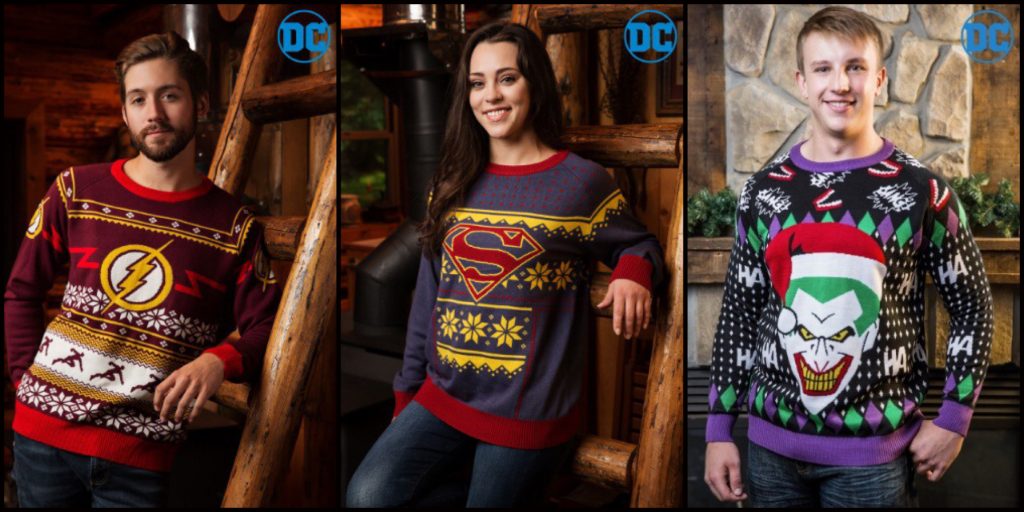 These DC Comics holiday sweaters infuse signature DC Super Heroes' styles into your winter wardrobe. Available for men, women, and child, these awesome sweaters let you show off your favorite hero while maintaining that festive spirit. Including designs for Superman, Batman, Wonder Woman, Flash, Harley Quinn, Joker, and more!
DC Comics Single-Serve Coffee Makers
Start your morning the superhero way with a cup o' joe from one of these single serve coffee makers inspired by the DC Comics Trinity – Superman, Batman, and Wonderful Woman!  Each one is full of features, like an illuminated power switch, removable drop trap, and flip-top lid. 12 ounce matching ceramic mug and permanent filter included.
Superman – Purchase Here
Batman – Purchase Here
Wonder Woman – Purchase Here 
Batman '66 Deluxe BDS Art Scale 1/10 Statue
Batman and Joker compete in a "Surf" match where the "Crusader Crusader" even uses his Shark Repellent to save the day, but loses points because of his heroic attitude. A simple and funny scene that became one of the most memorable moments of the classic 1966 Batman TV series.
Played by Adam West (Batman), now immortalized by Iron Studios in this statue, with the hero duly equipped with his Shark Bat-Repellent, properly dressed with his yellow and printed Hawaiian shorts, sliding on his personalized board on translucent waves. The iconic scene is derived from the episode "Surf's Up! Joker's Under!" The 10th in the third season of the series.
Iron Studios presents Batman Deluxe BDS Art Scale 1/10 Statue from Batman '66. Our hand-painted collectible statues and toys are the best gift for yourself or loved ones. Grow your collection with this DC Comics Collectible Statue!
Strange Adventures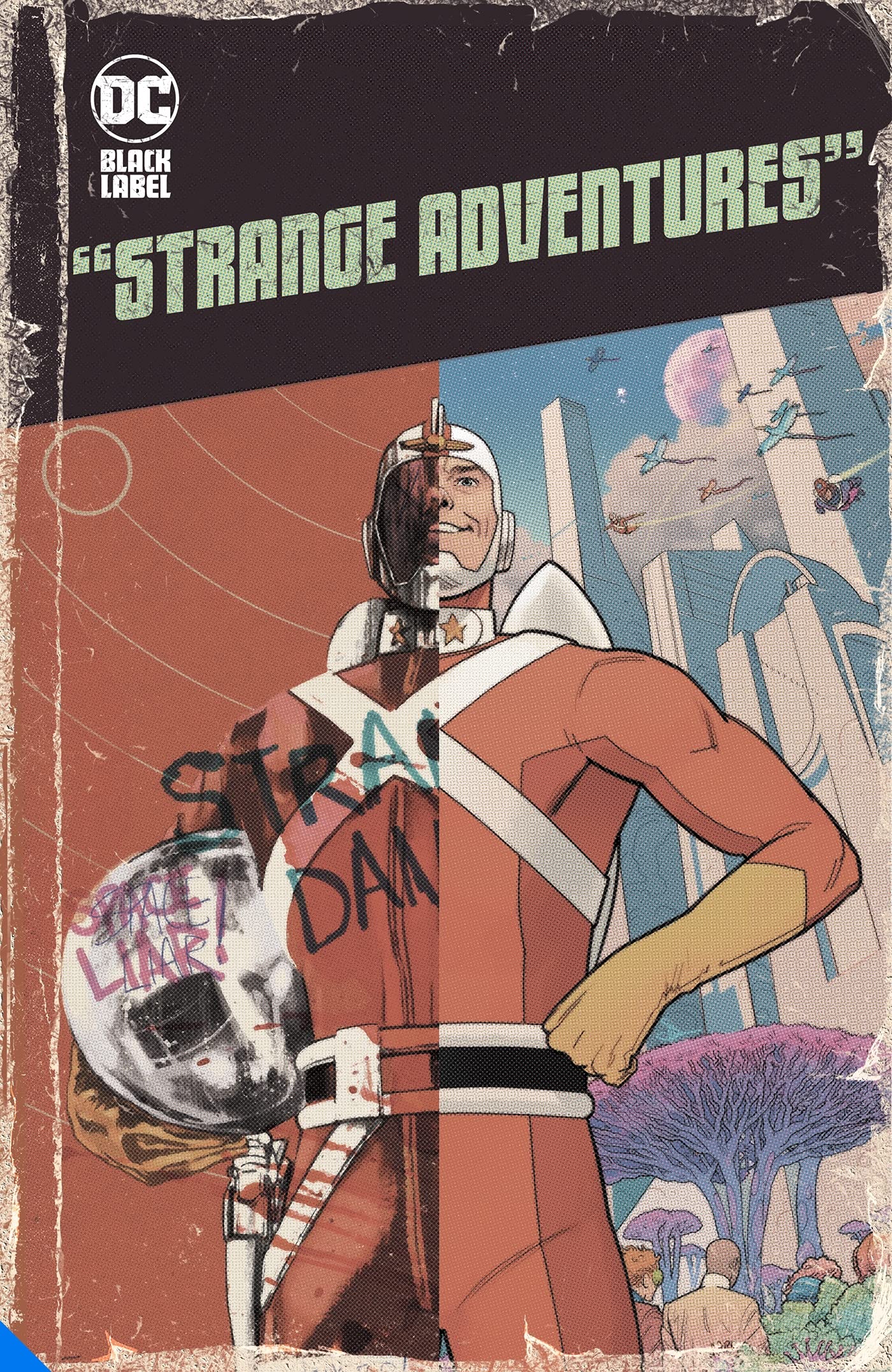 This new science fiction epic written by bestselling author Tom King reinvents one of DC's classic adventure characters, Adam Strange. Born on Earth and hero of the distant planet Rann, Adam Strange is famous throughout the galaxy for his bravery and honor. After leading his adopted home to victory in a great planetary war, Adam and his wife, Alanna, retire to Earth, where they are greeted with cheers, awards, and parades. But not all is as it seems, as the decisions Adam made during battles on Rann come back to haunt his family. It will take an investigation by one of the most brilliant heroes in the DC Universe, Mr. Terrific, to uncover the truth and reveal whether Adam Strange is a hero or a disgrace.
The Mister Miracle team of writer Tom King and artist Mitch Gerads are joined by fan-favorite artist Evan "Doc" Shaner to bring you an epic tale in the tradition of Watchmen, The Dark Knight Returns, and DC: The New Frontier–a story of blood, war, and love that readers will be talking about for years to come.
Collects Strange Adventures #1-12.
The Joker: A Diabolical Party Game
THE JOKER PARTY GAME: Gotham City's most heinous Super-Villains are each determined to rule the metropolis, but The Joker sends Gotham City further and further into anarchy with each passing round

Game of Strategy and Luck: You're secretly a Super-Villain, filling character wallets with Corruption Cards; Gameplay is guided by a turn of the cards and The Joker's changing game rules with every new round

NEVER THE SAME GAME TWICE: The Joker gameplay is constantly random as it's guided by a turn of the cards and The Joker's changing game rules with every new round.

ADULT PARTY GAME: Looking for an alternative game? For 3-6 players, ages 12 and up, this board game is the perfect activity for parties, get-togethers and game nights

FUN FOR THE WHOLE FAMILY: Next time you get together with family and friends, bring along a Spin Master game. The perfect activity for memorable game nights, birthdays, dinner parties, vacations, holiday & Christmas gifts, and any time you just want to have fun!

Includes: 10 Large Gotham City Cards, 9 Character Wallets, 54 Character Cards (6 sets of 9), 9 Secret Identity Cards, 50 Corruption Cards, 15 The Joker Cards, 15 Batman Cards, 1 Punch Sheet:
Batman '66 Classic TV Series Batmobile

1:24 scale diecast model car of the 1966 Classic TV Series Batmobile with Diecast Batman and Plastic Robin sitting inside the car.
Rubber tires
Detailed interior & exterior
Has opening doors
Made of diecast with some plastic parts
Dimensions approximately L-8, W-3.75, H-3.55 inches
Batman: Red Rain Funko POP
Part of the Funko POP! Heroes: Batman 80th line, I present to you the Batman: Red Rain vinyl figure.  Inspired by the 1991 book, Batman & Dracula: Red Rain, this figure gives you a glimpse at what a vampiric Batman would look like… and it's terrifying!  A must-have for any Batman fan!
The Sandman Expanded Edition Box Set
The Sandman stands as one of the most beloved comic book series of all time, and now Neil Gaimans masterpiece is collected in a newly expanded 14-volume box set! This collection includes trade paperback editions of The Sandman volumes 1-10, collecting the original 75 issues of the seminal series and more, along with the prequel The Sandman: Overture, illustrated by J.H. Williams III; The Sandman: Dream Hunters (both the prose story illustrated by Yoshitaka Amano and the comics adaptation illustrated by P. Craig Russell); and The Sandman: Endless Nights, featuring seven short stories starring the Endless.
And there you have it folks, the DC Comics New Holiday Gift Guide 2021!  I hope you found something awesome in this list for your loved ones, or maybe just for yourself!  Happy Holidays!!