Review: Action Comics #1039

[Editor's Note: This review may contain spoilers]
Writers: Phillip Kennedy Johnson and Shawn Aldridge
Art: Riccardo Federici and Adriana Melo
Colors: Lee Loughridge and Hi-Fi
Letters: Dave Sharpe
Reviewed by: Matthew B. Lloyd
Summary
Superman fights in the arena on Warworld and finally realizes he's got to adapt to his new normal, and J'onn J'onzz gets the first glimpse of the Court of Vultures?
Positives
While the Superman books under Phillip Kennedy Johnson have ebbed and flowed in interesting content, there's no doubt about the fact that he has Superman's voice down pat and genuinely seems to understand the character.  This comes through overwhelmingly in this issue.  Johnson gives that clear and untainted sense of hope and indefatigable determination.  This alone elevates this issue over Action Comics #1038.  
This issue also leans into a bit of Edgar Rice Burroughs inspiration which we've seen before.  Superman is very much like John Carter of Mars as he fights in the arena, befriends other captives and generally tries to raise everyone's spirits by sharing his own story and belief in hope.  As John Carter always says in similar situation, "I still live."  It's the ultimate expression of hope.  For while he is still alive, there is still the hope that he will find a way to save himself and see his family again.  Interestingly, while these themes are common to both Superman and John Carter, the incidentals of this story arc are much more inclined toward the latter's tales instead of those of the Last Son of Krypton.  It's both like and also very unlike a Superman story.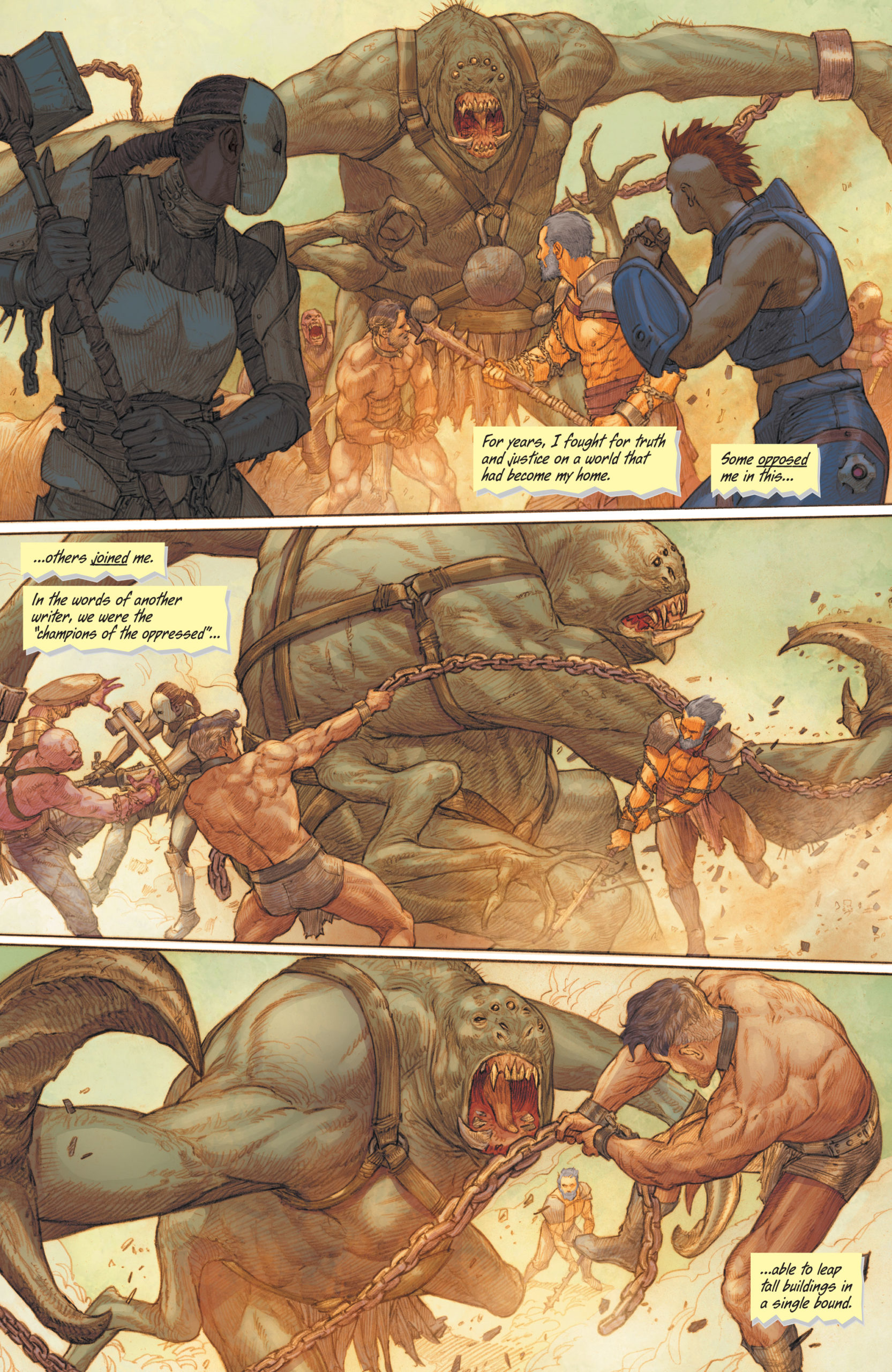 Positives Cont'd
So far in this run we've seen great art from both Daniel Sampere and Miguel Mendonça.  In Action Comics #1039 Riccardo Federici delivers an exceptional issue, as well.  Despite his style being completely different from Sampere and Mendonça, Federici's work is beautiful and epic.  Lee Loughridge adds his colors to give Warworld that Martian look that completes the John Carter of Mars vibe.  Visually, the issue is stunning in everyway.  Loughridge's approach to Apollo's radiating inner light is genius.  The art team gets "A"'s all around and that goes for the covers as well.  Daniel Sampere delivers a movie poster-inspired main cover while Julian Totino Tedesco creates another poster worthy image.  Finally, Federici depicts a "Clark Kent, Warlord of Mars" image that fits the issue's story perfectly.
The Martian Manhunter feature takes an interesting turn, but not before working one of the signature themes associated with the character.  J'onn has always struggled to fit in, and in this issue he demonstrates how human he is to his biggest fan, Zook as well as the little boy he saves from some very bad men.  It's a couple of really nice moments that are depicted equally well by Adriana Melo as she allows some of the inner conflict and insecurity to come through the faces of J'onn, Zook, and the little boy.
The end of this chapter is a bit of a surprise as J'onn gets his first look at the organization that may be behind what he's been investigating.  It appears to be modeled on Batman's foes, the Court of Owls.  In this issue, they are a Circling of Vultures.  They've got some telepathic technology that proves shocking to J'onn and it's clear they are out for him.
Negatives
Mongul and Warworld are about as interesting as a box of dirt.  It's the main struggle with this storyline.  Thankfully, this issue doesn't rely much on these topics instead of focusing on Superman's character and the escape plot.  This issue also doesn't bring up the tedious "Superman is dying" idea which also drags down this era of the Man of Steel.
Despite the pleasure that the similarities to John Carter bring in this long-time Edgar Rice Burroughs fan, at times this issue doesn't feel at all like a Superman story.  There are instances when it pulls one out of the moment, and beg the question- "why not just write a John Carter story?"
Verdict
Character is the strongest element of the Superman story in Action Comics #1039.  Johnson nails this page after page, even if Superman's not quite fitting into a John Carter of Mars story as one might expect he would.  The Martian Manhunter story continues to build up with an interesting reveal.  The art across the issue is at a high level, Melo is great on J'onn J'onn, but Federici is exceptional on the Superman tale.  All in all, this is a step up from the last issue.