Review: Primos #1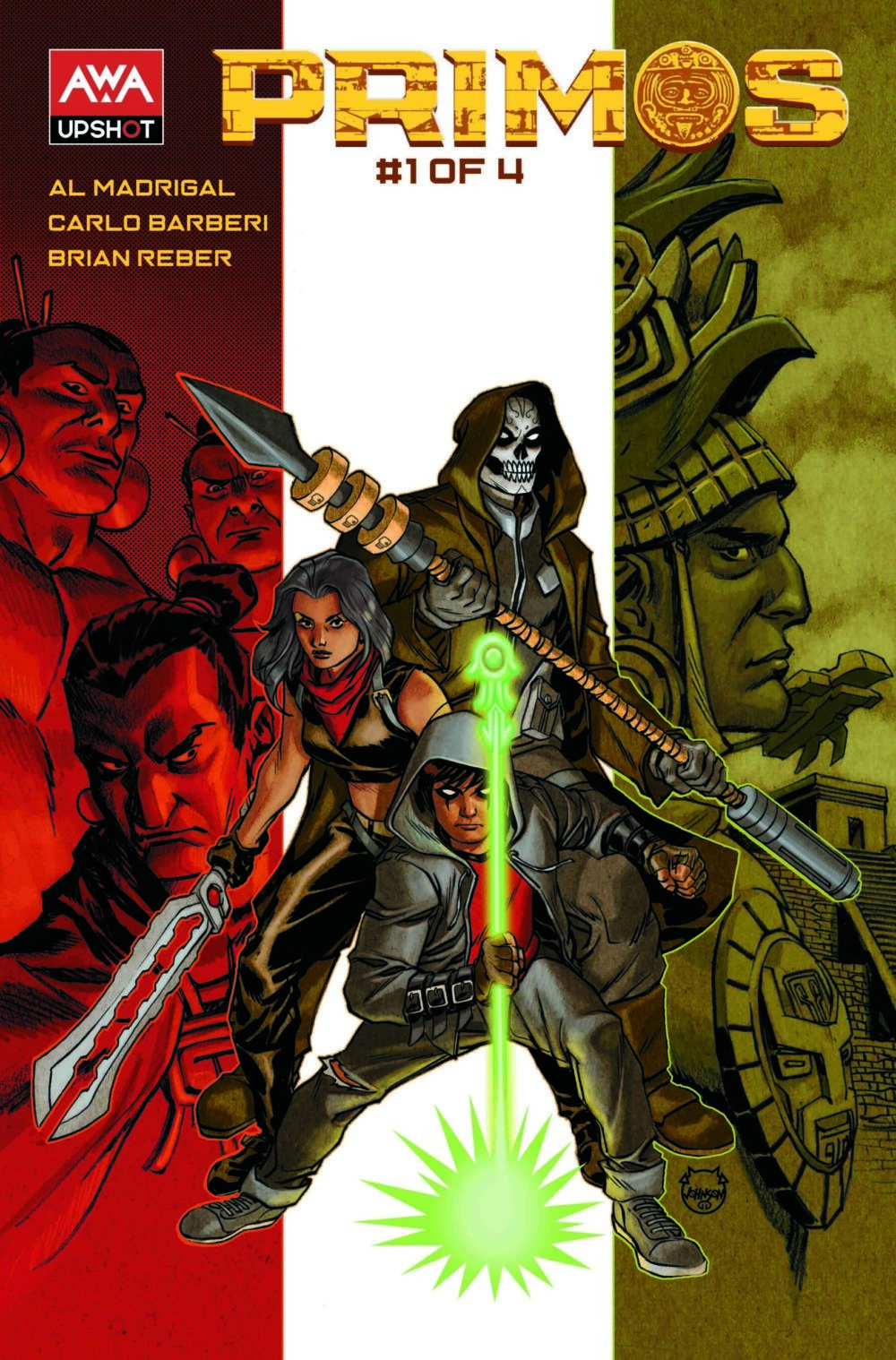 [Editor's Note: This review may contain spoilers]
Publisher: AWA Studios – Upshot
Writer: Al Madrigal
Artist: Carlo Barberi
Colors: Brian Reber
Cover: Dave Johnson
Reviewed by: Joshua Raynor
Summary
The ultimate Latinx heroes for the 21st Century are here! Centuries ago, two Mayan brothers constructed a spacecraft that sent them hurtling into outer space. Returned to Earth only to find their culture and civilization destroyed, one of the brothers vows revenge and seeks to decimate the planet with intergalactic technology gathered on his travels. To prevent this, his sibling creates a contingency plan that activates the world's protectors – three descendants of their own family who have been granted great power. Now, the fate of the universe lies in the hands of three cousins scattered throughout Central and North America who have never even met.
Positives
I want to start off this review by simply saying, GO BUY THIS COMIC!! It's absolutely incredible!
When I first heard about this book, I was very intrigued. It sounded like the type of book I would love, and I was right. I've read a lot of comics since I started writing for DCN, so many new series have come my way, many of them being indie comics. But very few hit me in their first issue the way Primos #1 did. Everything about it is fantastic.
First off, there's an image at the beginning of the book (which you can see below) of the three cousins, the Primos, standing in battle-ready poses, and it is so incredibly gorgeous to look at, and it gives off a sense of empowerment. This image alone got me pumped to read more.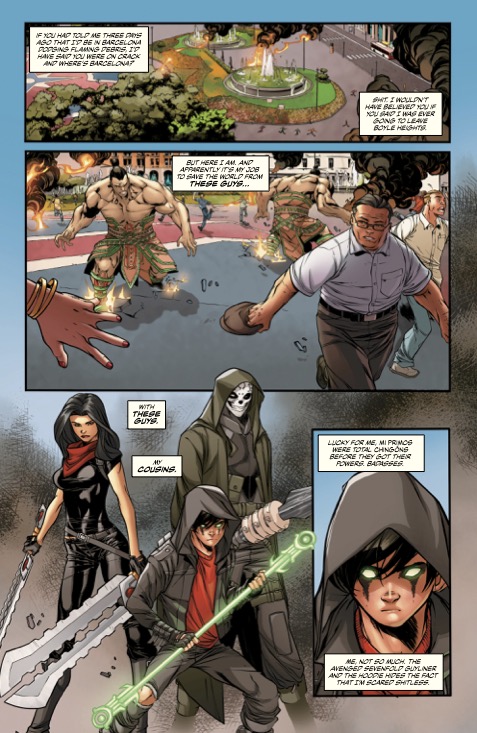 Al Madrigal is the writer on this book, and damn, does he know how to tell a story. The writing is incredible and nuanced, with dialogue that feels real and natural. I could almost hear Ricky speaking to me through these words. I come from an area that is roughly a third Hispanic, so his use of Spanish and English mixed together felt perfect to me, especially as he was using certain slang terms. Like I said, it felt natural.
And it wasn't just the dialogue that kept me hooked. The story is fascinating, combining Ancient peoples like the Mayans, with alien tech and interplanetary travel, as well as superheroics. It sounds like it would be too much for a single first issue, but it's not. Madrigal knows just how to balance them all, and pace the story so nothing is dragging or feeling unfinished.
We get this phenomenal, action-packed opener, which introduces us to the characters of Ricky, Javier, and Gina, and dips into what is going on, without giving much away, and simultaneously setting up the story to come. It makes you want to know more about them all, especially as we only meet one of them in this issue. You instantly know that when Ricky calls them badasses, or "total chingóns," he's right. They are badass superheroes, who are ready for the fight.
And then there's the artwork, which is on a whole other level. Carlo Barberi, who I know predominantly from the incredible Image Comics series, Spawn, along with the brilliant colorist Brian Reber, create some impeccable art in this book. The details are striking, the colors are so incredibly vibrant, and the crisp linework just pops, helping to accentuate the amazing work that's already there.
Negatives
Other than not having issue #2 to read, and knowing that this will only be four issues, I found nothing negative about this book. It's poised to be one of my favorites of the year already.
Verdict
Primos #1 is such an extraordinary book and a perfect start to what will hopefully be an amazing miniseries with more stories to tell in the future. Do yourself a favor and go pick this book up now!