Review: Detective Comics #1057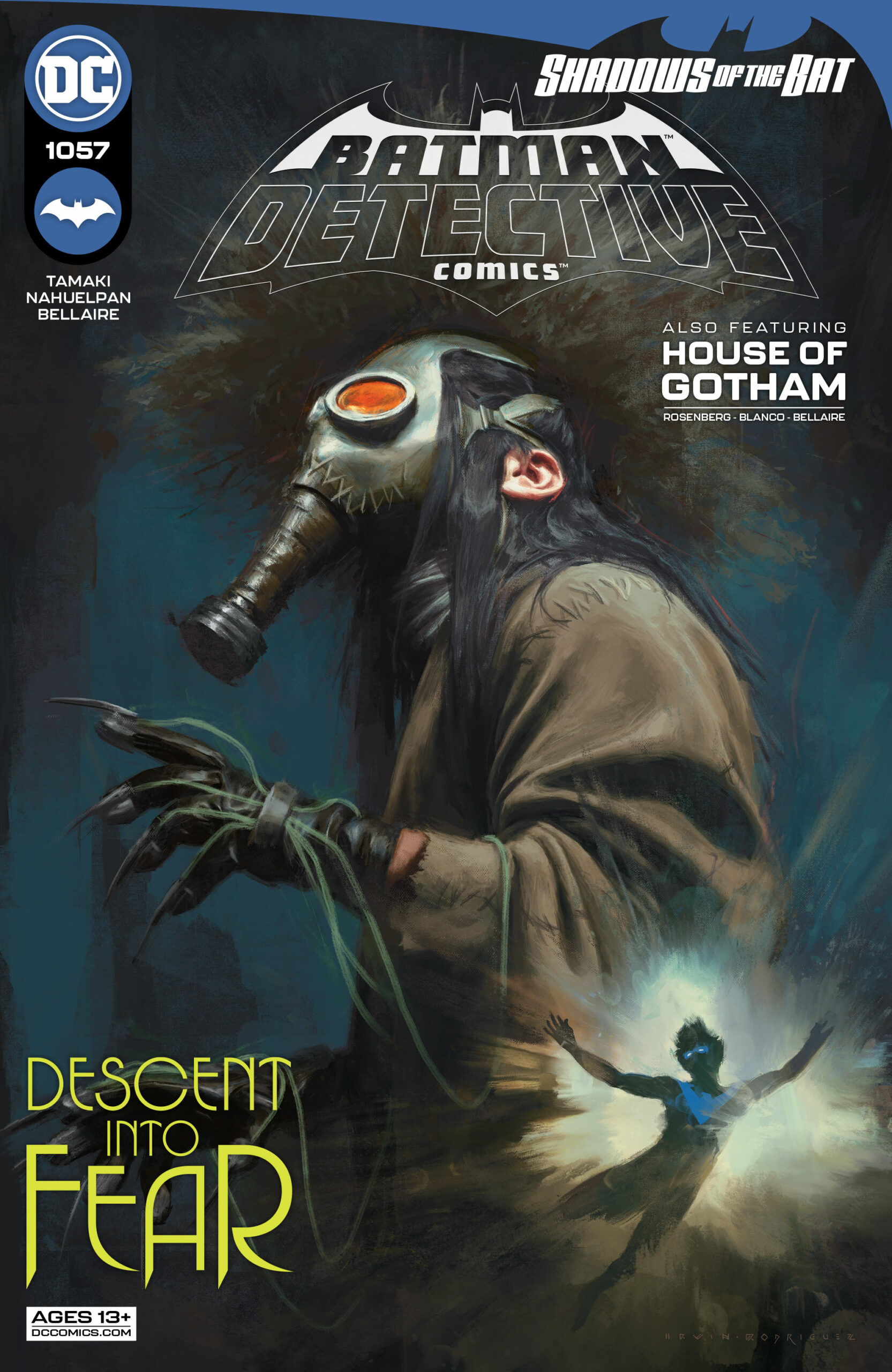 [Editor's Note: This review may contain spoilers]

Writers: Mariko Tamaki and Matthew Rosenberg
Art:  Amancay Nahuelpan and Fernando Blanco
Colors: Jordie Bellaire
Letters: Ariana Maher and Rob Leigh

Reviewed by: Matthew B. Lloyd
Summary
Batman has returned to Gotham just in time to assist with the trouble at Arkham Tower.  It's a real team effort as the Bat-family has to corral Scarecrow, Psycho-Pirate, the Party Crashers and Ana Vulsion!
Positives
Both the lead and second features in Detective Comics #1057 present some compelling ideas.  "Shadows of the Bat" features the return of the Dark Knight, and as great as it's been without him, his return is welcomed because he is presented as part of the team.  You get the sense that the Bat-family is important to him and he sees the value in having others to trust.  This notion is echoed in "House of Gotham" but perhaps from a different perspective.  Batman, Nightwing, Red Hood and Robin (Tim Drake) are working together and Batman makes a miscalculation endangering his "sons."  We know they will survive, but it is interesting to compare these two different portrayals of Batman in similar situations that reveal different aspects of Bruce's character.  There's a really gratifying sequence in the middle of the lead story that communicates sense of team wonderfully as each of Batman's colleagues plays a role securing the Tower.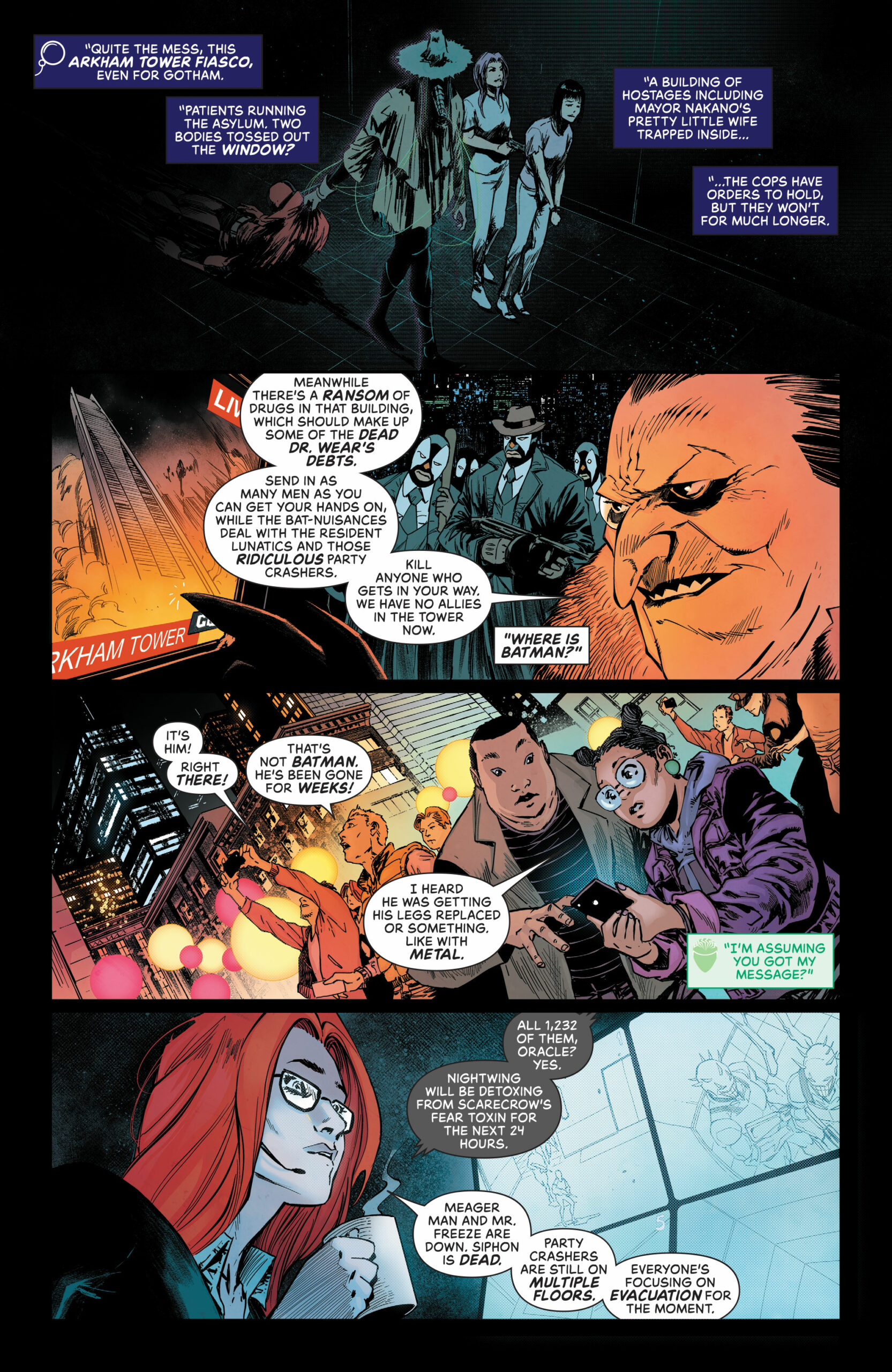 Positives Cont'd
At the end of the chapter, we see Koyuki Nakano in a session with Chase Meridian on Day 67 as she's recounting the events of this issue.  It's a really creative decision to tell the story this way.  It not only sets up what happens next for a cliffhanger ending, but it suggests that this story will go well beyond the immediate resolution.  And, it's one of those cliffhangers that you don't see coming, not at all.
There's a  dynamic fight between Huntress and Ana Vulsion that's executed wonderfully by Amancay Nahuelpan.  It's set against another action and they compliment each other visually.  Huntress's ability to "see" what Ana is doing continues to be an intriguing plot point and it is used to excellent effect here.  Fernando Blacno's approach to the art in "House of Gotham" evokes a classic vibe that fits with the story revisiting events of the past.   Out of context it is simply an iconic take on the Dark Knight that is reminiscent of David Mazzucchelli. 
Negatives
Though her role is limited, Harley Quinn's appearance once again as a "hanger on" of the Bat-family takes me out of the story.  Luckily, it doesn't have much of an impact in this issue.
Verdict
As we get close to the finale of "Shadows of the Bat," Detective Comics #1057 provides the reader some surprises as well as some exciting execution in the writing and art from the creative teams on both stories.  This chapter doesn't disappoint as it not only brings plot threads together, but also teases the long game.