Review: Nubia & The Amazons #4
[Editor's Note: This review may contain spoilers]
Writer: Vita Ayala, Stephanie Williams
Artist: Alitha Martinez
Inks: Mark Morales
Colors: Emilio Lopez
Letters: Becca Carey
Reviewed by: Seth Singleton
Summary
Nubia & The Amazons #4 reminds readers that history has a way of repeating itself and if they are willing to learn from the mistakes of the past then they can change the future.
Positives — Snakes in the Grass
Medusa is loose. But she is not the same Medusa from the story of Perseus. Nubia knows that to approach this new scenario using outdated tactics will only end in failure. But this is not the first time that Nubia has had to hunt down something that escaped. 
This means there is nothing better than for the story to take a detour to a flashback story. Nubia is hunting a creature in Chicago. The time period appears to be approximately 40 years ago based on fashions. But this writer prefers to defer questions and advice about fashion to writer/reviewer and clotheshorse Brad Filicky.
The past is intertwined with the present and Nubia's conflict grows. She has found a kindred soul by they cannot stay together. Nubia receives a message that she must return home and guard Doom's Doorway. 
Meanwhile, back in the present, Penelope is a high priestess who has had a series of disturbing visions. When she shares them with Nubia they discover that there are insights they can explore. Nubia shares that she recognized the pain Medusa experienced and that it felt so familiar that she recognized it as her own. Bia raises a revolutionary but not outlandish idea. If Themyscira is a place for all women who have been harmed, does Medusa have a right to be there as much as any Amazon?
Positives — History revisited
History teaches that Medusa's only crime was that she was considered beautiful enough to catch the eye of the god Poseidon. But this brought Medusa in the path of Athena's jealousy. It was Athena who cursed Medusa and turned her into a villain in the eyes of the world. Her crime was that a god could not control his desire ad a goddess was powerless to her own pride.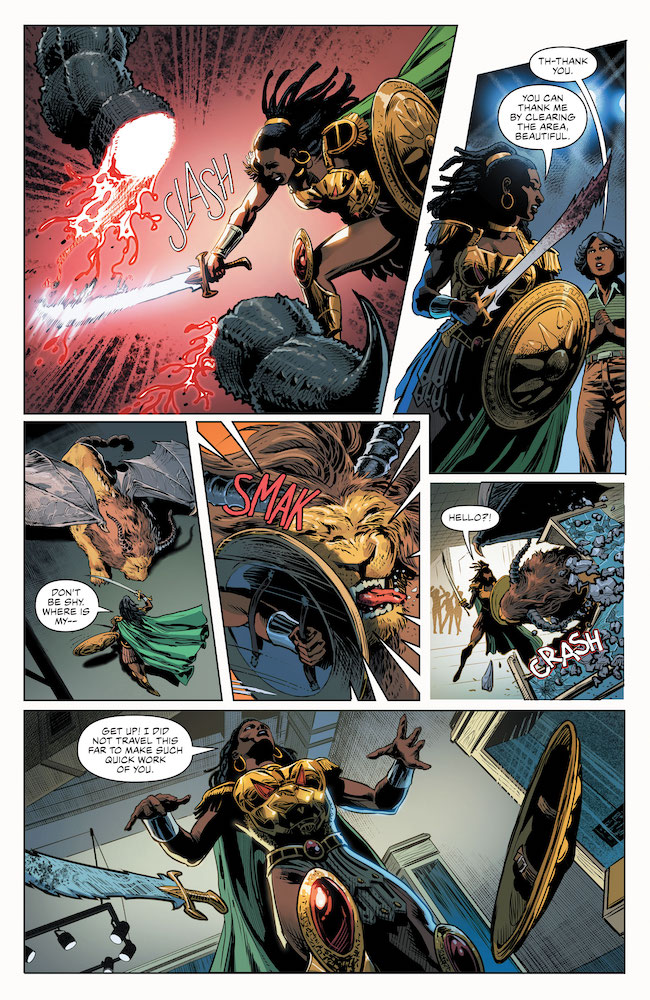 The story is beautifully rendered on one page. The page looks like parchment and this makes the pencils feel like charcoal sketched across time. The reminder that she was turned into a monster by a spiteful goddess is stark and ungarnished. 
It's been said that on many journeys a hero must learn how to use a new weapon. Io gifts Nubia with a weapon that looks like a coiled whip with a blade at the end. Nubia girds herself for battle and then heads off to face Medusa. She is ready to fight and hoping to change and what happens next will only be revealed in the next issue. 
Verdict
It's hard to resist hatred. Even when it might seem justified, it is always hollow. Nubia knows this and she wants to share her knowledge with Medusa. Together they might learn enough from the past to change the present and the future. 
Stephanie Williams and Vita Ayala have pit Nubia against an insidious foe and the political tensions that come with leadership. Alitha Martinez and Darryl Banks continue to showcase the power and resilience of the Amazons, their home, and their ways with uncompromising lines. The collaboration on inks with Mark Morales, Martinez, and Banks is untraceable but the mastery is unmistakable. Vibrant colors from Romulo Fajardo, Jr. bring intoxicating wonder to every panel.