Review: The Conjuring: The Lover #5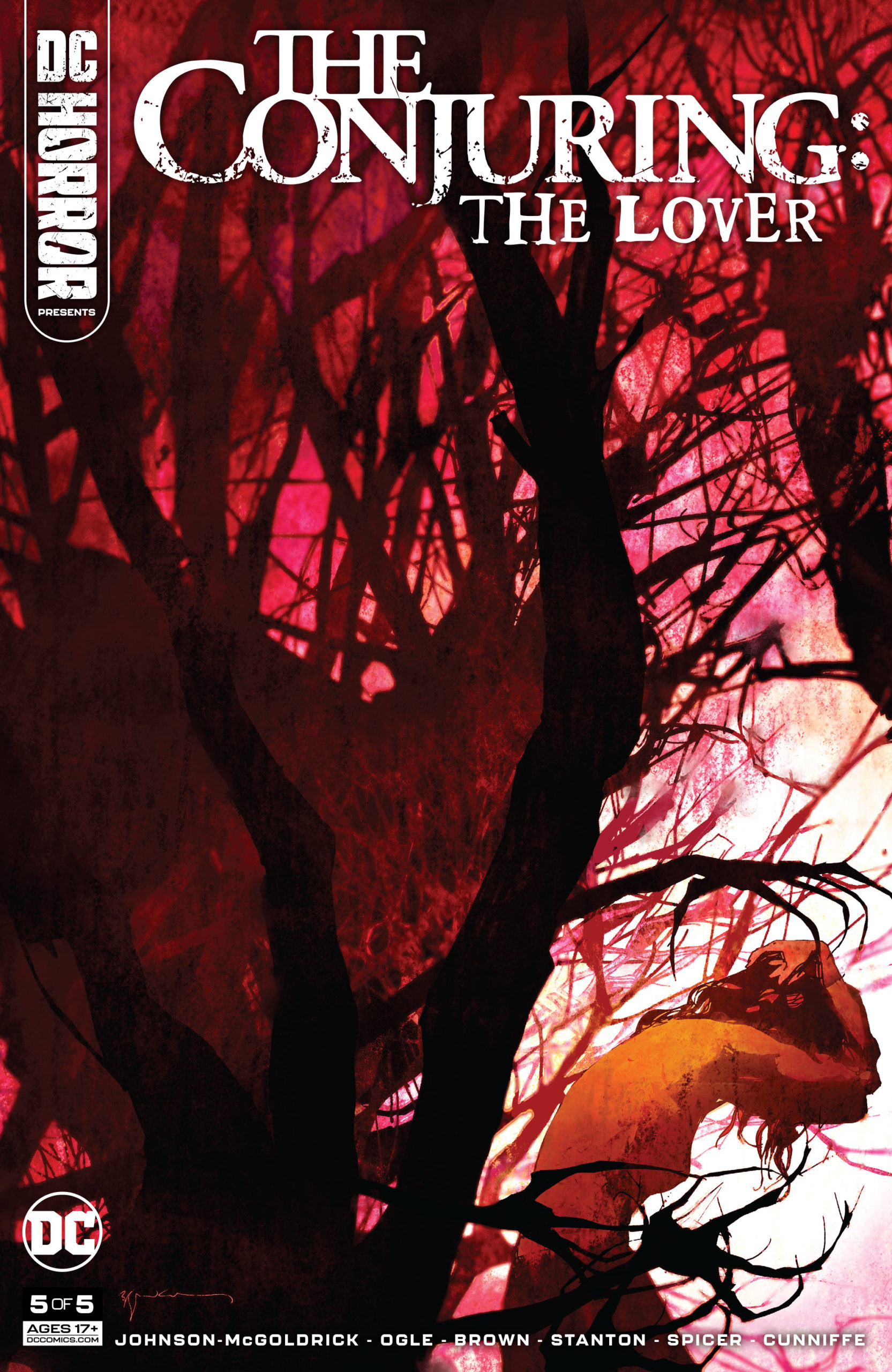 [Editor's Note: This review may contain spoilers]
Writers: David L. Johnson-McGoldrick, Rex Ogle, Dominike "Domo" Stanton
Artist: Garry Brown, Dave Johnson, and Dominike "Domo" Stanton
Colorist: Dee Cunniffe, Dave Johnson, Mike Spicer
Letters: Becca Carey, Dave Johnson
Review by: Kendra Hale
Summary
The Conjuring: The Lover #5 brings us to the bitter finale of this series.  We have watched as the Demon has been undeterred in the gambit for Jess's soul and at the end of the last issue did the unthinkable by causing Jess to kill the love of her life, Katie. Let's jump right into the fire. 
In The End
As if butchering poor Katie by her own hands wasn't a shell-shock enough, the Demon is ready for the finale in order to get what it wants. The Demon cuts off the chance that Jess may say no in the worst way. It reanimates Katie's body leading to a chase through the moonlit woods. 
Driving her to a literal cliff's edge, Jess finds her courage and turns ready to stand up to the Demon.  The Demon is not bothered in the least as the onslaught continues. When Jess demands to know just what it wants from her, she may regret asking.
Limited Time Offers
Like with any issue The Conjuring: The Lover #5 doesn't disappoint with the ads or the extra "Tales From The Artifact Room".  The ads give us gems like the toys from The Conjuring Universe. The parody of the Sea Monkey's though is my favorite.  "So eager to kill. Can be trained." 
The tale we get with this issue is "The Chalice" with story and art by Dominike "Domo" Stanton and colors by Dee Cunniffe. The tale transports readers back to the time of WWII. After the war came a new war, one of spies and the supernatural. 
Positives
Everything. This ending was not necessarily one I expected and I loved that aspect. It feels more like being told a story of why something happened leading up to an event. A story told with raw colors and a chilling outlook. 
Negatives
Absolutely none. 
Verdict
The Conjuring: The Lover #5 gives readers a conclusion to the Lover's tale but gives us a promise. This is not the last story that this world has in store for us. Next comes The Child's Story promising more extras and another story set to continue the chills up our spines!

Images Courtesy Of DC Entertainment