Review: JUSTICE LEAGUE #73
[Editor's Note: This review may contain spoilers]
Writer: Brian Michael Bendis
Artists: Szymon Kudranski, Emanuela Lupacchino, Wade Von Grawbadger, Scott Hanna
Colors: Szymon Kudranski, Hi-Fi
Letters: Josh Reed
Reviewed By: Derek McNeil
Summary
Justice League #73: "Lords of Chaos" part two! The Justice League and Justice League Dark team up to navigate the remade world of chaos. All the heroes must come together to save what's left of the world they have dedicated their lives to protecting. Has Doctor Fate gone bad? Oh no, he has.
Positives
When I first saw the cover of Justice League #73, with Naomi featured on a field of white, with the text declaring "Naomi Alone!", it struck me as somewhat representative of Bendis' run on the title. With his tendency to push the titular team aside to spotlight his own creation, Naomi appearing in the book solo seems like the natural progression of Bendis' direction for Justice League.
However, things aren't quite as bad as the cover implies. Naomi is banished to a white void alone, but that takes up one page at the end of the story. Perhaps a large chunk of next issue might be taken up by Naomi's solo adventure, but she doesn't dominate this issue. If anything, Black Adam and the Justice League Dark heroes are the main focus, particularly Zatanna, Doctor Fate, and Madame Xanadu.
As always with Bendis, there are some great ideas here, but I remain doubtful that Bendis will properly weave a compelling and cohesive tale from them before the story ends. The idea of Khalid facing off against Nabu himself is quite intriguing. Unfortunately, the conflict with Nabu isn't the focus of the story. Rather, the two Leagues confront him only for the purpose of wringing information about Xanadoth out of him.
Positives Cont.
I was intrigued that Bendis had Xanadoth actually comment on the similarity between Madame Xanandu and himself. Bendis is clearly hinting at some connection between the characters. This could be interesting, but on the other hand, I hope that Bendis isn't about to add a retcon to Xanadu's backstory. His retcons tend to be pointless at best and often damage or ruin a character.
Despite the problems with the issue's writing, the artwork is gorgeous. I love the contrast in the art and colours between the main story and the flashback battle between Nabu and Xanadoth. This glimpse of the past seems epic and larger than life, emphasizing that this is a distant time, while the modern scenes are rendered in a way that makes them appear more tangible and immediate.
Negatives
It's probably for the best that Bendis is moving on from Justice League to write another Naomi miniseries as well as working on a Naomi TV series, as she seems to be his main focus. While he doesn't make Naomi the main focus of this issue, he does include a brief but noticeable incident meant to impress upon the reader what a unique and special character Naomi is. During the confrontation with Nabu, she catches the ancient wizard's notice and he demands, "Who are you? What are you?" before transporting her to the mysterious white void.
I am certain that this is leading to Naomi playing a central role in the story's concluding chapter. However, if he wants to make hints about how powerful and important Naomi is, I wish he would confine it to his actual Naomi title. On the whole, she doesn't really add anything to the title that any young and powerful hero couldn't in her place. The only real reason she's in the title is to spotlight his own creation, hyping her up into something she's not.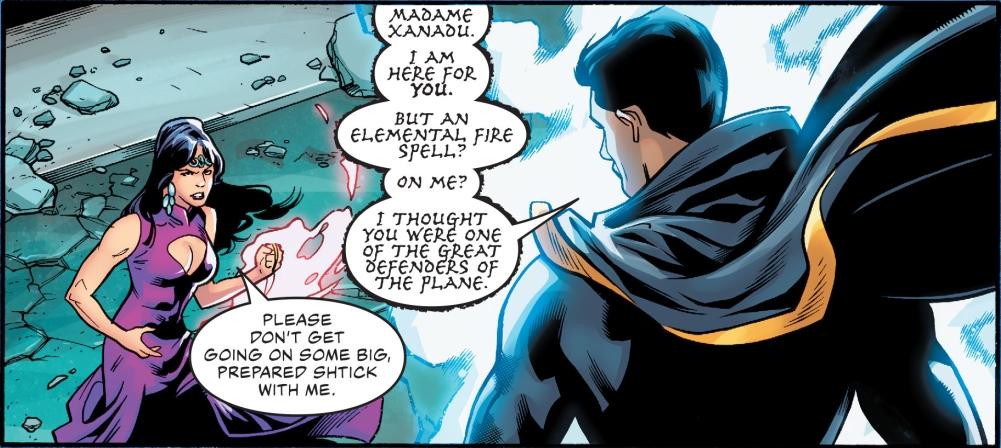 Negatives Cont.
In my review of last issue, I stated that Bendis had generated another generic and forgettable villain for the story. I was reminded that Xanadoth was actually a character Bendis created in Superman #23. I think my inability to remember this just goes to show how forgettable a character he is. And of course, it's yet another case of Bendis recycling concepts he's created in his previous work for DC. He would have done better in this run on Justice League if he had actually focused on doing something new with the team rather than rehashing stuff he wrote in the Superman titles.
Verdict
Justice League #73 looks stunning, but unfortunately the writing holds little depth. Brian Michael Bendis is an idea machine. However, he frequently is unable to do much with his good ideas. He still has one last issue left, so maybe he might be able to save this story in the conclusion. Overall, I'd rate this issue rather low, but I have to add points for the great work of the art team.