Review: Gunslinger Spawn #6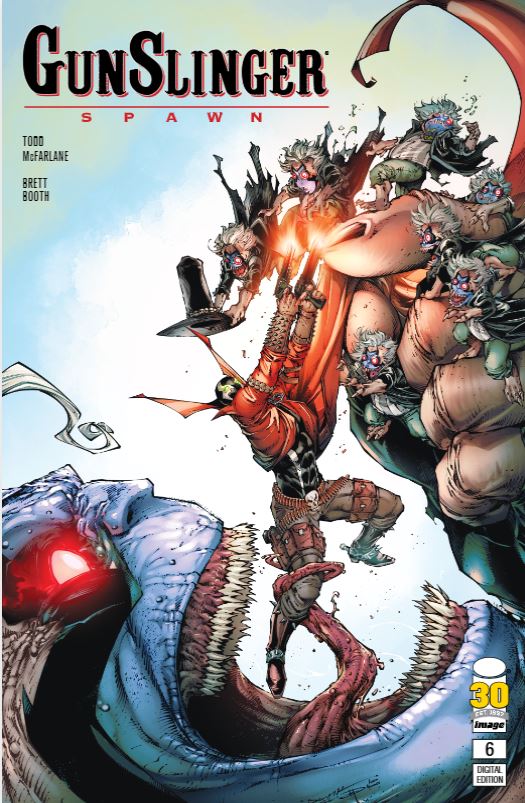 [Editor's Note: This review may contain spoilers]
Publisher: Image Comics
Writer: Todd McFarlane
Artists:  Brett Booth
Letters: Tom Orzechowski
Colors:   Ivan Nunes
Reviewed by: Carl Bryan
Summary
"You think these souls still have some innocence.  They don't.  They are animals….." – Gunslinger Spawn to The Clown  Spawn #6- The EPIC battle with the new CLOWN concludes…Clown, along with Violator and his razor-toothed minions, continues to torment a weakened Gunslinger.  
Positives
Okay…stop me if you have heard this one before. What do Gunslinger Spawn, Aquaman, and Dr. Doolittle have in common?
Think about it Yes, that's right. In case you were humming that old, old tune "If I could walk with the animals…talk to the animals…" You get the picture.
This issue has what you would expect in any western. A sit-down negotiation between two enemies or the enemy of my enemy is my friend. Glasses clink together over a bit of brown liquor.  Secret plans are shared and the perceived weakest link spills his biggest secret.
You got it… Gunslinger Spawn can communicate if not downright control any beast of a creature. While billed as the weakest Spawn (see the power meter in this review), Todd McFarlane turns over his best Ace up his sleeve as The Clown's minions, as well as his Violator avatar, are just that…mindless animals.
Brown liquor is not the Clown's drink and, in my best Nancy Reagan impersonation, "Don't Drink and…Negotiate with a Spawn".  
Positives 2.0
Brett Booth turns a sleight of hand in that the more inebriated the Clown becomes, the more he starts to see Gunslinger Spawn in his human form.
Spoiler Alert: as you look for this in the pages.  Whether Booth intends it or not, it's a great coincidence, as we see the perils of drinking and dealing with the Devil.
Booth has an affinity for chains much as McFarlane had for webbing.  Each page is adorned with intricacies in the art.  Speaking of art…take a look at the blade transformations. Again, amber liquor lenses are a thing and Booth turns them to our advantage as a reader.
Negatives
That is the sound of tumbleweeds you hear…no negatives as this issue reads like a glass of fine whiskey. It's smooth with each turn of the page.
Verdict
Issue #6 assuages any concerns that Gunslinger Spawn was going to double-cross Al Simmons. The Scorched are going to be just fine, but these Spawn books are based on love. If you haven't picked that up yet, you should. More than anything, pick up this chapter and hunt down issues #1-5. This is one book you need on your collector's shelf!