Review: Spawn #328
[Editor's Note: This review may contain spoilers]
Publisher: Image Comics
Writer:  Rory McConville
Artist: Carlo Barberi
Letters: Tom Orzechowski
Colors: Jay David Ramos
Reviewed by: Carl Bryan
Summary
"…Your name will live forever, alongside all those who helped put Sinn on the throne of Hell! –  Sinn
Spawn #328 –  The Exodus Foundation has declared war!  With the assassination of Senator Rawlins, the entire world sees Spawn as Public Enemy #1.
The Dead Zones are proving to be one of the most important aspects of Spawn's universe. But did Spawn make a mistake by sealing them?  HellSpawns are bouncing around hosts.  Forsaken grows restless!
Positives
Rory McConville keeps the beat alive in Spawn with Todd McFarlane always close by in the script department.  These HellSpawns that have been locked out of Heaven and Hell seem to be jumping from host to host, but more importantly, they are contributing to the toy empire of McFarlane.
The latest version is Columbo Spawn/Detective Spawn/Overcoat Spawn, the one that killed Senator Rawlins.  It's a clever ploy as Mac and Mac try to give us different versions to possibly join Spawn's army or at least give us more action figures to the shelf. With McConville and McFarlane locking both Heaven and Hell, it's really getting crowded among the demons, angels, and humans. 
While King Spawn is shaping things up for Spawn to inherit the throne of each kingdom, Spawn provides a story where others are placing themselves in line as all-time rulers of everything!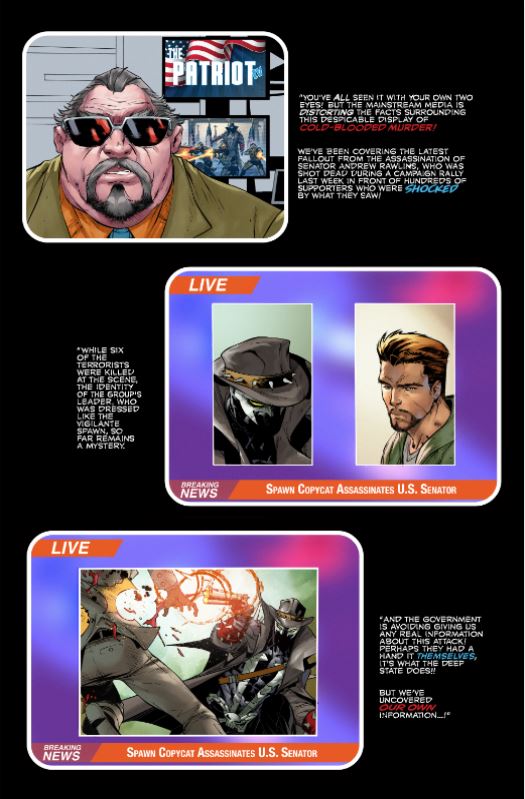 Positives 2.0
Cy-gor…Jim Downing…Medieval Spawn… we get some really interesting takes in this new relationship.  One possible take is the Marc/Medieval Spawn and Jim may have a relationship spark going on, 
To borrow a page from Todd Taylor's Superman, this may be a new take in the world of Spawn.  Page 12 of this issue may be the beginning of something new.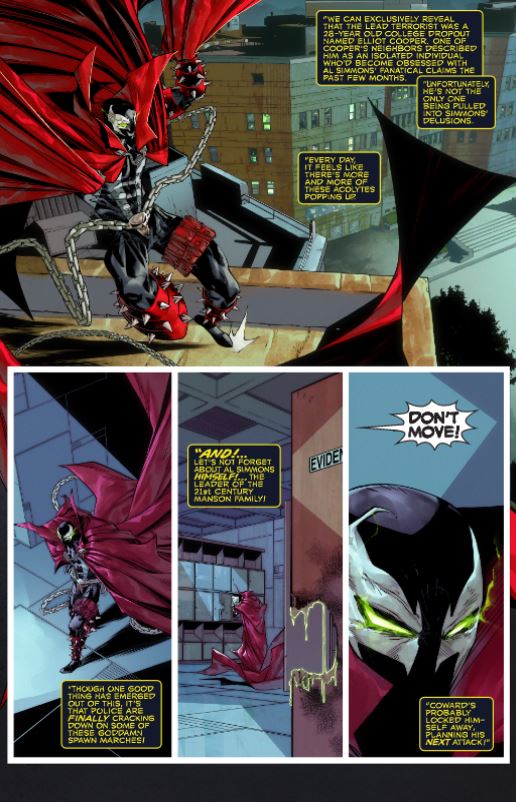 Accolades for World Record-Setting
Tom Orzechowski is as much a part of the tapestry of Spawn as Todd McFarlane.  While Spawn continues to set an independent comic record with every issue released, it's admirable that Orzechowski is the person behind that lettering we see that gives Spawn his dark encircled voice bubble that echoes in our heads when we read each issue!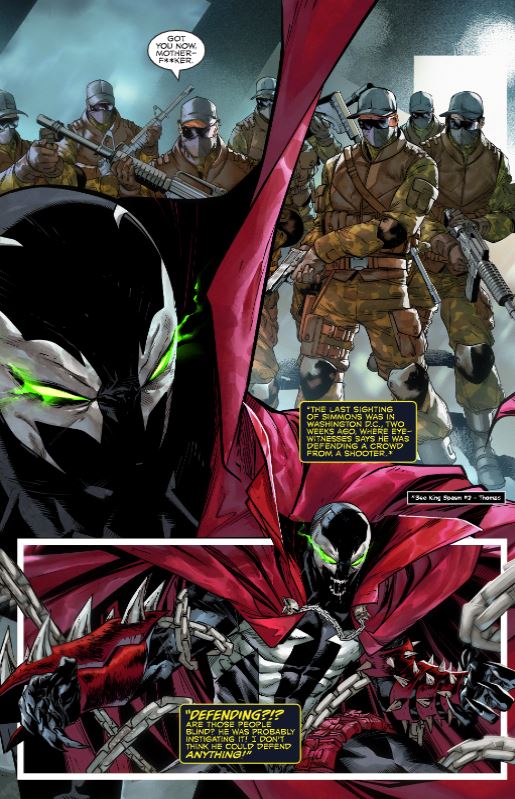 Negatives
The book is a bit off this release in that we are getting a LOT of art and characters.  Never has the Spawn machine been so rich in either, or both.  However, from a script standpoint, we've been at a bit of a standstill lately, in the storyline.  I hope that picks up soon!
Verdict
Spawn #328 –  No new things are developed here if you take away page 12 in what I think will be an eventual relationship upgrade.  However, if you want to get a good take on Cy-gor, see the Redeemer in action, be introduced to Sinn, or at least find out what Forsaken is restless about, pick up this book!