Review: ROGUES #1
[Editor's Note: This review may contain spoilers]
Writer: Joshua Williamson
Artist: Leomacs
Colors: Matheus Lopes
Letters: Hassan Otsmane-Elhaou
Reviewed By: Derek McNeil
Summary
Rogues #1: Ten years ago, the Rogues disbanded and went their separate ways. But time hasn't been kind to the former blue-collar super-criminals. Caught in an endless cycle of prison, rehab, dead-end jobs, broken relationships, probation, and endless restitution fees, the Rogues are sick of paying for their crimes. Luckily, Captain Cold has a plan. One last job that will leave them all richer than their wildest dreams and free from their past…if they can survive. This is the Rogues as you've never seen them before. DC Black Label presents Rogues, a neo-noir heist that will make your blood run cold.
Positives
Joshua Williamson is no stranger to the Flash's Rogues Gallery after writing over 100 issues of The Flash. However, the story he presents in Rogues #1 is quite a different Rogues story than we've seen before. Primarily, this story is from the point of view of the Rogues. It might not be quite accurate to say they're the heroes of the story, but they are the protagonists.
Williamson's story is a Black Label story, set ten years in the future, when the Rogues are no longer active as supervillains. I found it quite interesting to see what future Williamson had given each of them. Some have accepted their retirement grudgingly, like Captain Cold. Others have found some matter of satisfaction in their new lives. And some are dead.
Leonard Snart decides to gather the Rogues back together for one last big job. For Snart, it appears to be more to soothe his ego and prove he's still the badass villain he used to be, but for others, the riches he promises are the motivation to join his venture.
With some of the original Rogues out of the picture, there are some new members invited into the Rogues for this job. Williams has made some interesting choices for these new Rogues. He brings in Bronze Tiger, who is probably best known for his stint in Ostrander's Suicide Squad.
Then there's Wally West's mentally unstable ex-girlfriend, Magenta. I found it interesting that the Mirror Master in this series isn't Sam Scudder, but his successor Evan McCulloch. Longtime DC readers may remember him as the Scottish Mirror Master from Grant Morrison's Animal Man run.
The Rogues have always been like a family – an extremely dysfunctional family, but a family nonetheless. There's a strange attachment among the members and a fierce loyalty between them. So, I wonder how these new members will work within that dynamic. Will they be accepted into that family, or remain outsiders by the original members?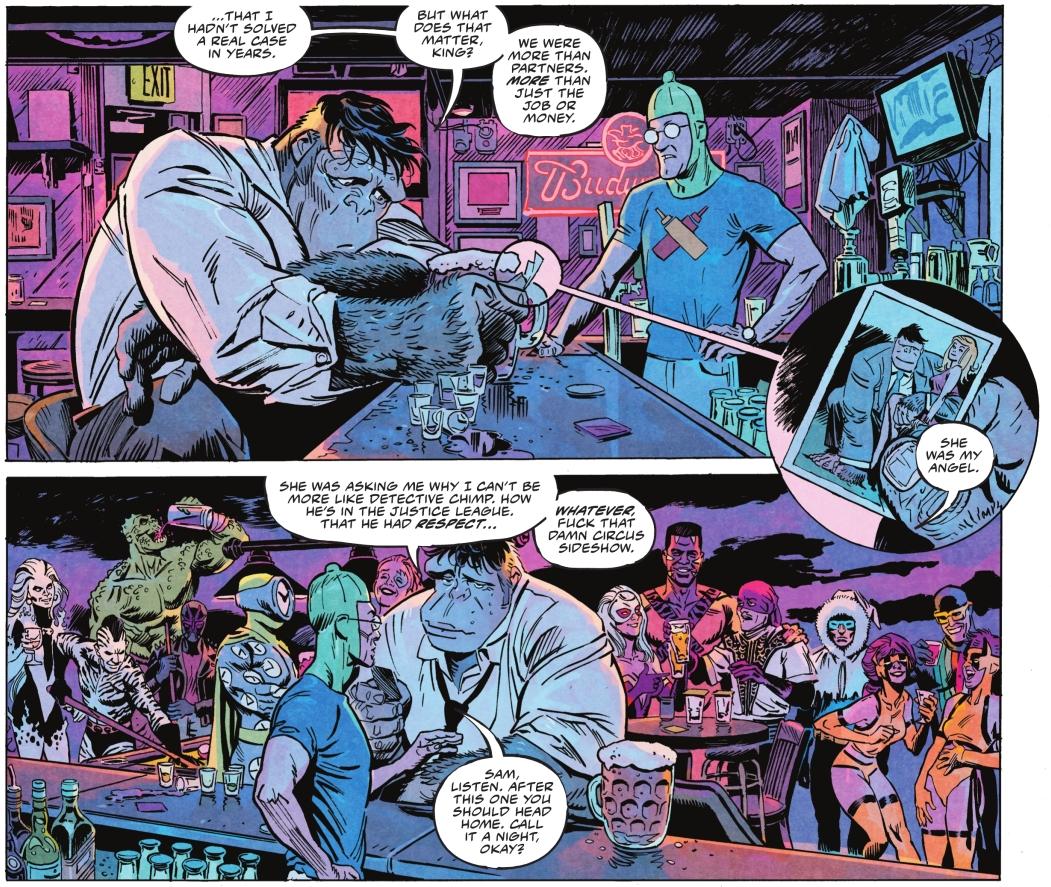 Positives Cont.
I also loved the various cameo appearances of classic DC villains in the opening flashback set in a bar frequented by supervillains: Clock King, Condiment King, Silver Banshee, Bolt, and Rainbow Raider, among others. Oddly, one character who was not a villain – Sam Simeon, one half of Angel and the Ape.
Sam's appearance is crucial to the plot, as he plants the seed in Snart's mind that leads to his current plan. A drunk and despondent Sam tells of how Grodd has a vault full of gold in Gorilla City and that fortune is the target that the Rogues set their sights on. However, Grodd is not an easy foe to go up against, so I suspect that there is more to Cold's plan than a mere robbery.
I also find it interesting to see the Rogues going up against another Flash villain rather than against the Flash or another superhero. That story would clearly make them the villains, but when pitting them against Grodd, that makes it much easier to root for the Rogues to come out on top. Also, it's fascinating to see a story so steeped in the world of the Flash, but without either Barry or Wally present. Generally, these characters are defined by their interactions with the Flash, but here we're seeing how they function and interact with each other apart from their usual foe.
Rogues #1 is the first time I've encountered the artwork of Leomacs, and I have to say that I'm impressed. He has the classic look of the Rogues and other DC villains down perfectly, and I absolutely love the Michal Cho variant cover based on the classic Action Comics #1, it's absolutely brilliant.
Negatives
Speaking of that cover, why did DC make the decision to make it a 1:25 ratio variant? Many comic shops aren't ordering this title in enough quantities to get one, consequently, the price for a copy on eBay is quite exorbitant. I would really love to get one, but it's well out of my price range. Couldn't DC have made it a regular variant, or at most a 1:10 variant?
Also, I'm a bit disappointed that Captain Boomerang is dead in Williamson's future version of the DCU. I would have liked to see him in this story as well. Or perhaps he's not actually dead and might pop up later, so hopefully, Williamson will at least give us the story of how Boomerbutt went out.
Verdict
Having enjoyed Williamson's run on The Flash immensely, I've been looking forward to this series since it was first announced. Rogues #1 has lived up to my high expectation for this miniseries and I look forward to seeing what Williamson has planned for the rest of the story.