Review: Wonder Woman #787

[Editor's Note: This review may contain spoilers]

Writers: Becky Cloonan & Michael W. Conrad and Jordie Bellaire
Art: Emanuela Lupacchino & Wade Von Grawbadger and Paulina Ganucheau
Colors: Tamra Bonvillain and Kendall Goode
Letters: Pat Brosseau and Becca Carey

Reviewed by: Matthew B. Lloyd
Summary
"The Trial of the Amazons" is over and Diana must not only deal with the fallout, but return to Man's World and her personal life with Steve Trevor, Etta Candy and Sigfried.
Positives
If the "Trial of the Amazons" event focused on the macro, then Wonder Woman #787 rightly tightens up on the micro.  We catch up with Diana as she contemplates her mother's death and we still get the emotional impact on her.  Lupacchino hits the reader with a truly devastated Wonder Woman.  You can feel the tears welling up inside her as Diana talks with Nubia about Hippolyta.  Story and art merge perfectly in this opening scene.  It not only gives the reader something missing from the crossover, but directs the issue back to Diana's own personal life.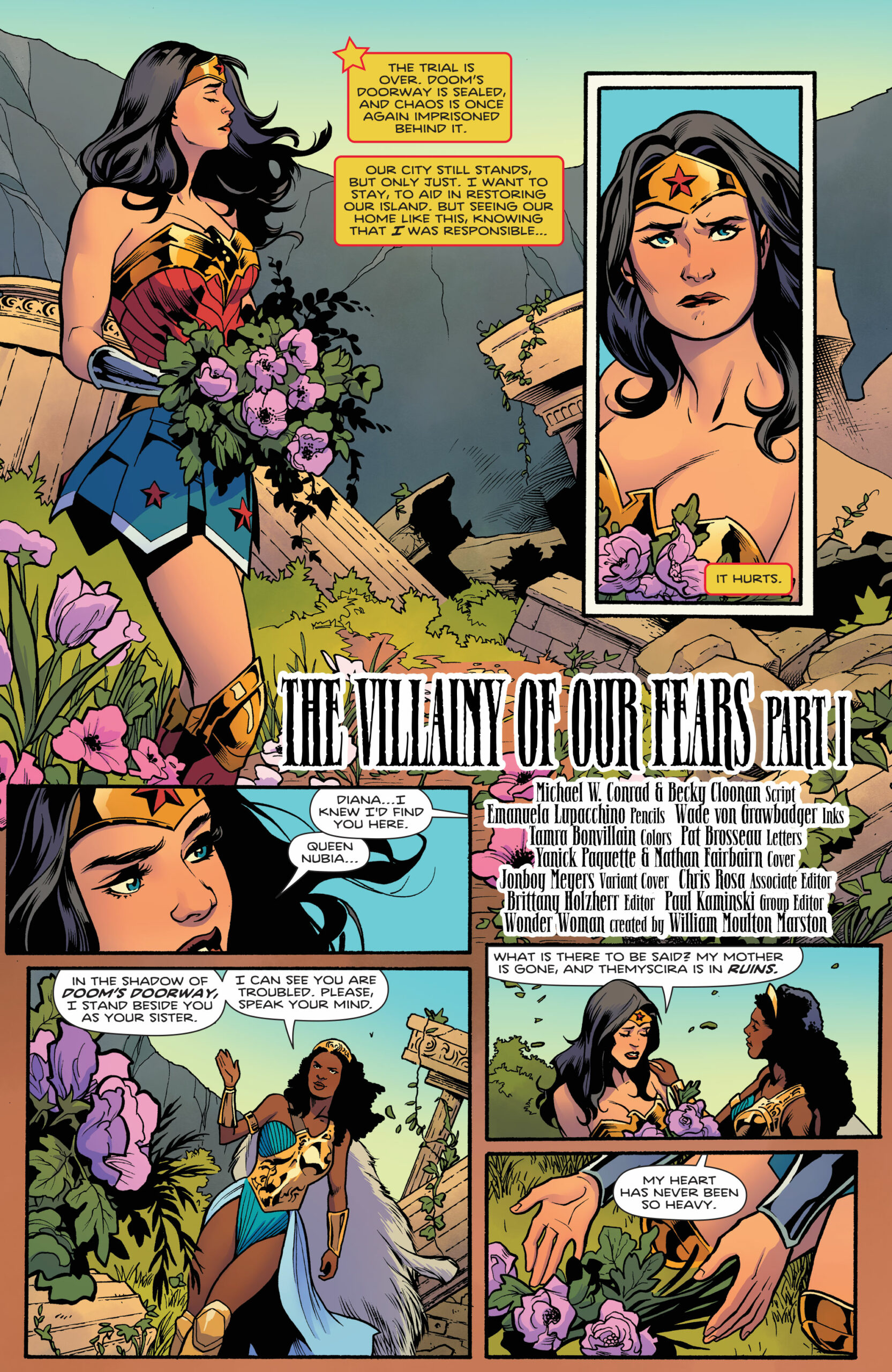 Back in Man's World, it's both intriguing and humorous to see Steve and Sigfried as roommates and buddies.  It's an awkward situation for them, obviously, but it's a credit to Diana that they are willing to navigate it.  If you are aware of Wonder Woman's creator, William Mouton Marston and his personal life, it's hard not to see that echoed here with theese three.  Plus, there's a bit of humor inherent in this situation as well and it isn't overplayed, but the situation adds the right amount of levity.  I don't doubt that there will be a #TeamSteve and #TeamSigfied movement on social media as Wonder Woman fans debate the merits of each of Wonder Woman's potential suitors.
Lest one think Wonder Woman #787 is only about Diana's personal life and emotional conflict, Dr. Psycho is putting together the next step on his plans that have been slowly rolling.  The seeds that were planted in the issues before "Trial of the Amazons" come together in this issue nicely.  It leads to the return of a conglomeration of characters that haven't been seen in a quite awhile that its roots in the Golden Age.
Positives Cont'd
Additionally, Altuum makes an appearance and we again are teased with his threat.  When will he be coming for Diana and the Amazons?  It's good that he's mentioned in this issue.
The second feature in Wonder Woman #787,  "The Adventures of Young Diana" continues to echo themes from the main story and build off of what's transpiring in the lead feature.  Antiope returns to Themiscyra and the scars between her and Hippoylta start to affect Diana.  Shunted off to bed early, Diana is left to wonder  what's going on.  Details peppered in the story reveal some tidbits of Antiope's journey that appear to have roots in Greek Myth.  It's particularly significant that we appear to be getting the backstory on Antiope considering her sacrifice in the finale of "Trial of the Amazons."  Antiope has had different incarnations in the DC Universe since her first appearance in Wonder Woman #312, and it looks like this storyline might add a through line for readers to follow.  
Negatives
Hmmm…..
Verdict
Long ago, comic book stories were mostly short, quick foe of the month tales.  Over time they've developed into chronicles of a character's life.  Wonder Woman #787 demonstrates this.  Every day isn't saving the world.  Sometimes you have to come back to your life after an interruption and that's what happens this issue.  There a few balls still in the air as mysteries aren't always solved immediately and one's personal life is often complicated.  This is Diana's life and we're getting the full spectrum of her experiences, including the formative moments from her youth.