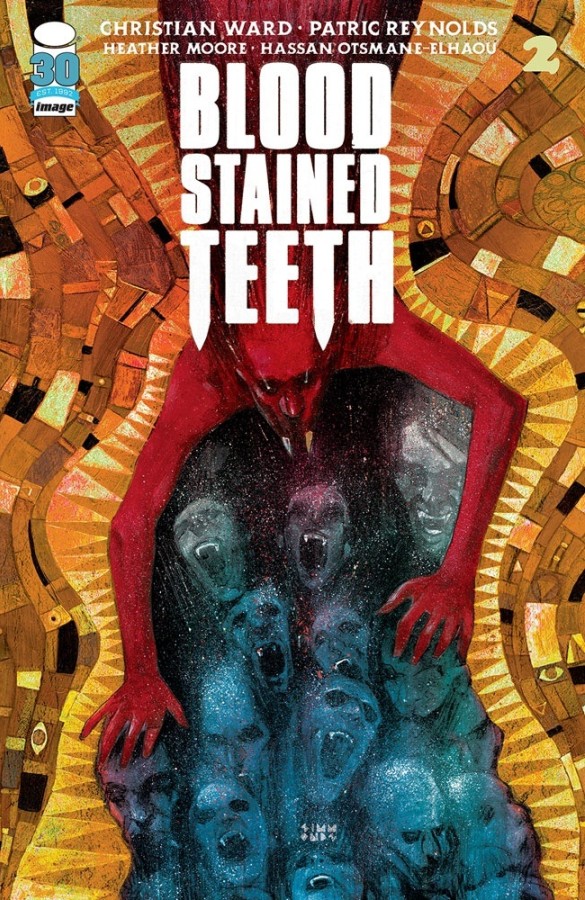 Review:  Blood Stained Teeth #2
[Editor's Note: This review may contain spoilers]
Publisher: Image Comics
Writer: Christian Ward
Artists: Patric Reynolds
Letters: Hassan Otsmane-Elhaou
Colors:   Heather Moore
Reviewed by: Carl Bryan
Summary
"You're out of luck because Atticus Stone is out of business!" – Mr. Tooth 
Blood Stained Teeth #2– CHRISTIAN WARD, the Eisner Award-winning co-creator of ODY-C, Invisible Kingdom, and Machine Gun Wizards, returns to Image with red-hot artist PATRIC REYNOLDS (The Mask) for an all-new ONGOING SERIES—a fast-paced 100 Bullets-style crime saga with fangs!
Atticus Sloane—misanthrope, criminal, asshole, and vampire-for-hire is in trouble.  Now, he'll have to use all his guile to stay ahead of the First Born Council and the murderous Mr. Tooth. Unfortunately, that also means going head to head with vicious cage-fighting vampire Duke Ellis.
Positives
In three paragraphs, Christian Ward provides the context to the conflict we are witnessing in the pages of this comic.
For decades, Atticus Sloane has been turning humans into Vampires.  Referred to by the First Council as 'Sips'.  Now, he has a month to find all those that he turned or face deadly consequences. Kill all that he has turned or the First Born Council will kill him."
Ward hooks us in two ways…the setup from last issue was that we see Mr. Tooth shutting down Atticus' endeavors to turn humans into 'Sips' and we know see the ramifications of what Atticus has to do to satisfy the Council's edict.
The strategy is brilliant and bloody and so "Rockyesque".  Picture Mickey from Rocky giving Atticus strategy on how to take down a boxing vampire….this story gets more brilliant with each turn of the page!
Positives 2.0
Patric Reynolds, Hassan Otsmane-Elhaou, and Heather Moore – I don't think this type of story telling could work with any other comic as this team is playing with colors like no other!  One frame is vibrant and one is dark…it's violent, graphic and perfect!  It's messy and sharp at the same time.  
That type of frenetic art lends itself well for this story!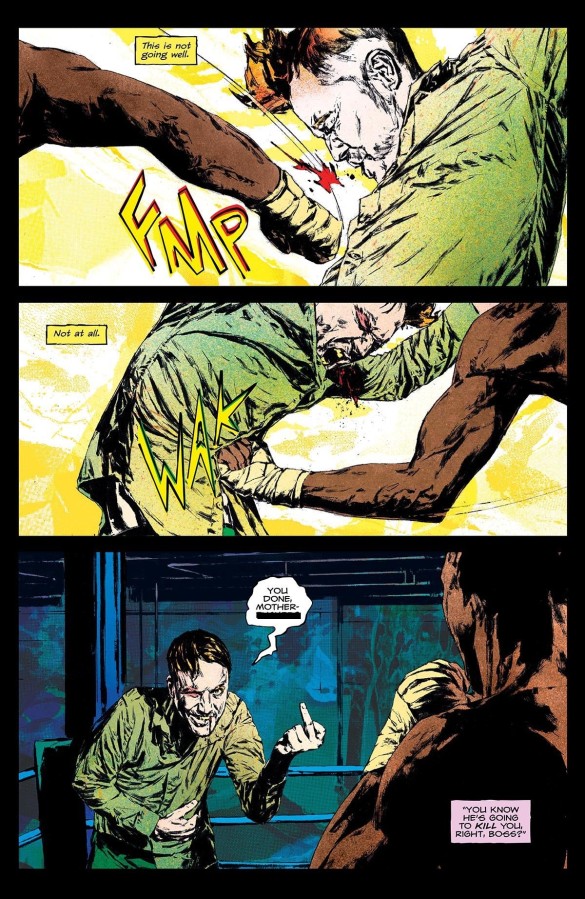 Negatives
You get what you get with Atticus…and this is a veer from the typical vampire tale.  It's awesome…no negatives here unless you are looking at what blood type is bleeding off the page!
Verdict
Buy this book!  Go back and get issue #1.  You regret now not having Walking Dead #1.  You'll regret even more not having Blood Stained Teeth!