Review:  Blood Stained Teeth #3
[Editor's Note: This review may contain spoilers]
Publisher: Image Comics
Writer: Christian Ward
Artists: Patric Reynolds
Letters: Hassan Otsmane-Elhaou
Colors:   Heather Moore
Reviewed by: Carl Bryan
Summary
"See…all good.  They move out of the way when they have to!" – Atticus Stone reflecting about a pedestrian he almost killed.
Blood Stained Teeth #3– CHRISTIAN WARD, the Eisner Award-winning co-creator of ODY-C, Invisible Kingdom, and Machine Gun Wizards, returns to Image with red-hot artist PATRIC REYNOLDS (The Mask) for an all-new ONGOING SERIES—a fast-paced 100 Bullets-style crime saga with fangs!
Meet Danny Park, a vampire whose particular fetish involves purposely crashing his automobile and then feasting on the Samaritans that come to his aid. He's on a collision course with Atticus Sloane, and it's a lovely night for a drive.
Positives
To recap as we are only in issue #3, Christian Ward has set off a time bomb with Atticus Sloane.
For decades, Atticus Sloane has been turning humans into Vampires.  Referred to by the First Council as 'Sips'.  Now, he has a month to find all those that he turned or face deadly consequences. Kill all that he has turned or the First Born Council will kill him."
Ward is dripping out the hit list and he knocked me for a loop last issue with the boxer (pun intended), but he really set me up in this issue with Atticus's driver.  No spoilers here, but Ward is turning the vampire genre on its ear.  I had to go back and re-read Issues #1 and #2 after this one.  Hey…no problem as Ward has a hit on his hand, and we have the front seat on what I hope will be a Netflix series one day!
Ward gives us the next Sip on Atticus' list and this speed freak has a deep motivation.  No spoilers on the story as we get a succinct history and Atticus behind the wheel in what we can call a great episode of The Fanged and the Furious (pun intended).
Christian Ward plants a seed at the end of this story that is going to place Atticus at a crossroads.  I already love what he is doing on this hitlist of a comic, but two roads are about to intersect…sigh Mr. Ward you have us hooked!
Positives 2.0
Patric Reynolds, Hassan Otsmane-Elhaou, and Heather Moore – I finally recall how you are doing this.  As a fan of the Sunday Comic pages as a kid, this was the only way a kid could get additional comics after you spent your allowance at the corner drug store on the comic rack. 
Reynolds, Otsmane-Elhaou and Moore are using a "Dick Tracy" type of splash on these pages and it so works!  It took a little help from the Letter section in the back of the comic, but a flood of great memories came back on this one…much like discovering another Easter Egg or solving Wordle on the first try!  Well done art team!
Negatives
None – in face Atticus has a bit of a surprise in his cocky British ways…I cannot help but read him with a British accent therefore he must have one.   Does he succeed in this kill?  You'll have to read the issue…but his water is muddied quite a bit in this one as we will soon see!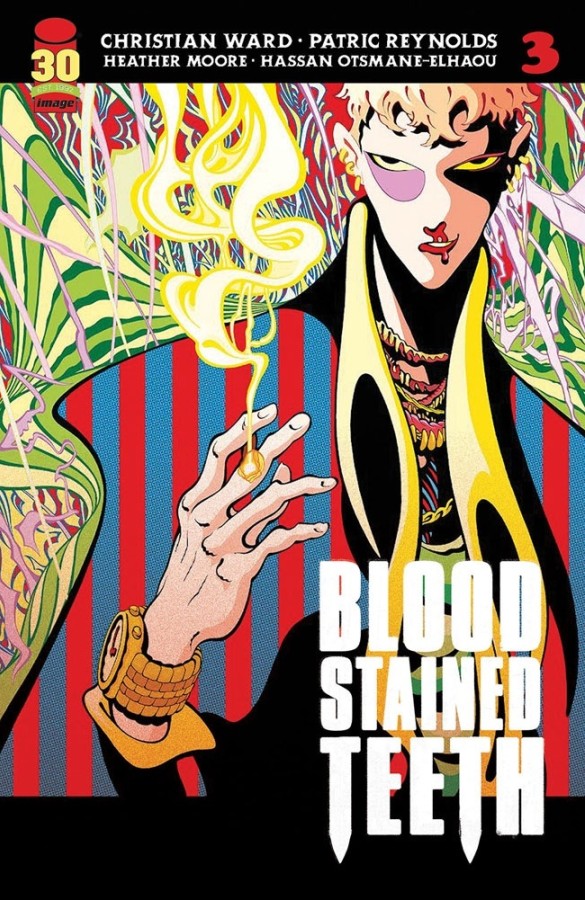 Verdict
Buy this book!  Go back and get issues #1 and #2.  Never let the ground floor of a comic deter you from picking up an issue #1.  Those of us that grabbed this one have the comic of the year that redefines the vampire genre.