Review: Fables #153

[Editor's Note: This review may contain spoilers]
Writer: Bill Willingham
Art: Mark Buckingham and Steve Leialoha
Colors: Lee Loughridge
Letters: Todd Klein
Reviewed by: Matthew B. Lloyd
Summary
"In which the cubs are on their own, the rule of SAM is recited, and young Ambrose meets a new friend."
Positives
There are moments in stories when an author or artist references another book or musician or something that is a favorite.  in an old issue of Fables, Mark Buckingham drew Mowgli in a Transatlantic t-shirt.  Transatlantic happens to be one of my favorite bands, so I had a total geek-out moment when I saw it.
In Fables #153, Willingham achieves the same thing when he has Ambrose's new friend, a bookworm – not the one from the old Adam West Batman TV show (it is awfully clever considering that Bookworm was the villain in Batman vs. Bigby! A Wolf in Gotham), but a real fictitious anthropomorphic bookworm who references one of my all-time favorite books, A Princess of Mars by Edgar Rice Burroughs.   He's checking Ambrose's litmus test for a "big adventure" with a quick synopsis of a novel, "Will Captain Carter win the Princess's heart, not to mention their freedom from the green monsters under the hurtling moons of Bars- -?"  A bit elusive perhaps, but to a fan of John Carter of Mars, there's no doubt to what the bookworm is referring.  It's one of those small details that not only delights but also adds to the depth of the text.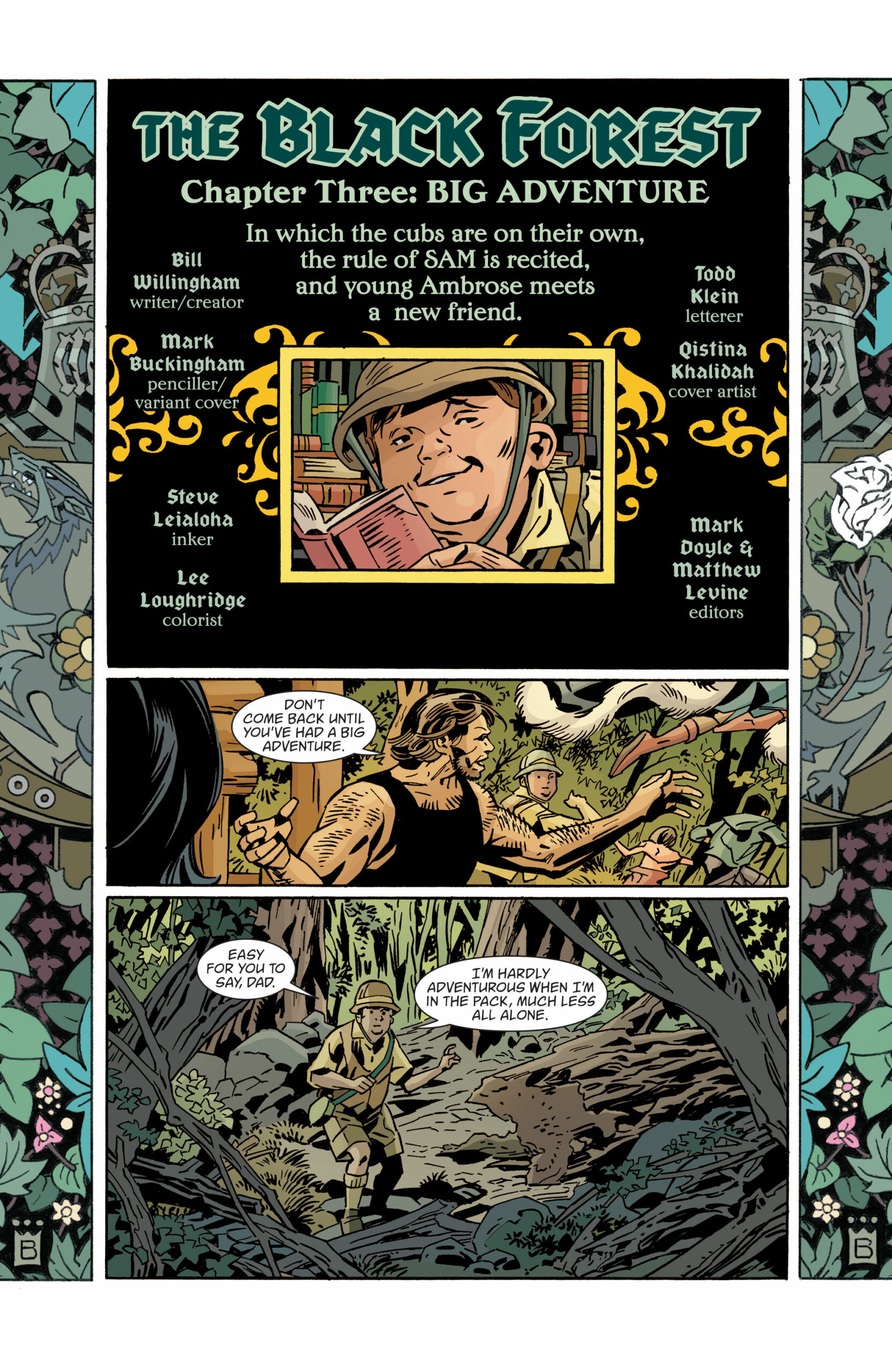 While the majority of the issue concerns Bigby and Snow's cubs and Bigby sending them on a "mission", it's the little details that really make the book.  Snow chastises Bigby for sending the cubs off, citing the death of Dare (Darien).  Additionally, we know that two of their seven children don't have what one would call "normal" childhoods.  This should intrigue the reader to go back and re-visit earlier stories.
While it's only a couple of pages, Cinderella and the new Greenjack (Jack-in-the-Green) get just enough added to their journeys to keep the reader intrigued.  If you know Cinderella in Fables, her moment seems to be setting her up in the "badass"wheelehouse!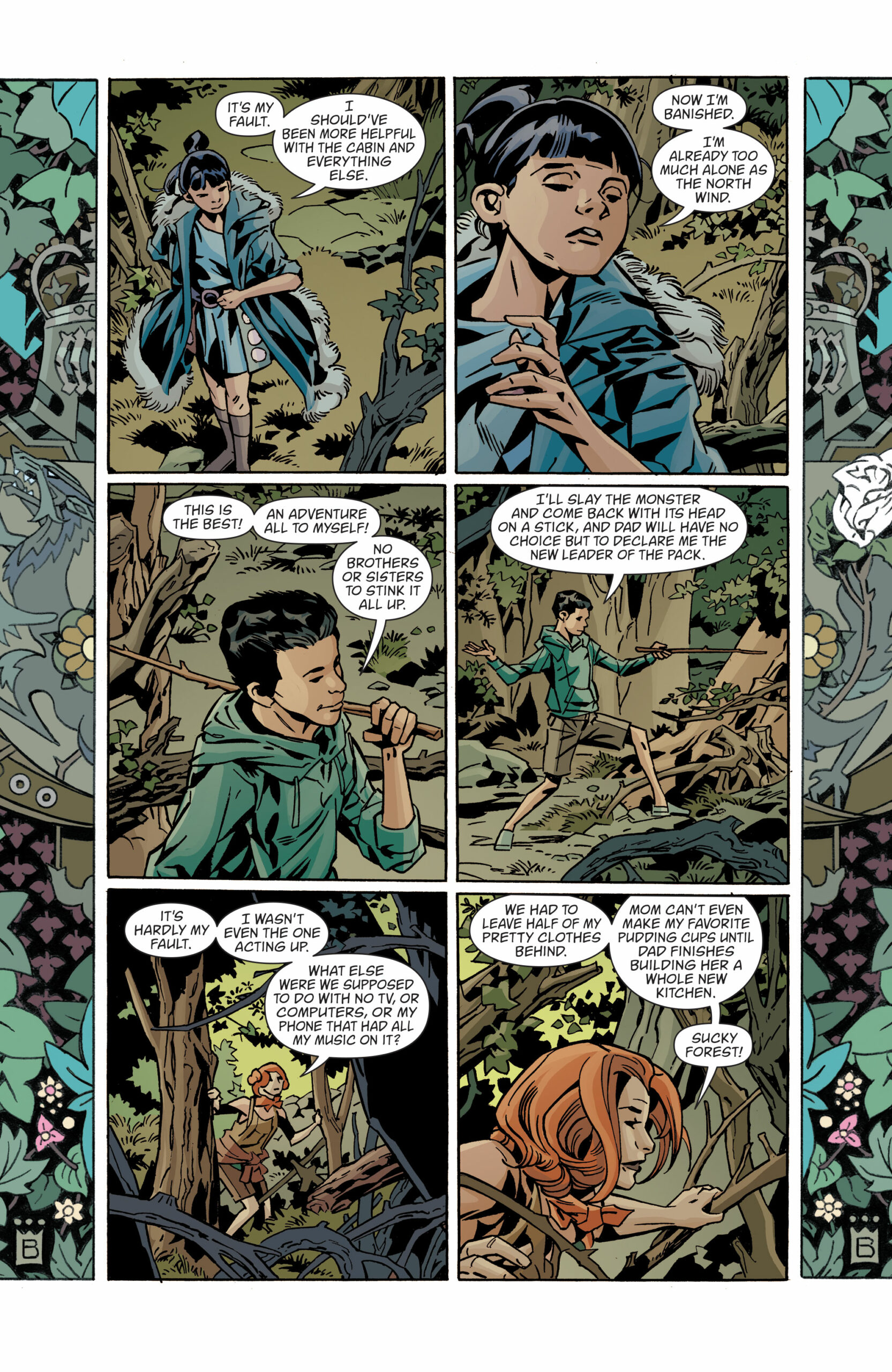 Positives Cont'd
Interestingly, and it shouldn't be a surprise, the relationship between Bigby and Snow and Snow and her children feels very genuine.  Diversity is always applauded in comics, but when's the last time we got such a relatable sense of a real family in a comic?  This is truly unique.  Despite the magic powers of the fables, as Snow says, "I'm always going to be their mother, and love them as if they were my helpless babies."  It's this type of consistent strong character focus that has set Fables apart from the average comic.  Indeed, the exquisite art from Buckingham, Leialoha, and Loughridge provides the same consistency on the visual front for Fables #153.
Negatives
This creative team is too good to leave a negative lying around the place.
Verdict
This title should feel magical, and Fables #153 does, but it does so in some of the most human ways.  The real magic comes from the pens of Buckingham, Leialoha, Loughridge, and Willingham.  One can feel the excitement building, it's just a shame we all have to wait a whole month between issues.