Review: Batman vs. Bigby! A Wolf in Gotham #1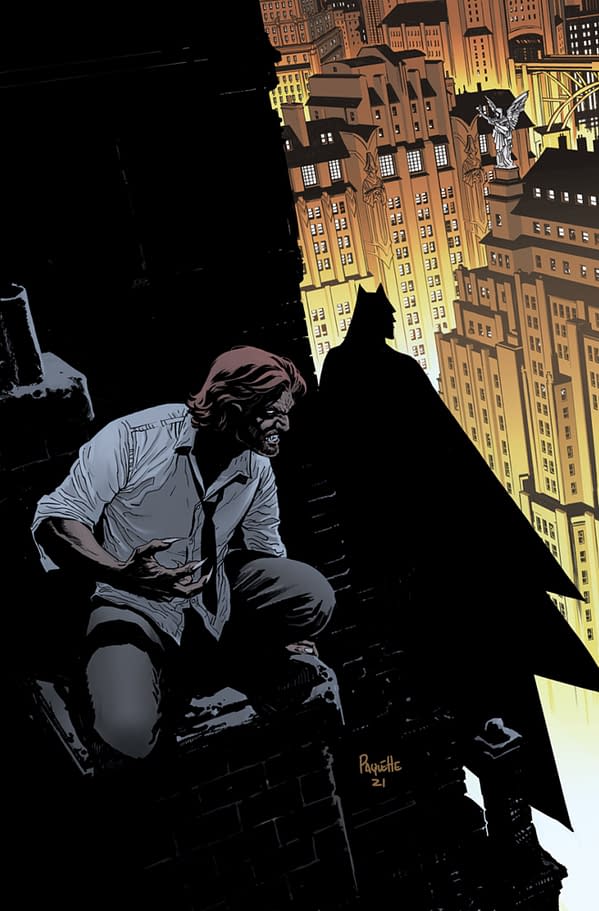 [Editor's Note: This review may contain spoilers]
Writer: Bill Willingham
Art: Brian Level and Jay Leisten
Colors: Leigh Loughridge
Letters: Steve Wands
Reviewed by: Matthew B. Lloyd
Summary
Bigby Wolf is in Gotham apparently on the trail of a killer.  But, as Batman investigates all the evidence points to Bigby.  This will not be an easy working relationship!
Positives 
With the announcement that the Fables series would be relaunching, DC is giving it a jumpstart by crossing it over with its best-selling character, Batman.  While the world of Fables hasn't been seen since Everafter: From the Pages of Fables #12, it's easy to hear Bigby's voice perfectly from the pen of creator and writer, Bill Willingham.  While Fables itself is set to pick up with issue #151 in May 2022 directly after the events of issue #150,  Batman vs. Bigby! A Wolf in Gotham #1 is a bit cagey about when and WHERE it takes place.  That's probably the cleverest part of the first issue.  Batman is recognizable, Robin is recognizable, but they certainly don't appear to be the Batman and Robin, uh Robins of the mainstream DC Universe.  Yes, that's Robins plural- we see three- Dick, Tim and Stephanie Brown.  While the exact nature of all these things isn't clear just yet, it seems likely that Batman himself is going to be in a fable world of his own.  It won't be the DC Universe as we know it, but it will be familiar…and unfamiliar, which brings us to the unnamed but recognizable villain we do see…Bookworm!
If you've watched the Batman TV series from the 60's starring Adam West, there's a good chance you'll recognize Roddy McDowell's Bookworm.  In Batman vs. Bigby! A Wolf in Gotham #1, he is yet unnamed, but his look and modus operandi are immediately recognizable.  As the existence of fables works in Fables, it starts to make sense of how Willingham is going to make this crossover work within the context of the world he's created in Fables.  This will make this a very intriguing and slightly off-center look at Batman, and while it should sing joyously within the mechanisms of the Fables Universe, it might be a bit difficult for strict Batman fans, and I'll address that a bit below.
Positives Cont'd
While one may not think of Roddy McDowell's Bookworm as a great Bat-villain, his love of books aligns with the nature of Fables.  Using Bookworm provides Willingham the opportunity to design a different milieu- this is not the bold colors of the TV show, but Bookworm and his associates do seem to be from that different era in their appearance.  At the same time, one of his henchmen is certainly more violent and sadistic than anything ever seen in the TV show.  It's an amalgam, and it is intriguing.  There is also an underlying sense that we will see how the Batman fable world works eventually.  Like traditional fairy tales, there are numerous versions of Batman and it follows that all the different types of stories will have to somehow fit.
Level and Leisten have an interesting task in drawing this story.  They make Bigby look just like Mark Buckingham draws him in Fables yet at the same time have to do  Batman and his universe of characters and settings a little different.  There's not necessarily one cohesive look to the book, but the differences are subtle.  This approach visually echoes what one would expect in a world in which there are competing interpretations of Batman's mythology.  This isn't to say that the book looks like a mosaic world of competing styles.
Negatives
If there's a negative for Batman vs. Bigby! A Wolf in Gotham #1, it has to be that it's going to be very easy for readers to come to this book in the wrong mindset.  The way it opens one certainly expects it to be a Batman story.  And while he's in it, if the opening had depicted a traditional Fables opening it would provide a different viewpoint.  I feel certain that it will slowly morph into a Fables story, but the beginning is maybe too much Bat-vibe and not enough Fables vibe to get the reader's mind right.
Essentially, one has to approach Batman differently from the way one normally does.  One has to treat Batman as a fable in his own right.  So this is not the Batman from the DC Universe, but rather an amalgam of all the Batman stories (fables) that have been told in all mediums.  Anything could be fair game.  While it is no doubt unadulteratedly brilliant in concept, this first issues makes things feel a little off kilter, with only Bigby's scenes feeling right, but that's the way it should be isn't it?
Verdict
Get yourself in that Fables space- and then pick up Batman vs. Bigby! A Wolf in Gotham #1.  It might even help to read a story arc from Fables beforehand to get you there.  While this issue starts off leaving the reader feeling a bit unsure, the potential is here.  I have no doubt that "unadulterated brilliance" will be with us soon, but all stories have to start somewhere….